Aboude restaurant is another decent restaurant in the Kumasi Metropolis serving the people with good food.
Don't think twice, Aboude will serve you delicious breakfast, lunch and supper.
They boast of one of the best pizzas in the city. Their juicy grilled chicken and all the juicy flavours of different fruits.
Again, because the place is not spacious, most people prefer to takeaway.
About Aboude
Aboude fast food and restaurants of Lebanese origin.
food joint.
One of the preferred food joint for the people of Kumasi. And they've served their purpose since its establishment.
You only need about GHc30 ($5) for a decent meal here.
City Style Building
Across from Santinos
M9QW+3G Kumasi
Tel: 020 677 5566
Open Monday through Sunday, Morning from 9:00 am, to 11:00 pm.
Aboude's Location
Currently, they have two branches in Kumasi. The first of these branches is on the Baba Yara Stadium – Kumasi Children's park road. Anloga Junction to its right.
Aboude fast food is directly opposite Santinos food and meat, located in the City Style building complex. Adjacent Ecobank Ghana.
Atmosphere/Ambience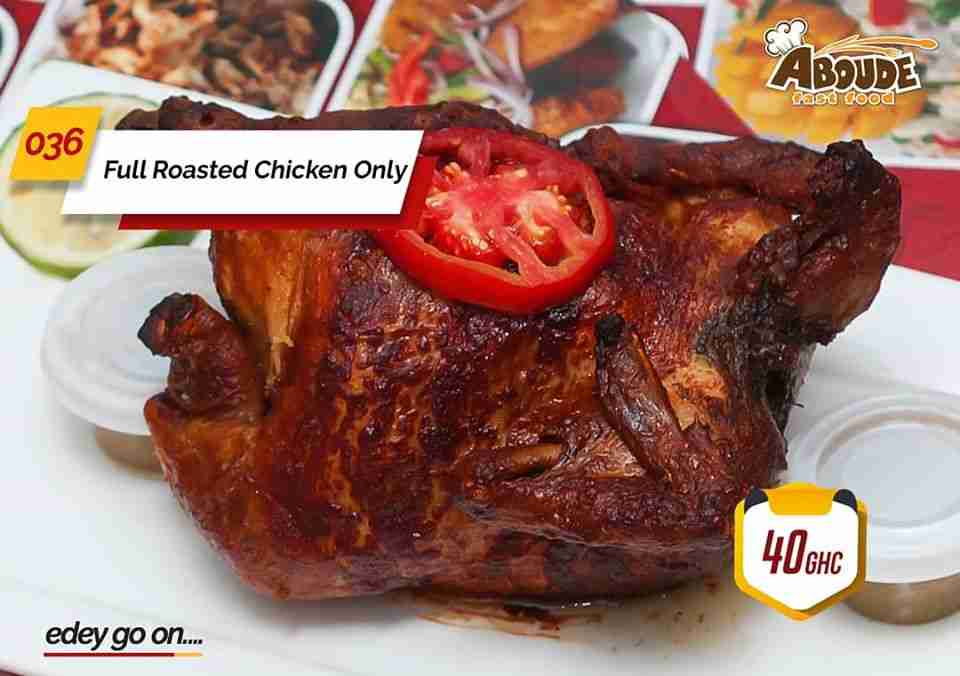 Generally, Aboude comes with a cozy Lebanese ambience and cuisines.
A bold statement of culinary goodness, spiced with sumptuous asides, a pint of greatness and freshly juiced sexiness flowing all over.
Yes, the main restaurant is not spacious. Can only take a few people. I know.
However, in the evening when most of the parked cars in and the City Style Building move, the open parking area is a nice place to sit out, relax and enjoy good food with lovely people.
Nice place to hang out with family and friends. live music on some days especially during weekends. That's some good thinking.
Cool and tempting.
You can imagine why many people feel its a good place for dates. It is more of an "in the city – out of the city" kind of atmosphere.
The Setting
If you want a quick and convenient meet up place to dine and discuss a few matters Aboude Fast Food may be an option.
An amazing environment to celebrate your birthday if you prefer some good outdoor love, display and enjoyment.
The Food
With Aboude's menu, you're assured of cool prices that range from as low as GHc30. That's about $5 for a good meal. And that actually makes sense.
Isn't?
Again, they come with a number of irresistible asides.
There are many raving fans about their smoothie and the freshness of the fruit juices.
Many are fans favourite such as; pizza, flavours of natural fruit juice, smoothies, sandwiches etc..
Aboude is one of the best eateries in the city. You'll get quality food for almost every pocket.
Further, I hear their pizza is arguable one of the best in Kumasi. Yet to try it though. Hope it doesn't disappoint.
You can find the price list and types of pizzas available at Aboude.
Aboude's Menu
You can download Aboude Menu for an overview of what to expect.
And here a few of the quickbites for quick wins.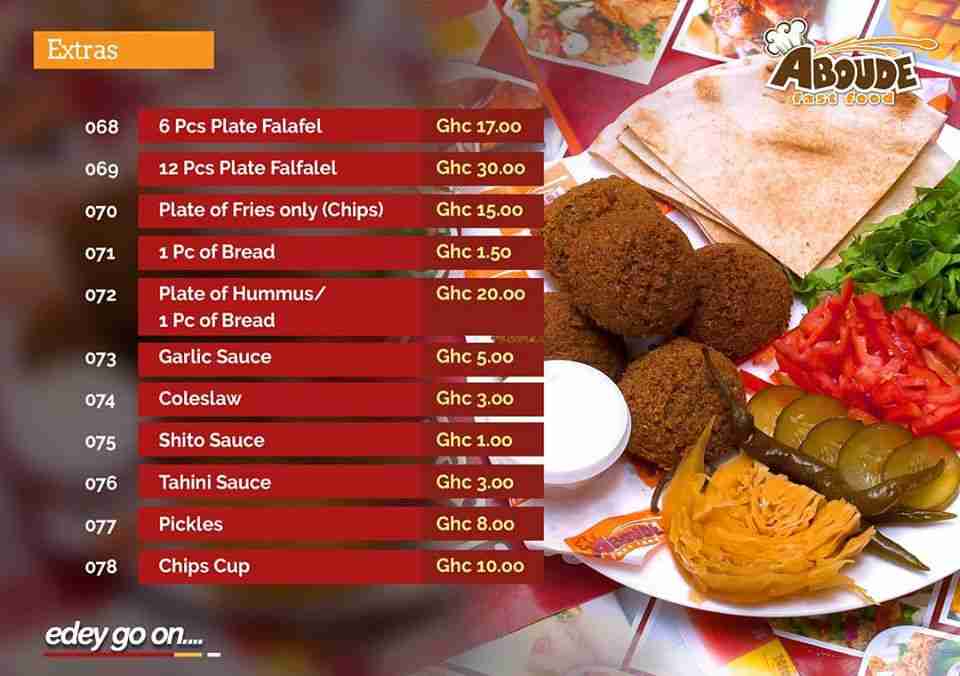 The Service
The last thing you deserve is a slow food service.
Apart from the drums, your stomach will be playing for you to dance, the worst thing is when you feel almost ignored.
Always remember that food is a serious business. Don't keep us waiting for long.
Aboude Fast food serves all kinds of foods. They also have various asides and deserts; pizza, natural fruit drinks.
Great food. Great atmosphere. Good for every pocket. Of course, their service can be better.
The need to improve customer service doesn't hurt.
Pros
Affordable prices
Fresh fruit juices
Juicy grilled chicken
Suitable for parties and meetups
Cons
Poor waiting time
Issues with room air-conditioning
I prefer to see the chefs working in the kitchen.
Aboude's Contact
Tel: 020 677 5566
Frequently Asked Questions (FAQs)
Do they do deliveries?
Of course, apart from its serene atmosphere, Aboude has a quick delivery service.
They have an express delivery service for a stress-free and convenient delivery for all. It's only a phone call away.
Like most eateries, the mode of payment is either cash or mobile money.
Caters to families?
Absolutely, suitable for families especially during occasions and holidays.
Recommendation
It is highly recommended to call beforehand to place your orders.
Nice and affordable food but they need to improve on their menu. And fix that AC and get rid of those flies hovering around when eating.
They have to vacate Ecobank and use their safe for more space in the restaurant area
Reviews of Aboude Fast Food
Here are a few reviews pulled from Google about customers experience with Aboude Fast Food.
Qwophi says,
"Well for me, their freshly squeezed fruit juices is what draws me there and their grilled chicken is also super nice."

George said,
"Good food, nice people but they keep you waiting for long."

Awo said,
"This a nice hangout for dates…They've got a variety of foods like chips and chicken, fried rice,jollof rice etc. They have naturally squeezed fruit juice too. And they have ice cream."

Thomas,
"One of the quietest environments to have either breakfast or lunch or dinner in the heart of the Garden City."

Aashish says,

"Straight out the best pizza place in Kumasi! One of the best in Ghana."
Summing-up
Aboude fast foods provide a good outdoor dining experience.
Located very close to other chill nightlife attractions.
Decent restaurant for the price.
City Style Building
Across from Santinos
M9QW+3G Kumasi
Tel: 020 677 5566
Open Monday through Sunday, Morning from 9:00 am, to 11:00 pm.
Also Read:
Ol' Lady Sports Bar & Lounge: Nightlife has Never been the Same!
It's My Kitchen restaurant: It is the Best Restaurant in Kumasi?
They were all Boring Until Tasty Queen Restaurant Arrived…!
KFC Kumasi: This Shell Service Station in Asokwa is the Place to be!