There are numerous applications of cocoa butter (the fat extracted from the beans of the cocoa tree). Cocoa butter for skin lightening is just one of the different uses of cocoa butter. 
As far as we know, butter from cocoa beans is commonly used as a moisturizer in skin care products. So, pure cocoa butter doesn't work very well for skin lightening, except when it's blended with other ingredients.
Nevertheless, it also depends on your definition of skin lightening. If we're talking about the lightning as in evening out your skin, then cocoa butter certainly comes in.
However, if lightening your skin means bleaching your skin to be like Michael Jackson during his final days, that's a big no for cocoa butter! 
Other equally good skin-lightening alternatives are aloe vera, palmer's cocoa butter lotion, honey, and lemon juice.
This article brings you all the facts you need to know about cocoa butter for skin lightening.
Using Cocoa Butter for Skin Lightening
I know you felt a bit discouraged when you read in the introduction that cocoa butter isn't the best option for skin lightening. Yes, that's still the fact of the matter. 
But I have some good news for you. All hope is not lost for cocoa butter for skin lightening. How would you feel if I told you that it's possible to use cocoa butter to achieve radiant skin? Amazing! Isn't it? 
We shall get into the details of that. But let's understand cocoa butter.
What's cocoa butter?
It's the organic fat obtained from the beans of the cocoa tree (botanically known as Theobroma cacao). 
This same tree gives us the sweet-scented chocolate we eat every day.
To make cocoa butter, you'll first have to ferment the beans, and then dry and roast them. This would help you to remove the cocoa nibs from the hulls (shells). 
The nibs (roast cocoa beans) contain about 54–58% of fat. Unsurprising, cocoa butter retains the mild characteristic scent of cocoa beans.
Where did cocoa originate from?
Unlike the shea butter tree from Africa, cocoa trees originated from the south and central Americas. 
In the Caribbean's and Mesoamerica's, the usage of cocoa beans dates back to the distant past.
What makes cocoa butter a key ingredient for skin beauty? The answer lies in its properties.
Cocoa butter comes naturally loaded with saturated fats in addition to monounsaturated oleic acids. Examples of key fatty acids in cocoa butter are palmitic, lauric, arachidic, stearic, and myristic acids.
The antioxidant and emollient characteristics also make cocoa butter very beneficial for skin health.
Hyperpigmentation: Using Cocoa Butter to Lighten the Skin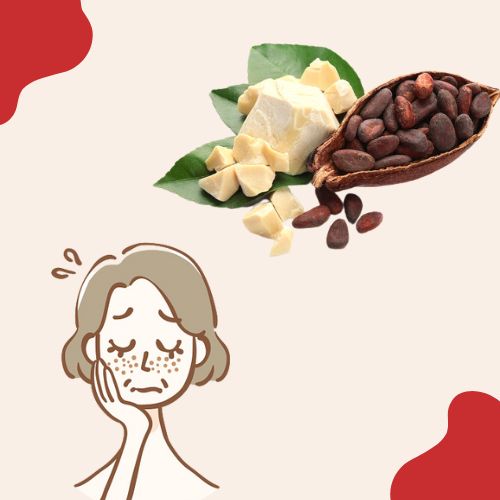 In places like the United States of America, many Blacks (aka African-Americans) suffer from a dermatological condition known as hyperpigmentation. 
This is nothing but the darkening of the skin or nails, as a result of the increase in melanin production (dark pigment).
Conversely, hypopigmentation is when the skin gets lighter than usual. We shall focus this article on how to treat hyperpigmentation with cocoa butter.
Hyperpigmentation is an enemy of skin beauty (except for those who love multi-colored skins). 
Cocoa butter helps to even out dark spots on the skin. I spoke about this in the introduction paragraph.
Buy yourself some pure cocoa butter and apply it to the dark areas of your skin. 
You can also smear the butter on your whole skin. It'll destroy scar tissues, improve blood circulation and gradually drive the hell out of your dark spots.
Is cocoa butter good for your face?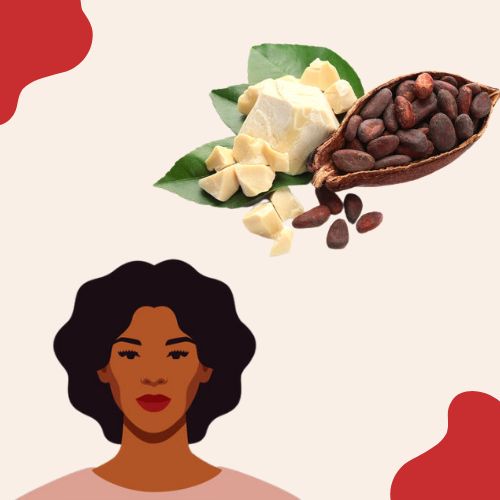 If the dark spots appear on your face, then use cocoa butter for free to deal with the facial hyperpigmentation.
What factors cause hyperpigmentation? They're are as follows
Old age

Acne scars

Burns/injuries

Birth control pills

Medication Side Effects

Exposure to excessive sunshine
No matter the causative factor of your hyperpigmentation, using cocoa butter can give you good skin lightening results within a short time.
Steps to follow when applying cocoa butter for skin lightening
Apply the butter on only the affected body part

Repeat these steps regularly and wait for good results within two weeks.

After some time, wash off the butter and use a cleanser to clean your skin.

Massage the butter throughout the pigmented area. Let your skin feel the power of the cocoa butter
DIY Cream Using Cocoa Butter for Skin Lightening
I know some of you may want to make your own cocoa butter for skin lightening. But you don't just don't know where to start.
Here is a D.I.Y (do it yourself) project for you to follow and come out clean with cocoa butter for skin lightening. It's always cheaper when you make your own things. 
Ingredients we shall be using for this project.
Cocoa butter – three-quarters cup

Jojoba oil – one-quarter cup

Essential oils: 20 drops of Carrot seeds, 10 drops of Geranium
Step-by-Step Guide to Make Your Own Cocoa Butter for Skin Lightening
Use a frying pan to melt your cocoa butter under low heat

Collect the molten butter and freeze it for 20 minutes. This will make the butter semi-solid

Use a food processor to blend the cocoa butter + coconut oil. Strive to obtain a fluffy white consistent mixture.

Pour out the skin lightening butter into a neat container

Now, it's time to add the essential oils listed above in the right quantities.
NB: excess amounts of essential oils could be harmful to the butter. Use the right quantities stated above.
Using a spoon, gently press on the butter to ensure that the essential oils are incorporated into the butter.

Your prepared skin lightening butter should be kept in a cool dry place. The aim is to stop the butter from melting

Once your dry skin lightening butter is ready, you can start applying on the targeted areas of your Afro-American skin. Do this at least two times a day
Facts to Note about Cocoa Butter for Skin Lightening
Pure Cocoa butter isn't the best butter for skin lightening. (I told you earlier). For good results, it's advisable to blend it with the essential oils stated above. 
The oils increase the potency of the butter, making it more effective for healing dark spots.
Alternative essential oils for this dry skin lightening butter project include; lavender, lemon, rose, and chamomile essential oils. 
Some Frequently Asked Questions (FAQs) on Cocoa Butter for Skin Lightening
How long does it take for cocoa butter to work?
Don't expect immediate results. Provided you use the cocoa butter regularly, it takes about 14 days for the results to manifest.
Can cocoa butter make your skin lighter?
Yes and no! The application of pure cocoa butter doesn't necessarily make your whole skin lighter. However, cocoa butter blended with other ingredients can heal dark pigments on the skin.
Cocoa butter is popularly used as a skin moisturizer. That is its best use case! Aside from that, cocoa butter can also be used for cooking.
Does Palmer's Cocoa Butter lighten skin?
Yes. That's right. Palmer's Cocoa Butter Eventone Cream is good for lightening the skin. The palmers skin success heals dark spots and evens out marks on the skin. Palmer's cocoa butter benefits also include effective ingredients that help to fade skin discolorations caused by sunburns, scars, etc.
Which cocoa butter lotion is the best?
Does cocoa butter remove dark spots?
Cocoa butter is a great moisturizer. Cocoa butter could be used to fade away dark marks on the skin, including those spots that acne breakouts leave behind.
Also Read: