While some people claim shea butter can lighten skin, Dr. Sheila Calderon of healthtap says there's no scientific evidence to back this claim.
As a result, shea butter does not lighten skin, instead, it contains triglycerides, or fat-derived mainly from stearic acid and oleic acid. It is widely used in cosmetics as a moisturizer, salve, or lotion to keep dry skin moisturized and soft.
But some reviews suggest shea butter could even have dark spots on the face. How true is this?
In this article, I'll walk you through what shea butter is, whether it lightens skin, including dark spots, and the pros and cons for skin and hair. 
What is shea butter made of?
Shea butter comes from the seeds of the Shea tree. It is best to extract and prepare shea butter without adding chemicals or preservatives. Shea butter is a rich source of vitamins and essential fatty acids, making it ideal for UV protection and collagen synthesis.
At room temperature, shea butter is thick and solid. Due to its buttery consistency, it's the perfect consistency for eye creams, lip balms, and body kinds of butter. Since it contains 60 percent fat, it is particularly effective at penetrating the skin.
Shea butter penetrates your skin quickly and provides moisturizing and anti-aging benefits.
Vitamin A and Vitamin E found in shea butter promote healthy skin and protect cells from free radical damage.
Shea butter on black skin
Can I use shea butter on my black skin? Absolutely!
Shea butter can be applied to black skin just like any skin tone. On black skin, it heals scars, bruises, and burns. 
Moreover, skin blemishes often leave dark patches after causing skin redness. Such blemishes can destroy the evenness of the skin tone of African Americans skin. The healing properties of Shea butter can help prevent skin issues such as rashes, dermatitis, eczema, and athlete's foot.
Shea butter on black skin, in particular, heals skin issues such as ashy skin. Ashy skin is mostly experienced as a result of dead skin accumulating on the outer layer of skin. If you are not exfoliating regularly, this could happen.
The black skin also turns Ashy during dry or hot weather like in summer. With the cold wind in winter, shea butter is ideal for crack lips, cold feed and moisturizes your black skin.
Further, shea butter works wonders for evening-out skin tones, especially on black skin. The result depends on your consistency.
If your face is plagued with dark spots as a result of pimples, shea butter could even your black skin and take care within a month or three of using it twice a day. 
It is, however, best to apply shea butter on the skin at night before bed as shea butter on black skin during the day, especially in hot weather could tan your skin.
There is no need to worry about clogged pores if you have sensitive skin. Shea butter will work wonders for your skin by not just only clearing it up but making it super soft.
What about shea butter on white skin?
Shea butter on white skin
You can equally use shea butter on white skin. The benefits of shea butter on the skin are the same for all skin, hence, it's the same for all akin types. 
Shea butter doesn't contain chemical irritants known to dry out skin, rather it moisturizes your dry and ashy skin. It's worth repeating that shea butter doesn't clog pores on acne-sensitive skin either.  
Shea butter helps in protecting white skin. It contains natural substances like cinnamic acid. This is a natural sunscreen that helps to protect the skin against sunburn and UV rays. 
Furthermore, Shea butter can help minimize skin peeling, soothe sunburn and moisturize your skin. Apply shea butter on your skin before swimming to protect your skin from pool chemicals.
Shea butter is technically a tree nut product. But unlike most tree nut products, it's very low in the proteins that can trigger allergies. There's no medical literature documenting an allergy to topical shea butter. 
Conversely, feel free to, apply shea butter for a smooth, soft and younger skin tone.
Does shea butter lighten skin?
The evidence is clear, from the expertise of dermatologists, shea butter does not lighten skin, at all!. There is no scientific evidence to prove such.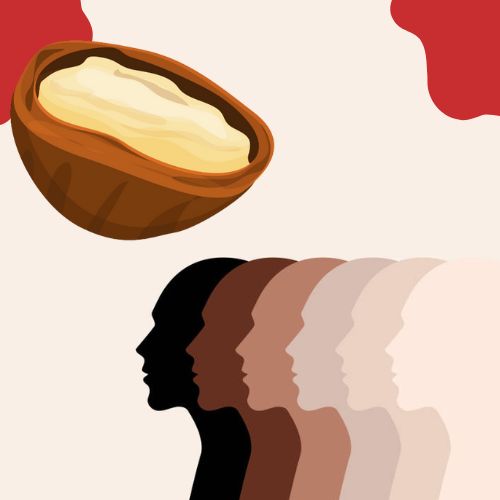 However, from the reviews of faithful shea butter lovers and users, they claim shea butter even their dark spots, particularly on faces at night. This is a fact, as there is evidence of before and after images to prove their stance.
That said, you may try applying shea butter on your dark spots before bedtime and leave it for eight hours for maximum results. Be sure to be consistent for at least three months. Consistency is the result!
What about evening dark spots?
Glowing or radiant skin tones can improve in a matter of weeks. 
With all of your skin's natural oils restored and balanced from shea butter,  it will look healthy and vibrant. The vibrant appearance of your skin smoothes discolorations caused by acne, dryness, and other skin conditions.
Dark spots and scars may take up to half of a year. 
You shouldn't expect stubborn skin darkening, imbalanced colors, and scar tissue to disappear until four to six months of continuous use, according to the Derm Report. This might seem like a long time, but it takes a while for the shea butter to penetrate the skin and return it to a healthy state.
Shea butter provides a healthier treatment, but it takes longer than inorganic solutions. 
If you're not noticing results after one or two applications, don't worry; Natural topical treatments aren't as quick because they don't dry the skin. Short-term drying from chemicals fights acne right away but can lead to all sorts of skin problems.                    
How to use shea butter on the face 
Dry your face with a gentle, clean towel after you've washed it. After that, take a small amount of raw shea butter from the jar and rub it between your palms. Gently massage your face, paying special attention to the acne scars. Shea butter can also be used as a spot treatment for acne scars.
Before going to sleep, apply shea butter directly to your face. It may take some time to become used to using a shea buttercream as part of your morning beauty routine.
However, applying shea butter before makeup is not ideal since the fatty acids and oils in shea butter might make applying makeup difficult.
What does shea butter do to your skin?
Due to its high concentration of vitamin E, shea butter could naturally glow your skin when used correctly. Vitamin E promotes the regeneration of skin cells and aids recovery.
Shea butter has a variety of benefits for your skin and has proved to be effective in treating acne and blemishes. Raw shea butter is also useful for tacking other skin issues, like;
acne scars
Dry skin
Skin peeling
Itching
Sunburn
Eczema
Stretch marks
Shea butter can also be used to relieve muscle tension and aches, such as those experienced after strenuous exercise. It's ideal for moisturizing and smoothing your skin, as well as reducing inflammation.
Additionally, shea butter can be used as a cuticle cream or added to store-bought lotions. You can put it in homemade deodorant or homemade lip balms. Shea butter can improve skin elasticity, be used as an eyelid primer before makeup, or massaged into the scalp to relieve dryness and flakes.
Benefits of Shea Butter to skin
Using shea butter for acne can help you regain the confidence that comes with clear, glowing skin. Including;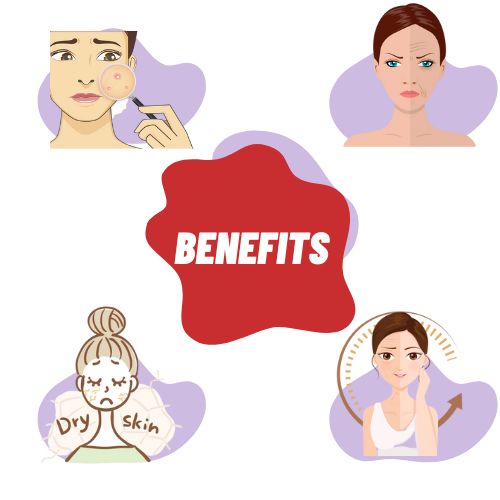 1. Anti-Inflammatory Properties.
Shea butter contains Vitamin F and other healthy fatty acids that act as strong anti-inflammatory elements. These elements help reduce inflammation around scars and inject moisture into them, effectively weakening the appearance of acne scars. 
You should, however, be careful not to apply shea butter on fresh wounds as it will prolong the healing process. Instead, apply on the healed wound for even skin.
2. Antioxidant Properties
Shea butter contains Vitamin E, which is widely known as a skin-healing and protecting agent. Vitamin E is an antioxidant that protects your skin against free radicals that make your skin appear dull. Vitamin E has anti-inflammatory properties and could help your skin reduce inflammation.
3. Cell Regenerating Properties.
 Stearic fatty acid and allantoin are two amazing nutrients in shea butter. These nutrients are both effective cell regenerators, making them very useful for healing acne scars naturally. These two nutrients also increase the healing rate of minor skin injuries and blemishes. That makes shea butter perfect for quickly healing small wounds from popped pimples, which can cause unsightly scarring.
4. Anti-aging Properties
According to a 2018 article, shea butter contains components that have anti-inflammatory and antioxidant properties, such as triterpenes. These are a group of compounds that may aid with cell migration, collagen deposition and cell proliferation, which is the process in which cells grow and divide
There is some evidence to suggest that shea butter could be effective against wrinkles.
5. Dry skin properties
Shea butter is emollient. As an emollient, shea butter helps trap moisture in the skin.
The American Academy of Dermatology Association (AAD) suggests using products such as shea butter within a few minutes of drying off.
Shea butter also contains linoleic acid. According to 2018 research, products containing linoleic acid had anti-inflammatory effects on the skin and hydration-boosting properties.
6. Treats Eczema
Shea butter contains bioactive ingredients that give it anti-inflammatory properties.
A small 2015 study consisting of 25 people with mild-to-moderate eczema found that shea butter may help alleviate the signs and symptoms of eczema.
7. Heal Scars
Shea butter may have the ability to soften scar tissue.
A keloid is a type of raised and enlarged area of scarring. There is evidence to suggest that using shea butter may help prevent the formation of keloids.
However, it is important to note that the researchers used lab cultures. As a result, there is not enough research to show how effective shea butter is at preventing keloid scars.
8. Treats Acne
A 2016 study suggests that shea butter oil may have antibacterial properties.
However, the AAD suggests that applying products that contain shea butter to a person's face, back, or chest may cause clogged pores, which can lead to acne.
People who experience acne-prone skin may want to avoid using shea butter, or products containing shea butter, on the face.
Benefits of Shea Butter for Hair
Shea butter is an oil, rich in fats, that offers a solution for countless skin and hair issues. Shea butter has gained huge popularity for its versatility in the health and beauty spaces.
Cosmetic companies use shea butter in the production of lotion, shampoo, conditioner, deodorant, and makeup used to create effective, natural products.
Shea butter can help restore that lost moisture in permed and dyed hair and protect your hair from harsh weather and sun damage.
Once it's absorbed, shea butter coats your hair shafts and protects them from heat tools and other moisture-stripping chemicals. It's great for color-treated hair and protection from salt and chlorine for swimmers.
Shea butter also helps prevent hair loss. Fatty acids present in the shea butter condition your scalp and hair, adding vital nutrients along the way. This makes your hair follicles stronger and reduces hair fall-out. Shea butter also adds a gorgeous shine to your hair!
The moisturizing and regenerative properties of shea butter make it an effective treatment for split ends and breakage, too. It's a great natural conditioner that locks in moisture without leaving your hair greasy or weighed down.
Because of its moisturizing and anti-inflammatory properties, shea butter may help reduce dry scalp and scalp irritation. However, shea oil may be more beneficial for hair than shea butter.
A 2017 study of a seed oil with similar bioactive-rich content to shea butter found that the seed oil made hair more resistant to breakage.
Additionally, an older 2009  examined the effects of oils and kinds of butter from plants on hair. It found that oil treatment reduced the combing force on wet hair. Butters do not spread as easily as oils throughout the hair.
Natural Oils to Mix with Shea Butter for Scar Removal
1. Rosehip oil
This light, healing oil is extracted from dry rosehips. It is rich in antioxidants that help treat skin problems, such as acne scars. Rosehip oil is easily absorbed into the skin. Mix it with shea butter to create a potent scar-lightening solution.
2. Sea Buckthorn oil
This oil is well known for its healing and restorative properties. It is a natural exfoliate and cleanser that revitalizes skin cells heals blemishes and eradicates stretch marks and acne scars. You can also make a massage lotion for acne scars by combining shea butter with Sea Buckthorn oil and rose water.
3. Vitamin E oil
Most store-bought scar creams contain Vitamin E oil. Vitamin E protects skin and can help heal and lighten different types of scars. Using Vitamin E on minor wounds as they're healing can greatly speed up the growth of new skin cells and reduce the appearance of the scars that follow. 
How to store Shea Butter
Shea butter should be stored out of direct sunlight and heat. Shea butter can expire within one to two years, but with so many uses, you won't leave it sitting that long! You can keep it in a cute, decorative jar on your bathroom counter or shelf.  
Facts about shea butter
Shea butter has a shelf life of between six months to two years depending on how you keep it.
Shea butter is most beneficial when used in raw form.
Shea butter is edible.
Raw shea butter is plant-based and vegan-friendly.
Shea butter comes from a tree nut but is generally safe for those with nut allergies. Check with your doctor before using shea butter if you have a history of allergic reactions. 
Frequently Asked Questions (FAQs)
Does shea butter remove darkness?
Yes, using shea butter for skin discoloration can help both fade dark spots and help prevent them from forming in the first place. It's a natural alternative to drugs such as hydroquinone. An anti-inflammatory that helps with inflammation like that caused by acne and soothes redness.
Can I apply shea butter on my face?
To apply shea butter to your face you'll want to meet a pea-size amount in your hands before application. It can be hard to apply makeup on top of shea butter, so you'll want to do this at night. Shea butter mostly has a rep for being a moisturizer, but it can do so much more.
Does shea butter take away dark spots?
Shea butter is great for correcting skin discoloration and evening-out skin tone. Shea butter can be more effective than store-bought moisturizers for lightening acne scars on your cheeks, forehead, and chin. Its healing properties help repair the pink, purple, and black discolorations of acne scars.
Is shea butter only for black skin?
The great thing about Shea butter is that like most natural substances, it can be applied even to the most sensitive of skin – baby skin. Use Shea butter to prevent skin irritation in babies. Shea butter is not only a natural black skin care ingredient but also good for hair and nails.
Can shea butter be used directly on the skin?
High concentrations of fatty acids and vitamins make shea butter an ideal cosmetic ingredient for softening skin. Shea butter also has anti-inflammatory and healing properties. Using shea butter on your body, especially your face, can condition, tone, and soothe your skin.
What is the difference between shea butter and African shea butter?
Both come from Africa, The African Butter grows in the low lands close to rivers, and is often called river butter. Shea Butter, on the other hand, grows in the highlands where it's high and dry. One of the most important differences between the two is the healing fraction.
Why does shea butter darken skin?
Shea butter has a lot of oils in it, so rubbing it and going out in the sun would tan you, especially if you live in the tropics or go out in the summertime.
Does shea butter restore skin color?
Shea butter is perfect for correcting skin discoloration and evening out skin tone. Shea butter can be more effective than store-bought moisturizers for lightening acne scars on your cheeks, forehead, and chin. Its healing properties help repair the pink, purple, and black discolorations of acne scars
Also Read: