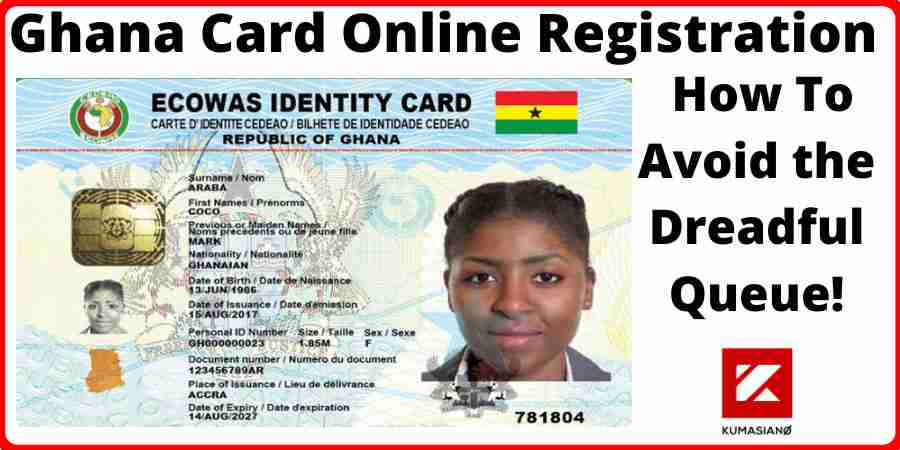 You've all heard about the ongoing Ghana Card registration exercise that's already near its completion phase.
As you read this today, some people already have their Ghana Cards.
Well, I also have my Ghana Card under my belt!
But now I want to help you and other Ghanaians to get theirs too.
This is how you can avoid the dreaded long queue by registering online from the comfort of your home.
What's the Ghana Card All About?
The Ghana Card is a smart multi-purpose national and ECOWAS identity card. It's issued by the National Identification Authority (NIA) of the Republic of Ghana. 
This card serves as the official biometric document for verifying and authenticating the identities of Ghanaian citizens.
The country-wide registration exercise for the Ghana Card commenced in the 2019/2020 academic year. As of March 2020, the final leg of the mass registration was going on in the Eastern Region. 
But when the COVID-19 Pandemic escalated, the NIA suspended the registration exercise.
Those who had the privilege to queue up for their Ghana Cards can testify how stressful the whole registration process is. 
Obviously, the Ghana Card is a laudable initiative. But it's badly executed by the NIA who prides itself as the official body mandated by law to register Ghanaians' identities.
Having a Ghana Card means a lot to the cardholder — at least that's what we're told. 
I remember how I was very critical of the government when I first learned that it was committing some $1 billion US Dollars for the Ghana Card project.
But when I finally joined the long queues and registered for the Ghana Card, I quickly ate back my initial criticisms of the card. 
I realized that the Ghana Card has state-of-the-art technological features that would open doors for its holders.
Let's throw away our political spectacles and give due credit to His Excellency Nana Akufo-Addo.
The Ghana Card is a game-changing national identity document.
So far, it has beaten all its predecessor's hands down. 
This card can take you beyond the borders of Ghana, if only you know how to use it.
The Manual and Cumbersome 

Ghana Card

Registration Process 
When the registration was first launched, the process was hectic here and there.
Hundreds of people would troop into the registration centers to form extremely long queues. 
However, applicants with Ghana passports don't usually suffer much to secure their cards.
But for other categories of applicants who have no passports, they need a guarantor to a voucher for them.
This led to the build-up of a humongous amount of human traffic at the registration centers.
The congestion put too much pressure on the registration equipment as well as the registration officials. 
In extreme cases, some registration centers could hardly register 100 people a day. 
Finally, a lot of Ghanaians complained bitterly about the inconveniences caused by the strenuous manual registration process. 
What happened was that —  desperate people would sleep at the registration centers as early birds waiting to catch the worm.
As time went on, it became obvious that waking up early was not a guarantee to receiving an instant Ghana Card.
Registered applicants still had to wait for 3 days to 1 week before their cards were printed for them. 
This is the long and short of the offline registration difficulties of the Ghana Card, which eventually pushed the NIA to address the situation.
The Online Application Process for Ghana Card
When it became clear that the manual registration process wasn't convenient for the applicants, the NIA rolled out an online registration portal for the Ghana Card.
This was meant to lessen the duration of the application process. People now had to create user accounts on the registration portal to fill in their details,  and download a registration form. 
Once you download your form, you must still visit the nearest registration center to complete your application. That's where they'll take your biometric data and issue you your card.
Here are the documents and information you need for the Online Application Process for Ghana Card.
GhanaPostGPS Digital Address.
Either of the following documents:
Voter ID Card

Driver's Licence

National Health Insurance ID Card

Birth Certificate

Ghana Passport

SSNIT Number
How to Apply for a Ghana Card Online
Can the Ghana card be registered online? 
Yes!
Once you have all the personal information and documents ready, visit NIA Ghana Card registration portal to register online.
NB: sometimes the NIA Ghana Card online registration portal https://register.nia.gov.gh/ gets overwhelmed by requests and doesn't function. If you check it out and it works, good for you!
Sign up for the online registration and verify your Ghana telephone number

After verifying your number, head on to "Start New Application". This would open up a page for you to enter your information.

Input your all names accordingly. 

Respond to questions about your nationality and citizenship

Input your physical parameters such as your height, eye color, etc.
NB: the NIA registration centers can also measure your height.
After filling in all the necessary details, you must declare in the declaration page that all your information provided is accurate.

Finally, you would be given an option to download and print your registration form.

Take your printed form to the nearest NIA registration center to complete your registration. Don't forget to take all required documents along.

If everything goes well, your Ghana Card would be issued to you for free. 

NB: If you don't have a passport, you need to get a fellow Ghana Cardholder to voucher for you.
Eligibility: Who Qualifies to Apply for a Ghana Card?
The following individuals can apply for the Ghana Card:
All citizens of Ghana (whether resident or non-resident)

Dual citizens holding Ghanaian citizenship

Children, adults, parents, the aged, etc.
What are the requirements for the Ghana card registration?
When you visit the NIA registration center, the following are the requirements for the Ghana card registration:
Personal info: name, birth date, parents' names, addresses, etc

Biometric data: fingerprint, iris scan, passport picture

Information about your spouse, next of kin, parents: names, hometown, region and district, addresses

Primary verification documents: birth cert, valid passports, etc

Harmonization of data.
 Applicants are advised to bring along the following Ghana documents to be harmonized with the Ghana Card: 
Drivers license, National health insurance card, Tax Identification number (TIN), Ghana passport, Voter ID card
Benefits of Ghana Card
The Ghana Card uses are:
Traveling to ECOWAS countries

Proving your identity as a Ghanaian

Accessing health services 

Passport acquisition

Drivers license acquisition

Clearing goods at the ports

Registration of a business

Electoral Registrations

SIM card registrations

Banking purposes
Frequently Asked Questions (FAQs)
Who is the NIA boss in Ghana?
As of 2020, Kenneth Agyeman Attafuah is the NIA boss in Ghana. He assumed office in January 2017 as the NIA boss.
Can the Ghana Card be registered online?
Completing an online Application Form for the Ghana Card does not automatically qualify or make you eligible for a Ghana Card. Submitting an online Application Form does not complete the registration process. It simply reduces the time within which the registration process is completed.
How much does Ghana Card cost?
Regular registration for Ghana Card free, GH¢250 only for premium service – NIA. The National Identification Authority has clarified that the GH¢250 fee for the Ghana Card registration is only for applicants seeking premium services.
Is the Ghana Card registration still ongoing 2022?
Can a foreigner do Ghana Card?
The Non-citizen Ghana card is the mandatory form of identification to be used in all transactions for e.g.; applying for or renewing residence permit, opening or running a bank account etc. So it is mandatory for a foreigner to register for the Non-citizen Ghana card even if they have a permit.