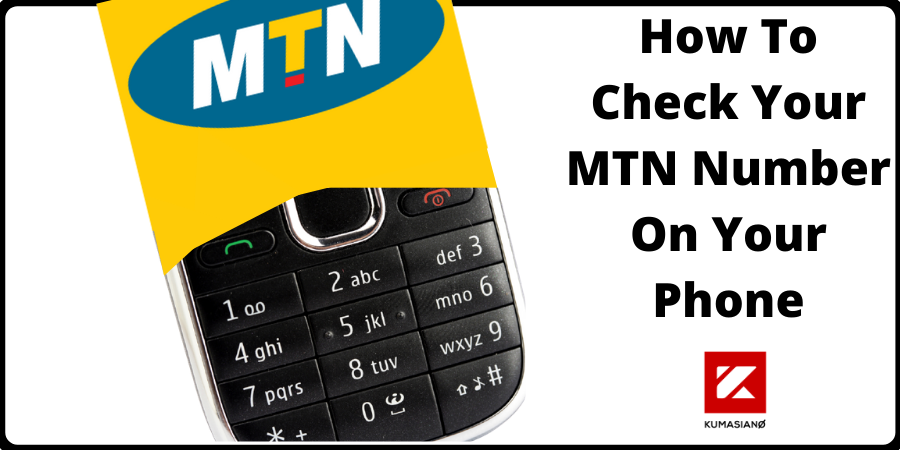 Is it that easy to check your MTN number on your phone?
Oh yes!
To check your phone number on MTN Ghana, dial *156#. Your 10-digit number will be displayed on your phone's screen.
Anyway, you may think it is really awkward for someone to forget just ten digits of their own phone number. Well, we all do it. I just did it yesterday.
The average Ghanaian has at least two SIM cards because of the introduction of phones with multiple SIM cards. Remembering these numbers is challenging but with time they begin to stick.
People who change their SIM cards due to poor network coverage, cheaper call rates, or better data service charges on other networks often face this problem.
Having many SIM cards is not the problem but remembering each number is.
In this article, we are going to provide the various ways to check your MTN number. In order to do that, one must have an active MTN SIM card in a mobile phone, airtime (not required for all procedures) and good network coverage.
THE SIM CARD'S PACKAGE
The quickest and commonest way to know one's phone number is via the SIM card casing. The package comes with vital information about the SIM card usually found at the back.
PIN code, PUK code and phone number are the information often found. Should your SIM card get blocked, this information will help to unblock it thus should be kept safely.
CHECKING YOUR SIM CARD NUMBER VIA A CALL
What if you can't find your SIM card casing, is there another way to check your MTN number?
Calling a friend or a relative is another common way to check your MTN number. This procedure requires airtime in order to place the call. Follow these simple steps;
Launch your dial pad
Input the friend's phone number.
Place the call and obtain your SIM card information from a friend or relative.
"MTN Pay for me service" could also be used if you do not have any airtime to place calls. Just dial "154xxxxxxxxxx" where 'X is the recipient's number, then place the call.
CHECKING YOUR SIM CARD NUMBER VIA SMS
Having an active known SIM card number in the same phone as the unknown could help eliminate any third party when checking your number. Follow these steps:
Go to your messages app.
Press on compose a new message Enter the known phone number on the receiver's text box
Type any word in the SMS body.
Send the SMS from the MTN line (unknown)
Note the contact details on a piece of paper for future reference.
CONTACTING MTN CALL CENTRE
MTN call Centre practically has all customers' details including their registration information, airtime balance, bundles, and subscriptions. Follow these steps to get in touch with them.
STEPS:
Launch your dial pad
Dial 100 and make the call from your (unknown) MTN line
Reply with your preferred language
Follow voice prompts to speak to their agents
Request for your phone number
Write it down for reference
CHECKING YOUR NUMBER VIA USSD (SHORT CODE)
If there's no third party, no airtime or you can't find your SIM card packaging; you can still check your number using the following steps.
STEPS:
Dial *156#
Place the call using the unknown MTN line
Select 1, check my MTN number
Voila! Your MTN number
Frequently Asked Questions (FAQs)
How do I know my MTN number in Uganda?
how do I check my number? Y'ello, dial *135*8#
How do I check my MTN number in South Africa?
How to check your number on MTN numbers. If you were worried about how to check my MTN number, there is a short code for that. You can do so by dialing *123*888#.
How do I activate my MTN number?
Activate a MTN SIM by dialing *141# until you receive a SMS confirmation message. Important: After the MSISDN has been activated, the subscriber has 30 days to start using the SIM for the first time
Why can't I see my phone number?
For every Android phone, regardless of manufacturer, you'll be able to find your phone number if you go to Settings > About Phone or About Device > Status > My phone number. Some Android phones will have SIM or SIM card status listed within Status.
How do I check my MTN Nigeria number?
Starting with the most popular network with the most subscribers. To check your phone number with Mtn, you can dial *123# and follow the on screen prompt. Select option 1 and send to select My Tools Option. Then select option 5 in My Tools to request My Number.
Were you able to recover your forgotten MTN number? Which method was easiest? Well, let us know from the comments. Remember, sharing is caring!!
Also Read: