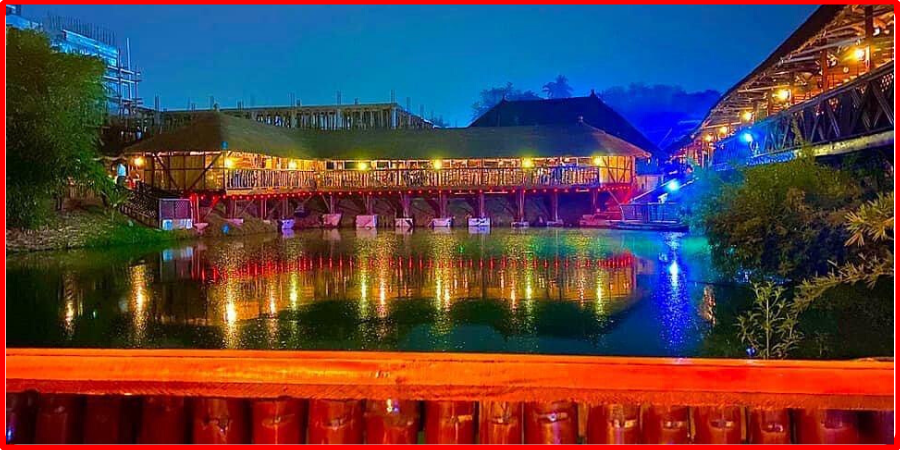 Kumasi is gradually gaining a reputation as a bastion of food innovation.
And I don't doubt that for a second.
Not at all.
The culture and life of the people have really influenced their food choices. Notwithstanding the influx of junk and fast food. Kumasi never turns it back to culture.
No wonder, there are a number of newly opened cafes, bars and eateries in and around the city.
And the trend is not dying out soon.
My newly found culinary adventure of exploring the city's eateries has finally taken off.
And the journey has been adventurous.
So far, I have been dining in some of Kumasi's best-kept secrets for weeks now, and I must say it's quite an experience.
For those of you searching for a culinary experience like no other, look no further than Ike's Cafe and Grill inside the Kumasi Cultural Center.
About Ike's Cafe and Grill
Where is it located?
Nestled amid the cultural heritage and history that pepper the Center for National Culture between Bantama and Kejetia, Ike's Cafe is the place to be if culture is your thing.
Ike's Cafe is located on the westside of the Cultural Center. Just behind the wall shared between the Center and the Kumasi Zoo.
Adjacent the "Contrata" – the Brazilian construction firm's workshop.
Just about a minute's drive from the main entrance of the Cultural Center, you take your right turn. And about 100metres away – lies the splash Ike's Cafe and Grill.
Asante is proud of its culture.
Yes, we know.
But the way and manner Ike's Cafe combines culture, nature and modernity are amazing. Some good thinking went into that.
In fact, there's a hint of royalty hovering in the air.
Of course, you can't have access to such a strategic area like the cultural center without links to Asante Royalty.
This map here will lead you to Ike's Place – cafe and grill.
Again, my research revealed the origin of the whole story. The parent company is known as "Ike's Cafe and Grill" is in the US – founded and managed by an industrious Ghanaian woman.
I heard she's a queen. No wonder. Welcome to her queendom.
In the US, you can found at address "Ike Cafe and Grill Norcross GA" – 1250 Tech Drive,
Norcross, GA 30093 to be precise.
Serving the diaspora with fine dining West African Cuisine: Beef and Chicken Suya, Jollof rice, Fufu, Palm-nut soup and Peanut Butter soup ((Abenkwan), Watche, red red, Yam Porridge (Asaro), Egusi and many more.
Ike's Place Atmosphere and Ambience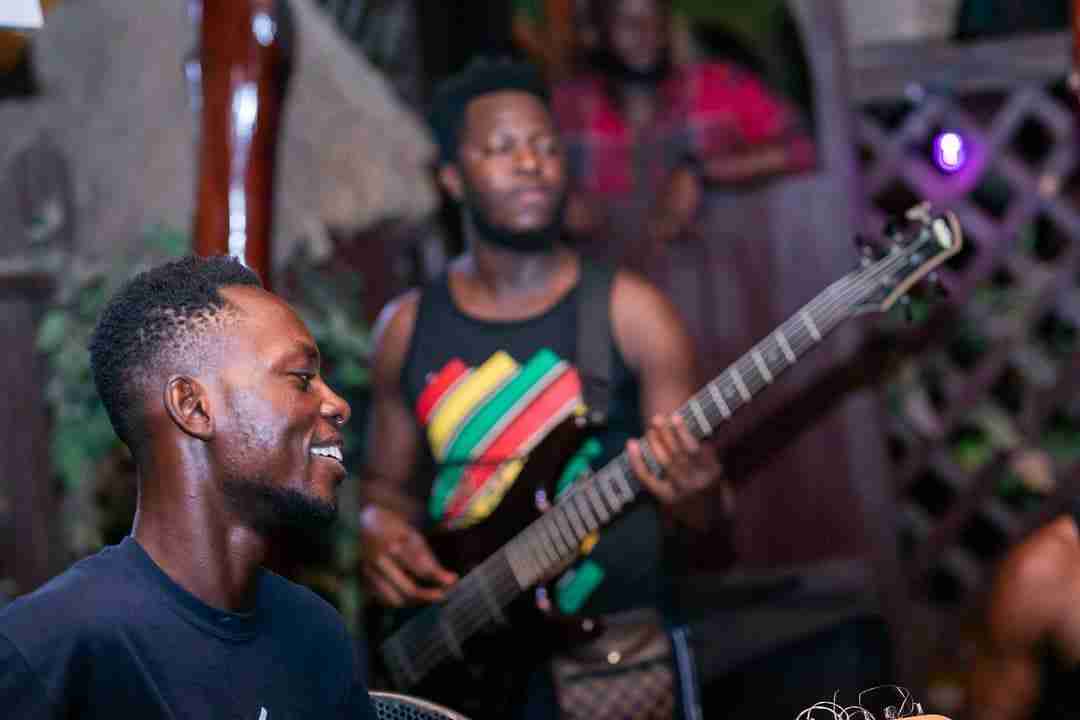 As the caged birds greet and sing Akwaaba to you even before you enter, a beautiful soul officially welcomes and ushers you to your newly found home.
(Akwaaba ba fie mewura/m'awuraa – you're welcome Sir or Madam).
Just lift up your head to a magnificent setting.
A delightful marriage of a beautiful stretch of Rondavel-Esque African hut and some cherry-picked luxuries of modernity.
The interior will remind visitors of an adventurous Caribbean ship, Cast Away-Esque tropical cum cultural paradise.
Don't let appearances fool you — the place may be catchy, but remember you are here to enjoy yourself.
To eat I guess.
So, let's cater to our needs first.
This place is perfect for one-offs, groups, families, or a casual date night with that special someone.
Ike's Cafe and Grill Setting
Ike's Cafe and Grill is split into four completely unique and wonderful settings. Maybe more.
An ice cream and smoothie joint followed by the iconic point and kill catfish stand.
The venue also features a restaurant, a local joint overlooking the lake with wooden stools and a large live band area on your right as you enter.
Each area with its own specially decorated bar.
Sitting at a table at the main restaurant, you have a wonderful view of the beautiful tilapia lake. However, the side attraction is the point and kill catfish joint on your left side as you are ushered in.
You better take your woman there before someone does.
Or maybe surprise that guy with some getaway unplanned lunch. And he will be enslaved in your queendom.
The lake allows the simplistic beauty of the main restaurant to really shine, though beauty isn't the only thing bringing folks to Ike's Cafe and Grill.
For those who do not sit or book a table and are waiting, you can have a wonderful view of the beautiful lake in plain view.
Of course, the lake can get messier some times. It depends on the weather which may not be peculiar to Ike's Place.
But hey! No excuses. You need to keep that thing fresh always if you want it to attract the people.
"Kumasi people know greatness when they see one."
Notwithstanding, the whole place is buzzed with a certain exciting energy and is mostly full of seemingly satisfied patrons.
Food – for thought
Ike's Cafe and Grill Menu
Disclaimer: Restaurant Menus do change like periodically. There may be a difference in the prices as of when you find this menu. Do well to find the current prices.
Click here for the menu…
But you're in for a treat.
FEATURES
Reservations, Seating, Table Service
PRICE RANGE
GHS 15 – GHS 70
CUISINES
African
SPECIAL DIETS
Vegetarian Friendly
MEALS
Lunch, Dinner
Ike's Cafe and Grill Delivery
Why not.
You can treat yourself to a delicious breakfast, lunch, or dinner on the growing tall list of items on Ike's cafe and grill menu.
Do they do deliveries?
Of course, they do.
All you have to do is to think about how hungry you are.
Or probably give yourself a nice reason why you should indulge in some pizza or milkshake.
Call an "HIM – who's someone's son" or take full responsibility and call the delivery numbers
0503113110
0248709098
Now, let's look at some pros and cons of Ike's Bar and Grill:
Pros
Affordable
Beauty and Colour
Creativity at its best
locally-generated content
A memorable destination for a family gathering
First-hand knowledge of the people and their culture
Cons
Lake can some times get messy.
I prefer to see the chefs working in the kitchen. That's with me. It makes the food feel almost homemade.
Recommendation
1. Speedup other Projects:
I assume the other developments around the area are all geared towards making Ike's Place the place to be. Like an all-in-one outing package. A hotel, playground, restaurants, bars et…
2. Take care of the Lake:
Inasmuch as your utmost aim and objective are to provide the best culinary services to your cherished customers – don't neglect other side attractions.
Attractions like the lake and the point and kill joint play a major in people's minds. When people remember Ike's Place, it is either they talk about the lake or the catfish. It works like magic.
Yes, I know there are measures to keep the lake mosquito-free and clean at all times. That's great.
However, never forget yourself in this duty.
Because, if you allow the lake to breed mosquitoes, it becomes a switch on people's minds. And just like that, it becomes a dent on the reputation of the place.
3. To all of  us:
For loyal patrons of Ike's Bar and Grill and prospective customers, all we can tell you is to enjoy yourself in one of the best sceneries and experiences Mother Nature and Ghana has to offer.
Until then, laze around a lake with a glass of chardonnay, Cabernet Sauvignon or Pitoo as you wait for your lunch.
Or otherwise, make do with a bottle of beer, maybe a cone of ice cream for 'her' while your private chef at the "point and kill" joint prepare your delicious catfish with some pyramid-shaped banku.
It's your day.
Enjoy while it lasts!
And on that Friday night, do well to join the much talked about "karaoke" night.
Maybe we'll meet there one of these days…
And on that Sunday after a long day at church, this could be your convo with the cute waitress in her colourful Kente.
"More beer?
Right away, sir.
Club, right?
Oh, "beer de3 enoaa ne club!"
On some ice, right?
Certainly madame!"
Customer Reviews
From one raving fan: 
It has a very siren environment. They have a pond with catfish and as you enjoy your meal you can purchase a fish meal and feed them with. I have been there on several occasions and I love their service. And lastly with their Karaoke night, its a blast.
Emmanuel reiterated:
Beautiful scenery and great waiting service. Good family getaway place. They must better their mosquitoes control strategy and improve the washrooms.
Herbert shouted:
Loved the ambience of the place. Great Ghanaian food too, the servings are huge too better ask for the quantity before ordering if you are not so hungry.
Noah knows what Ike's Place is:
Very nice joint for friends. Food is good and the fish is nice. It is fresh fish. Forget the mosquito bcos they have been taken care off.
This is what one lady had to say…
The ambience was great, the food was nice and the service was excellent. Though a little bit expensive. But it's worth it. Visit Ike's Cafe and grill the next time you are in Kumasi cultural centre. With their fish pond, is more like point and kill, hahahahahah. And you sit overlooking the pond. The night view is superb. Just pay them a visit and if you are confused about what to order you can go for their red-red or their special fried rice. Is fantastic. I promise you will love it.
Eugenia also mentioned:
A great place for a decent relaxed family day out. Food is great. Drinks both foreign and local are also good. Karaoke nights are great too. Freshly caught catfish from their pond tastes so good. Ambience is excellent. Not too hard on the pocket.
Conclusion:
Though I would love to be selfish and keep Ike's Cafe all to myself, this amazing work of art is too good to stay hidden for long.
There's no doubt a table at Ike's Cafe and Grill will quickly become the hottest reservation in town. I believe so.