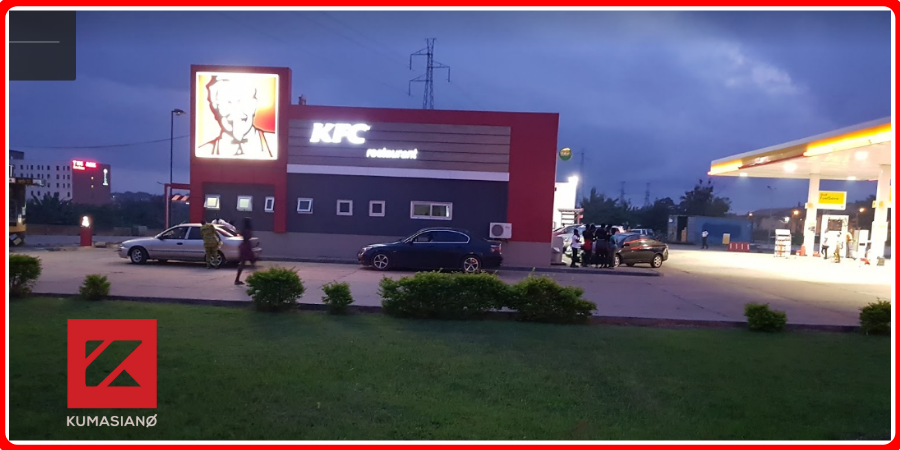 Come to think of it, this a fuel station offering both petrol and diesel. On the same facility, there's a pharmacy, a shop, Starbites Fast Food as well as KFC restaurant & drive-through.
That's a whole package I guess.
KFC Asokwa offers fried chicken, burger, chips, drinks, and among others.
It's a fast-food joint; therefore meals are expected to be cheap here.
The last time I visited was the one at Bekwai roundabout. Not as crowded or noisy as I expected, and that was a pleasant surprise. Well, it was quite late though.
As typical of most eateries, the place is usually busier on weekends, holidays and special occasions.
In all, it offers quite some utility.
About KFC Kumasi, Shell Service Station Asokwa
KFC Asokwa Shell Service Station is Restaurant in Kumasi, Ghana
Kentucky Fried Chicken (KFC) is a fast-food fried chicken chain
Address
133 Lake Rd, Kumasi, Ghana
Tel: 0558 38 27 83
Website 
The restaurant serves crunchy fried chicken, beverages, smoothies, rice, cheeseburgers and other assorted poultry products.
Location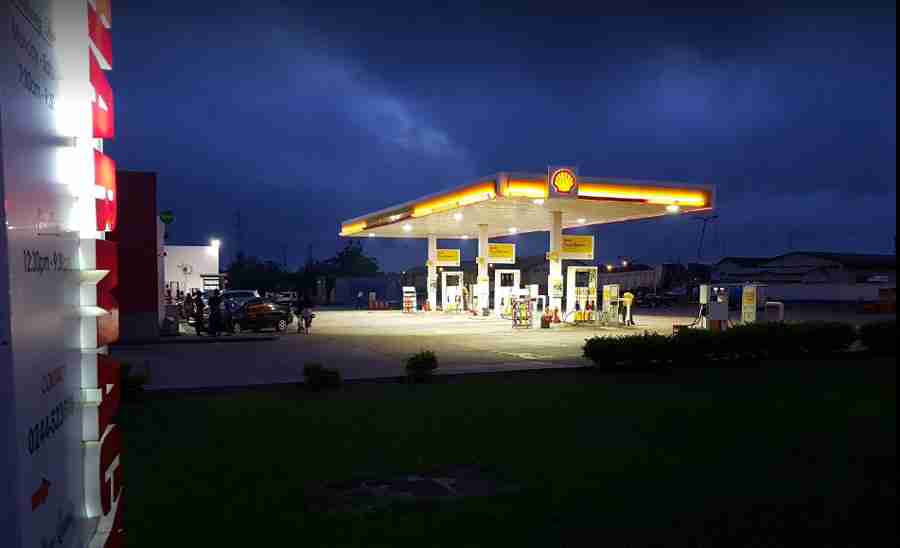 "Location location location"
When the girl said, "When I saw that building, I remembered your house" – I realised how location can influence human psychology.
KFC is situated on the main lake road at Asokwa, Kumasi on the same premises as the Shell Fuel service Station.
KFC is a popular hangout for University students, civil servants, family and friends as well as expatriates.
Open to the general public, KFC Asokwa Shell Service Station is not the only KFC joint in Kumasi at the moment.
The location is ideal for many reasons. Asokwa is not known for dense traffic. And it is close to the Kumasi City Mall with adequate parking as well as great transport links to almost anywhere you want to go.
Another one was recently opened at Bekwai roundabout Shell Service Station. Serving the Bantama, Sofoline, Nhyieaso, etc.. side of the market.
Ambience
Yes, KFC Asokwa is just a walking distance from the mall.
A small but neat restaurant that can be compared to KFC anywhere in the world. A nice place to pass by for some crunchy chicken after your trip to the mall.
Do expect the place to be crowded on festive seasons, some weekends and holidays. That's typical and really not surprising.
This area which overlooks the Asokwa interchange can boast of the Mall with all its goodness. On the other side, you'll find KFC with a drive-through, starbites restaurant, and a pharmacy if things go wrong.
The Settings
A lovely place to hang out with your friends and loved ones in the afternoon.
This is a tidy, orderly, generally peaceful and gets the job done. You get quick orders on weekdays as well.
Nice spot to grab a bite and just hang out. Friendly staff and good food. It's a finger-licking KFC restaurant at the heart of Kumasi.
Fast effective servicing even during peak times with a lot of people.
Not a place I'd recommend for someone who needs some 'ME' time alone either to concentrate on some project on your laptop or just wind up.
If your goal is to find a lot of people around to feel good and validate yourself, then you're welcome to KFC.
But if you're that shy dude with some shy girl, then a quick lunch during weekdays or their drive-through may be ideal for you.
If the girl is asking for KFC, you better give it to her. The validation alone could be crucial here.
Overall, it's a nice and welcoming environment.
KFC Food
KFC Kumasi offers fast food; burger, chips, drinks, among others, similar to KFC anywhere in the world.
The ordering system was doing good the last time I checked in. One of the few places I've seen that actually work.
The "KFC Krushers" is really necessary. Try it out.
Drive-through
In addition to the restaurant, KFC also has a drive-through. This is a great facility for quick pickups. Fast food like most Ghanaians say.
Again, because the main restaurant is a small space and can be crowded during occasions, opting to do a drive-through may be a good decision. Easy-peasy.
It's a serene environment and close to the main road. Try it out!
The Service
Overall, you'll find one of the best eateries in the Garden City here at KFC in Asokwa.
Of course, KFC Asokwa is not spacious enough and mostly crowded during holidays and occasions. However, you'll meet courteous staffs who enjoy what they are doing.
but washroom needs much attention. Prefer to do a drive-thru
Like any business outfit, the staff (cashiers, chefs and attendees etc) could benefit from some training though.
You shouldn't expect to find the best customer service with public places with lots of people coming in every time. Fair enough if the place is not always crowded.
However, reduce your expectations, be human and be empathetic.
Most of these smart folks working in fast food joints, bars and bistros take home very discouraging salaries. Some are that bad. But they need to keep the job so they press on and put on a smile.
I know many who may be where they are because of the love they have for customers and the need to serve loyal customers.
In the case of KFC, I remember I knew a gym friend who was a chef who once mentioned to me that, they're not allowed to eat the food they cook.
Someone prepares food for them from outside and bring it to them. Sad.
Well, that was I think a year or two ago. I don't know the situation now. He could only tell me this when he left.
But things happen. So don't expect too much. Be helpful and show some empathy.
Again, periodic training would definitely go a long way. Innovation doesn't hurt.
Pros
Krushers
Affordable
WiFi available
Nice clean place
Expect a quick order placement and delivery.
Cons
The restroom needs more attention
The cashiers and attendees could benefit from some training though. On-going training.
Recommendation
As I was researching, I came across a few of the youth who mentioned this place as a good for dating and having a one-on-one talk with your loved ones.
I'll side with them on the second part but for dating!
Well, it may depend on the two beneficiaries. If it works for you – fine.
Delays are quite often with most restaurants and bistros. In the case of KFC in Kumasi, this is not a huge issue.
Even with their small space, they are doing fine. But during particular weekends, holidays and occasions; things get funny. Maybe you can get a list of contract workers on stand-by for quick help and support when the need arises.
Yes, customers will always complain. Almost about anything – good or bad. managers and caretakers must listen to regular and consistent complaints.
Especially when they become rampant.
For instance, most people have issues with washrooms. Everywhere in the world. (No tissue, no soap, no dryer, no nothing etc..)
We always complain about restrooms and washrooms even though we mess it up and keep it untidy. And that is not just here but anywhere in the world.
Notwithstanding, always do your BEST. "The restroom needs more attention."
"I ate the best finger-licking food ever" shouldn't be synonymous with "And restroom was not neat"
And for first-timers, KFC has some good food and excellent services. Again, that is a good location for many other things.
In fact, if you don't like the experience, there is "Starbites" just opposite so in case you are not down with the food, you have a nice option.
There's also a washing bay, fuel station and even a pharmacy in the same space.
KFC Asokwa Reviews
To spice things up, here are a few reviews pulled from Google about customers experience with KFC Asokwa – Kumasi.
Ezekiel

"Really good service. Unlike many restaurants I have been to, these guys actually do have what's on their menu. Placing your order and getting is done quite orderly without ambiguity."

Anika said,
"Went to KFC for wifi, stayed for the chicken bites. Very tasty. Drinks were very cold. Nice atmosphere and the wifi was excellent!"

Kwabena says,
"Washrooms are very bad. It brings houseflies to the tables close to the washroom. Something should be done about it as soon as possible."

Collins,
"My time here with my family was awesome. At another time, I loved their swift drive through service."

Ahmad mentioned,
"Chicken with some taste you can't resist even if you were forced to, plus special treats; streetwise, crushers and more."

Kennesha,
"I was not impressed. I don't even know why I went. I don't like KFC in America so not sure why I thought this would be different. First, the chicken I received was not what I asked for. Second, the environment can be a lot cleaner."
In Conclusion:
That part of Asokwa was planned as an industrial enclave, however, it has turned out to be not only a good location for food lovers but a hub for everything – fun and enjoyment.
KFC has great offers available all the time. All you have to do is check.
Be sure to try out their Krushers – it has many raving fans.
KFC Asokwa shell branch is an amazing and comfortable place, where you can sit to eat whiles working on your phone or laptop. Free Wi-Fi and amazing staff.
Check-in anytime.
Don't forget the 'Krushers'. A necessity.
Address
133 Lake Rd, Kumasi, Ghana
Tel: 0558 38 27 83
Also Read:
Aboude Fast Food: What's the Deal. The Chicken or the Fruit Juice?
Ol' Lady Sports Bar & Lounge: Nightlife has Never been the Same!
It's My Kitchen restaurant: It is the Best Restaurant in Kumasi?
They were all Boring Until Tasty Queen Restaurant Arrived…!