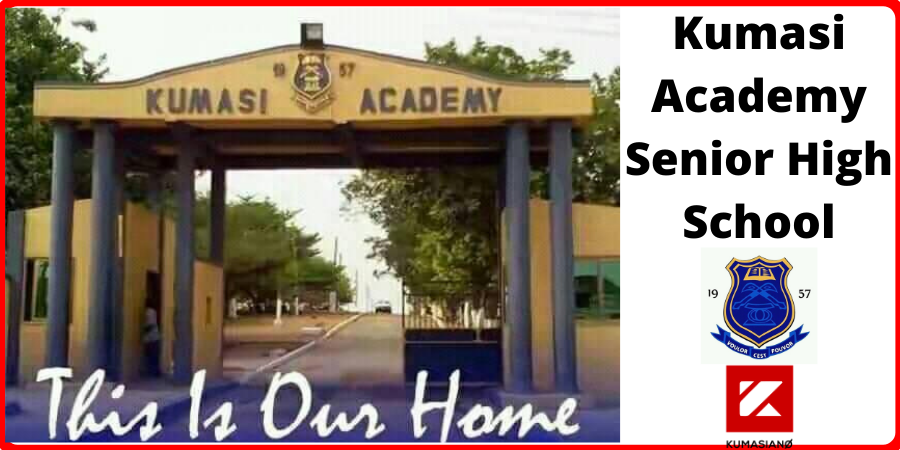 Kumasi Academy is one of the top senior high schools in Ghana noted for their excellent performances in both internal and external examinations and this birth their nickname, the academicians.
In 1954, a group of American Baptist Missionaries acquired land at Asokore Mampong. They used the land to establish a seminary, then a secondary school and the rest as they say is history.
Kumasi Academy Senior High School was born.
About Kumasi Academy "KUMACA"
Started in 1957, the year of Ghana's independence – Kumasi Academy Secondary School, then called Sadler Baptist School was formed as a seminary. In 1960, they separated the seminary from the secondary school.
The seminary was then moved from Asokore-Mampong to Abuakwa, leaving the secondary school at its present location in Asokore-Mampong. Apparently, with time and several enrollments, the school gained some popularity which caught the attention of the then government.
The government wanted to have a "say" in the administration of the school. The Baptist founders of the school who were great believers of "let's separate church and the state" initially found it difficult to accept such an offer.
They gave it a thought and came to a conclusion; is ideal we separate the church from the state but there can be some compromise.
So, they later thought it wise to hand over the affairs of the school to governmental control but on two conditions;
the government can change the name of the school, but
religious matters in the school should be managed and controlled by the Baptist mission.
Against the backdrop of these two conditions, the government accepted the offer. The name of the school was changed to Asokore Mampong Secondary School in 1964  and later in 1966, it was renamed Kumasi Academy.
KUMACA under Review
On 1 April 1964, the Ministry of Education appointed a new and the first Black Headmaster of the school in the person of Mr. Emanuel Osei-Kofi to re-start the school. The school has since been headed by the following Ghanaians to date:
Mr. P.O. Sanful
Mr. B.W. de-Graft Johnson
Mr. Thomas Baidoo
Mr. E.K. Baah-Gyimah
Mr. L.K Ankobia
Mr. E.K. Adjei
Mrs. Beatrice Addo (née Bonsu)
Mr. Alex Conduah
Mrs.Nkansah Eunice (2010 – 2017)
Fast forward to 2021, the school is under the care of Rev. Sylvester Osei Owusu. KUMACA now has day and boarding facilities with both males and females.
The school offers six courses and like any other secondary school in this country, takes three years to complete a course. The courses are;
Business
Agriculture
Visual Arts
General arts
General Science
Home Economics.
These courses have certain subjects in common, these subjects are core subjects. Therefore, there are 5 core subjects are; English Language, Integrated Science, Mathematics, Social Studies, and ICT.
Each course has specific subjects that are exclusive to that course alone, these are elective subjects.
The academicians as they are proudly called have "Vouloir c'est Pouvoir" which means "where there is a will, there is a way" as their motto.
Again, KUMACA is noted for the upbringing and producing ACADEMICIAN's who occupy very important positions in Ghana and abroad. Some notable alumni will be mentioned in a later section.
Mission
"Providing an excellent academic, vocational and moral training to enable students to utilize their god-given conscience, mind, heart, hand and talents for the world of work and to the service of mankind."
Vision
"To be a preferred first-class institution providing a holistic education that will prepare our students to serve their country and the world "
Pros of Kumasi Academy
Discipline
Tight securitySports friendly
Drawbacks
A few years ago, Kumasi Academy Senior High School was struck by an endemic disease that led to the loss of lives of several students. This caused fresh graduates from JHS to pull away from the school.
Kumasi Academy Senior High School Reality Guide
What is the cost of attending Kumasi Academy?
With the advent of free senior high school education in Ghana, fresh students don't pay any fees. However, fresh students will pay miscellaneous fees which when compared to the school fees, it's very affordable.
Gender – Mixed
Religion – Christian
Denomination – Baptist
School type – Public Senior High School
Color(s) – Blue and Gold
Houses – Prempeh, Sadler, Boakye Dankwa (Bodank), Yaa Achiaa, Akua Nyarko, Jubilee.
Sports – Football, Basketball, Handball, Volleyball, Track-and-Field
Alumni –  Collectively, an alumnus of Kumaca is known as "Akunini".
Administration
The administration of Kumasi Academy like most senior high schools is headed by the Headmaster who is supported by three Assistant Headmasters in the Administrative, Academic, and Domestic fields.
Other very important authorities are the Chaplain, School Accountant, Counsellor and Bursar.
Achievements of Kumasi Academy Senior High School
In 2007, Kumaca took the second position in the regional handball competition. In 2010, they won the regional volleyball, placed third in the regional independence day parade and was fourth place at the regional super zonal.
Extracurricular Activities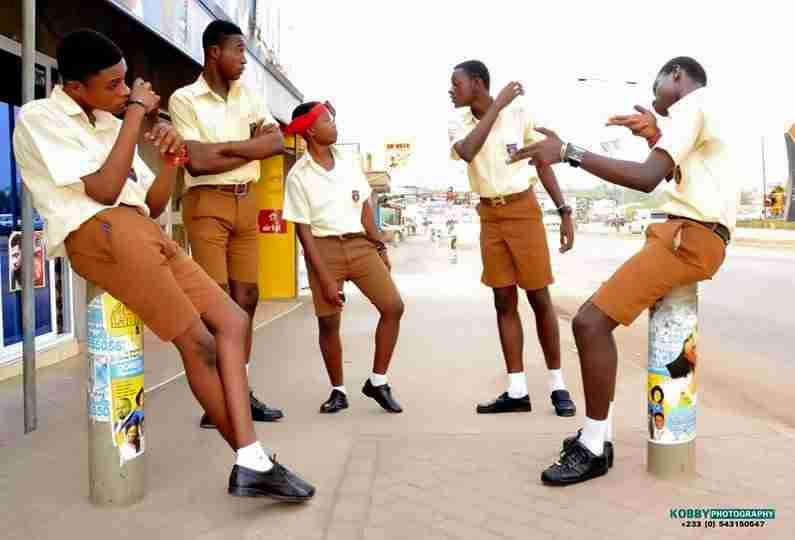 Kumasi Academy High School, apart from its academic work, has designed an academic calendar to include sporting activities.
The school takes part in the yearly Milo Soccer Festival in the Ashanti Region, the Inter-Schools and Colleges Athletics Competition, etc.
Some of these activities include Field and Track events, Handball, Basketball, Football, Volleyball, Lawn-Tennis, Table-Tennis, among others.
Aside from the sporting events, there are weekly entertainment activities on campus. This event lasts for exactly two(2) hours and takes place every Saturday from 7.00 pm to 9.00 pm.
During this period, students of various levels perform live on stage to bring what they have got in them. These performances are in a kind of singing, dancing, stage-comedy, drama, etc.
Some Notable Alumni
As stated earlier, KUMACA has provided the country with academicians who occupy important positions in several fields including the media, sports, religion, music, politics and academicians.
Talking about "National Service", KUMACA has provided the country with great minds and human resource;
Politics;
Hon. Akwasi Osei-Adjei
Hon. Dan Botwe
Kwesi Amoafo-Yeboah
Mr. Peter Mac-Manu
Mr. F. F. Anto
Hon Kwabena Sintim-Aboagye
In academics;
Dr. Daniel Gyebi, Attorney-at-law, Texas-USA

   

Dr. Evans Afriyie-Gyawu, Assis.Prof., Georgia Southern. Univ.

   

Dr. Kwaku Yeboah, Lecturer, Sociology Dep't, UoG-Legon

   

Mr. Owusu Jacole, Psychology Dep't, UoG-Legon

   

Dr. Paul Nsiah, Head, Dept of Chemical Pathology UCC Medical School

   

Mr. Felix Ntim, Development Consultant – GIZ Tanzania

   

Dr. Peter Twumasi, Dept of Biochemistry, KNUST. KUMASI

   

Dr. Johnson Boampong, Head, Dept of Human Biology, UCC

   

Mr. Joshua Obeng Nyarko, South Bank Univ, UK

   

Dr. Martin Amoah, UCW

   

Dr. Robert Amoah, UCC
In music and media,
Aggie Tuffuor, Gospel musician, The Netherlands
Juliana Acheampong, Gospel musician, UK.
K-Sef,

 

Dancehall musician, Ghana.

 

Prince Ray, Hiplife musician, Ghana.
Cody, Hip-hop musician, USA.

 

Aaron Critikal, Hip-hop, Ghana.
Prince Minkah, Presenter, TV Africa.
Ebenezer Donkoh(NY DJ), Radio Presenter & DJ, Kapital Radio
In business,
   

Mr. Patrick Kwadwo Fares, CEO, Royal Airport Hotels

   

Mr. Kwame Boafo, Executive Chairman, GLICO

    N

ana Akwasi Wusu, CEO, Silverline financials & investments

   

Man Tera(Amo David), Graphic Designer(N.Q.G Designed)

   

Mr. Edward Forkuo Kyei, CEO, GLICO

   

Mr. George Bancs, CITI Bank, Zurich
In religion,
Rev. Francis Cobbinah Bio, Founder, TLTFM
Rev. Harry Adams Musah, Founder, Christ Outreach Centre
And in sports,
Solomon Amponsem, Footballer, FC Amsterdam, The Netherlands
These are just a few to mention, there are more academicians worldwide.
KUMACA is among the great schools in the Ashanti region. The next time you meet anyone in Kumasi Academy apparel, all you have to do is shout "Akunini"  and hear them respond, "arise".
Also Read: