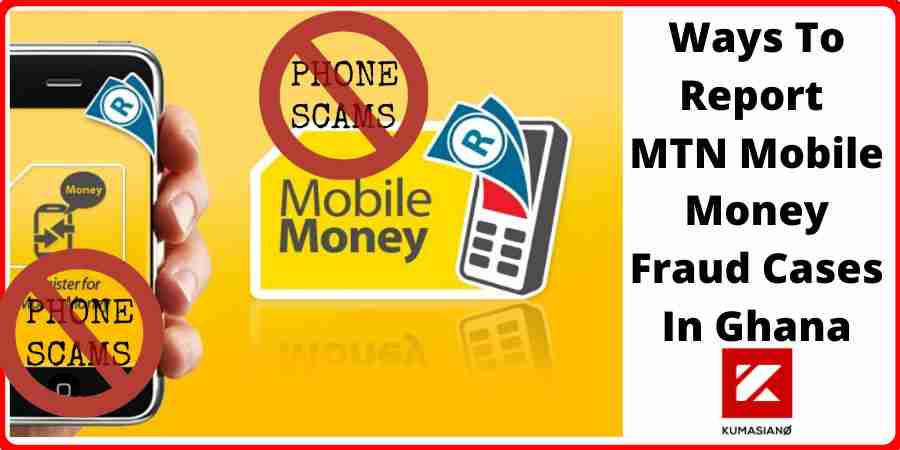 Are you wondering how to report MTN mobile money fraud cases (scam) in Ghana? 
Here are Ways To Report MTN Mobile Money Fraud Cases In Ghana:
Call MTN Customer Care on 100

Send an Email to mobilemoneystr@mtn.com.gh 

Text a Message (an SMS) to 1515

Report Fraud to any MTN Service Center

Report Fraud to 

Ghana Police Service
Mobile Money Fraud
When we talk about mobile money fraudsters, they're crime syndicates (confidence tricksters) who use deceptive means to defraud mobile money users.
Ever since MTN launched mobile money service in Ghana, some bad guys have been exploiting loopholes to defraud people.
It's true to say that mobile money has revolutionized the financial markets in Ghana. Nevertheless, the payment system has also been hit hard by numerous fraud cases. 
Momo fraud guys see their dirty games as a business, instead of a crime. It's very painful to fall victim to these lazy ass scammers who take delight in stealing money from clueless victims. 
Watch out! These con men are out to get your hard-earned income. 
How do Mobile Money Fraudsters Operate?
Wait a minute! Is the whole MTN Mobile Money thing a scam? Why is it that Vodafone Cash, Tigo Cash, and Airtel Money users don't experience mobile money scandals like MTN users?
Something is not right somewhere. This malpractice should have been nipped in the bud stage. 
So far, MTN Ghana has the largest customer base in Ghana. All in all, this also accounts for the rampant fraud incidence we hear every day.
The mode of operation mobile money scammers is yet to be fully understood. But from experiences, we do know that the fraudsters play mind games on their victims.
When I remember how my sister was scammed by these fraudsters somewhere in 2019, I feel like Ghana is no longer safe. The government should strive to make the mobile money sector great again.
Back to my sister's fraud case — one evening, I was browsing through news feeds on Facebook when she rang my phone and broke shocking news to my ears. She had just been scammed by a loser. 
But how did they get here? According to her narration, one fraud guy called her with a strange number and complained that he had mistakenly sent GHC 300 to her account. 
Therefore, she (my sister) should check the message in her inbox to confirm the transaction, and kindly resend the money to him. 
Acting religiously (but impulsively), my sister indeed confirmed receipt of the "fake" message and "ignorantly" transferred GHC 300 to the fraudsters. She did this without first checking her account balance.
When she then read her remaining balance from the transaction message, my sister collapsed in tears. SHE HAD BEEN DUPED! 
Most mobile fraudsters use this deception strategy as their modus operandi. After falling victim to these Momo scammers, my sister hasn't been the same. She's learned through the hard way, not to be too religious and trusting.
While mobile money fraud incidences are becoming very common, many Momo users have no idea how to report such unfortunate events. 
It took my intervention before my poor sister finally learned about the MTN momo fraud report. As a good Samaritan and a smart tech freak, I'll also show you how to be safe from the fraudsters.
How to Report MTN Mobile Money Fraud Cases In Ghana
It's okay to get duped once by Momo fraudsters. But it's not okay not to know how to report them. MTN Ghana has communication channels for customers to report fraud cases. The only question is how many reporting channels do you know?
The faster you report the scammers, the higher your chance of retrieving the money. That's if the scammers don't cash out the money immediately. 
But I believe they are experts in the business. Some scammers are not ashamed to ask Google, "how to send fake mobile money messages?"
 Whatever it's, you can always report fraud cases even when the scammers don't succeed in stealing your money. After all, you can't predict when they'll attempt to defraud you again. 
The next few paragraphs explain the various ways you can report MTN Mobile money fraud cases in Ghana.
Call MTN Customer Care on 100
 The standard customer care number for MTN is 100. 
NB: It used to be 111. But now, calling 111 won't go through for you to report Momo fraud to MTN. Use your MTN contact to dial 100 to report a Momo fraud case. It's toll-free.
You will have to choose your language and other options, to speak with an MTN call center representative. 
Once the center picks up your call, go ahead to tell them your story and request them to block the transaction to the fraudulent number (if possible).
Thanks to their improved customer service, the MTN call center now picks up calls within a short time. Once upon a time, calling the MTN help center was time-wasting.
 

Send an Email to mobilemoneystr@mtn.com.gh
 You may not be aware of this MTN email address. But mind you, it's a legit Momo fraud reporting channel that works like a charm. All you need to do is, use your smartphone or desktop computer to log in to your email account.
Once you're done describing the details of the fraud incidence, send it to mobilemoneystr@mtn.com.gh or mmfraud.GH@mtn.com
Hopefully, MTN staff would look into the case and get back to you.
 

Text a Message (an SMS) to 1515
 MTN has dedicated a shortcode to serve as a medium for reporting scams. It's 1515 — very easy to commit to your memory. 
To report your Momo fraud, open your messages application, type your message, and send it to 1515. You won't be charged a dime.
At the end of the day, the MTN Mobile anti-fraud team will respond to you appropriately.
 

Report Fraud to any MTN Service Center
 MTN Ghana operates several customer service centers nationwide. These MTN branches exist in many regions, municipalities, and districts in Ghana. 
They don't only sell or register SIM cards for customers. The service centers also act as official bodies of MTN Ghana. To report a fraud case, find the nearest MTN office and visit them. Their doors are open to your complaints.
 

Report Fraud to Ghana Police Service
 Yes, these uniformed security guys are there to ensure law and order. Mobile money fraud is a highly criminal offense that's punishable by law. 
Extreme cases demand extreme measures. If Mobile money scammers are not afraid to break the law, why should you hesitate to report them to the police? 
I know you are asking: how do you report MoMo scammers to police when you don't know where they are?
The answer is, sometimes you know where they are. The fraudsters call you with their numbers, right? Besides that, some scammers are mobile money vendors with fixed locations. 
If you suspect that a Momo agent is a fraudster, call the cops on that son of a bitch.
Some Frequently Asked Questions
Where can I report fraudsters in Ghana?
Call MTN Customer Care on 100.
Send an Email to mobilemoneystr@mtn.com.gh.
Text a Message (an SMS) to 1515.
Report Fraud to any MTN Service Center.
Report Fraud to Ghana Police Service.
Conclusion.
Is Ghana known for scamming?
Ghana is no exception. While Nigeria is best-known for advance fee scams where people pay to help fake Nigerian princes get funds out of the country, Ghana is better known for online dating and romance scams.
Using OTPs, or one-time PIN numbers, scammers can gain access to a users' MTN account, purchase airtime and data, and then transfer said purchases to another number. According to MTN, fraudsters gain the OTP from users directly, asking them to provide it during spam calls.
Conclusion
Mobile money fraud is on the increase. You can't tell when these bad guys will play tricks on you.
But you can take the following precautionary measures to fight scammers.
Don't reveal your Momo PIN to anyone.

Know them by their language. Most scammers speak/write very bad English.

Don't trust strange numbers. 0244300000 is MTN's official contact. A legit MoMo message comes with the sender ID "MobileMoney". Don't trust strange numbers.
Also Read: