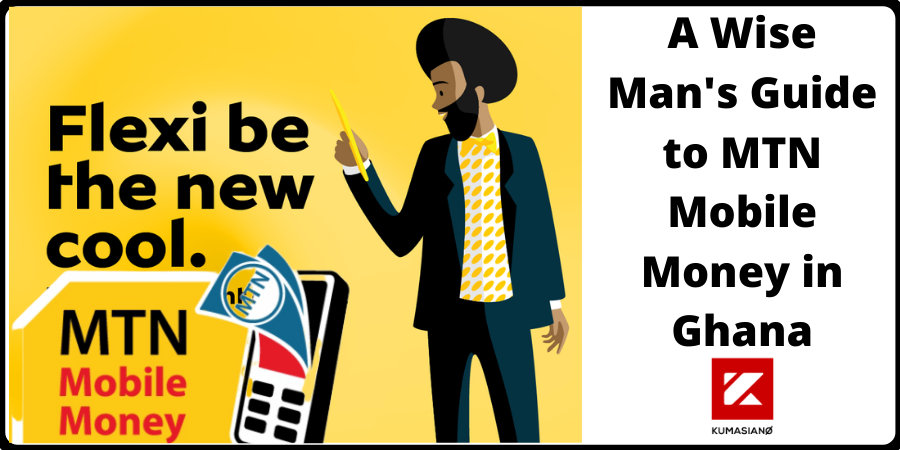 MTN Mobile Money, commonly called "MTN MoMo" in Ghana is a secure electronic service.
With MTN Mobile Money wallet, holders can store funds, send and receive money, make payments and do a number of transactions. All you need is a mobile phone with or without having a bank account.
It's fast, simple, convenient and affordable.
MTN Mobile Money
The coronavirus pandemic have enhanced electronic transactions rather than using physical cash.
The reason is simple, the virus could stay on papers or coins for a couple of days and this could facilitate transmission and spreading of the virus.
So to be on a safer side, use "electronic cash". That is exactly what the MTN mobile money in Ghana provides.
Not only does it promote health safety measure against the virus, but it is a means to make it possible to send and receive money to and from family and friends on other continents.
Practically, with a mobile phone, you could sit in the comfort of your home and send any amount of money to another here in Ghana with such ease.
Only sending and receiving money?
Oh no!
The MTN MOMO platform has evolved to a stage where one could even pay school fees, DSTV bills, electricity bills and so on with just a few clicks on your mobile phone.
More on this later in this article.
Where from this MTN MOMO someone may ask?
HISTORY OF MOMO IN GHANA
MTN Mobile Money is a money transfer service operated by MTN Ghana. The service was launched in July 2009.
MTN Ghana declared that MTN Mobile Money is a cash management service available on mobile phones or the internet.
MTN Ghana explained that it is mainly about facilitating money transfer for the Ghanaian market. The service can also be used for reloading of MTN airtime units, payment of utility bills, goods and services.
The MOMO service is available to both mobile and non-mobile users. MTN Mobile Money is provided by MTN in partnership with banks.
Mobile Money will also operate through authorized merchants who will facilitate the service on behalf of the partner banks.
MTN Mobile Money comprises of individual (subscriber) and merchant wallets. Wallets (individual & merchant) are created after the registration process is completed on the phone with the selection of a four digit Mobile Money PIN.
The Mobile Money PIN is required to authorize all Mobile Money transactions. No single transaction can be completed without the Mobile Money PIN. Wallet transactions in MTN Mobile Money are in Ghana cedi (MTN Ghana, 2013).
Before mobile money was first introduced in Ghana in 2009, it took a while to gain as much traction as in other African countries because of the "Bank of Ghana's restrictive 2008 Branchless Banking Guidelines".
However, five years later, the Bank of Ghana revised the regulations and eventually released new agent and e-money guidelines. These new regulations permitted mobile network operators (MNOs) to own and operate mobile money services under the supervision of the Central Bank.
Not so long after that, the telecommunications networks in Ghana, namely; MTN, the now AirtelTigo, Vodafone and others started mobile money service.
MTN began heavily investing in creating awareness, educating customers and recruiting and training agents and merchants.
According to the latest statistics from the Summary Of Economic and Financial Data, published by the Bank of Ghana in March this year, there are now 32.7 million registered mobile money users, 14.7 million active mobile money accounts and 235,000 active agents.
Within a decade of its inception, mobile money became one of the most preferred payment methods for Ghanaians. From the 2019 report by the World Bank, Ghana is the fastest-growing mobile money market in Africa.
Everyone wants a convenient, easy, and secure means of transacting business. And that is what MoMo seeks to do.
MTN MOBILE MONEY TRANSFER, HOW DOES IT WORK?
Before any mobile money service could work, it needs to be operated and owned by a financial institution such as a bank or a mobile telecommunication network such as MTN, Vodafone, and AirtelTigo.
The MoMo services work on three basic criteria;
Salary Payment
The mobile money services grant a convenient way of disbursing salary among workers. This invention has really helped minimize many challenges both on the side of the employer and the employee.
No need for the employer or the employee to be in a queue at the bank to disburse or withdraw salary. No need to even have a bank account on the side of the employee and many other advantages.
Peer-to Peer Money Transfers
Peer-to Peer, commonly called P2P simply means, transferring mobile money from one individual to another and this is the most common use of MoMo services.
Physical cash could be turned into electronic funds called cash-in services and in turn, electronic funds into physical cash called cash-out through mobile money.
Bill Payment
Again, Mobile Money Services can be used to pay our bills.
You can pay your electricity, water, school fees, DSTV bills, and many other home bills using your mobile phone.
HOW TO BECOME A MOBILE MONEY MERCHANT
A merchant is a local representative of a particular mobile money service provider. The following is a step by step procedure of becoming a merchant of MTN Mobile Money in Ghana.
STEPS:
Dial *5051#
Select Register
Select the region
After registration is complete an SMS with a ref no will be sent to your number.
An MTN Momo agent will be dispatched to inspect your location
After passing inspection, you must fill and submit the following forms for processing
Merchant Agreement
Merchant Recruitment Form
Merchant Account Handler Form
If all details are accurate, your merchant SIM will be ready in 72 hours. For assistance or any questions, please send an inquiry via the form below.
Alternatively, you can dial *100 or call 0244300000.
AMAZING THINGS YOU CAN DO WITH MTN MOBILE MONEY IN GHANA
MTN Mobile Money has evolved dramatically since its launch in 2009. At first, just sending and receiving money and now you can pay your DSTV bills. Some of the amazing things about mobile money services have been elaborated above.
Now let's look at a few other important activities.
A step to step guide to follow
HOW TO PAY SCHOOL FEES WITH MTN MOBILE MONEY
As already discussed above MoMo has now provided a means for paying school fees. Afraid your kids won't pay the fees you gave to them in cash? or you are tired walking to the school anytime school fees need to be paid? MTN MoMo to your rescue, follow these steps.
STEPS:
Dial *170#
Enter 2 MoMoPay& Pay Bill
Enter 2 for Pay Bill
Enter 3 for School Fees
Search for School by selecting either Alias by Name
Enter School alias or School name
Enter student ID
Enter Amount
Enter Reference
Enter MM PIN
You will receive Notification of successful payment
HOW TO PAY WATER / ELECTRICITY BILLS WITH MTN MOBILE MONEY
Worried about standing in the long queue to pay your ECG or water bills? Then MTN MoMo is there again for you!
STEPS:
Dial *170#
Enter 2 MoMo Pay & Pay Bill
Enter 2 Pay Bill
Enter 1 for Utilities
Enter 1 for ECG/Water Bill
Enter Account number
Enter Amount
Enter Reference
Enter MM PIN
You will receive Notification of successful payment
HOW TO PAY FOR DSTV & GOTV SUBSCRIPTIONS
You can pay your DStv and Gotv subscriptions at the comfort of your home, right on your phone.
STEPS:
Simply dial *170# to access the MTN MoMo menu and select Option 2 – MoMo Pay/ Pay Bill
Select option 2 – TV and Entertainment
Next, select option 1 – DStv/GOtv (depending on what you are paying for) and follow the prompts.
MTN MoMo is safe, fast and secure.
HOW TO BUY TREASURY BILLS WITH MTN MOBILE MONEY
Treasury bills with mobile Money? Yes! MTN makes it possible. This is how.
STEPS TO APPLY FOR TREASURY BILL:
Dial *170#
Enter 5 for Financial Services
Enter 4 for Pension and Investments
Enter 2 Buy Treasury Bills
Select 2 to Apply
Choose Tenure
Enter Amount
Select or Approve Next of KIN
Select 1 to proceed with payment
Enter MM PIN
You will receive a notification for a successful transaction
MTN MoMo is safe and secured.
HOW TO TRANSFER MONEY FROM YOUR BANK ACCOUNT TO YOUR MOMO WALLET
As an employee, you no longer need to rush to the bank to make a withdrawal of your salary. With MTN MoMo, you can transfer any amount from your bank account to your mobile money wallet within a minute.
Here is the correct procedure;
Dial *170#
Enter 5 for Financial Services
Enter 1 for Bank Service
Enter 2 for Transfer from Bank
Select Bank
Select Bank account
Enter Amount
Enter MM PIN
You will receive notification for a successful transaction
Mobile Money has a lot to offer, within a decade of its launch, it has already taken financial services to another level. There are lots of stuff you could do with MTN Mobile money in Ghana today.
Some Frequently Asked Questions (FAQs)
Is MTN Mobile money International?
MTN Mobile Money is a mobile money solution which operates in both Africa and the Middle East. Users can load their MTN Mobile Money accounts with cash at agent locations nationwide and then make domestic and international P2P money transfers, buy mobile phone top-up, purchase goods or pay bills.
How much does MTN charge for mobile money?
How much does MTN charge for mobile money?
MTN mobile money charges
Between 1GHC and 50 GHC- 2.50% as the service fee. Amount exceeding 50 GHC – 5% commission fee.
How do I get MTN wallet?
You can register at any MTN mobile money agent location or at GTbank Branch Offices and MTN Walk-In Centres. Registration requires a mobile money compatible SIM. If your SIM is not mobile money compatible, you can buy one from the agent.
Can I receive MoMo from USA to Ghana?
All you need is your MTN MoMo wallet. Receive funds instantly onto your MTN MoMo wallet from any part of the world anytime, anywhere in Ghana. MTN MoMo has partnered a number of Remittance Partners across the world to make this service available to our cherished customers.
What is MTN wallet?
MTN Mobile Money is a secure electronic service that enables MTN Mobile Money wallet holders to store funds, send and receive money, make payments and do a number of other transactions simply using their mobile phone. It's fast, simple, convenient and affordable.
Is Cashapp available in Ghana?
Cash App does not work internationally — you cannot make payments to someone in a different country. Cash App can only be used to send money within the country you live, and the service is only available in the US and UK.
Is mobile money a bank account?
Mobile money — a technology that enables financial transactions through mobile phones without a bank account — is driving financial inclusion, especially in developing countries. It gives more people a chance to use financial products and services.
CONCLUSION
Mobile Money services have indeed revolutionized the banking sector, business transactions and financial services in Ghana.
MTN Momo in Ghana have not only affected our financial services, but also has a socio-economic impact.
MTN has provided many jobs to these agents and merchants of the mobile money services. In a country of such a high rate of unemployment, MTN has indeed provided a way to at least help reduce the scarcity of jobs.
MTN Mobile Money service is secure, convenient, fast and a reliable means of money transaction.
MTN, everywhere you go!
Also Read: