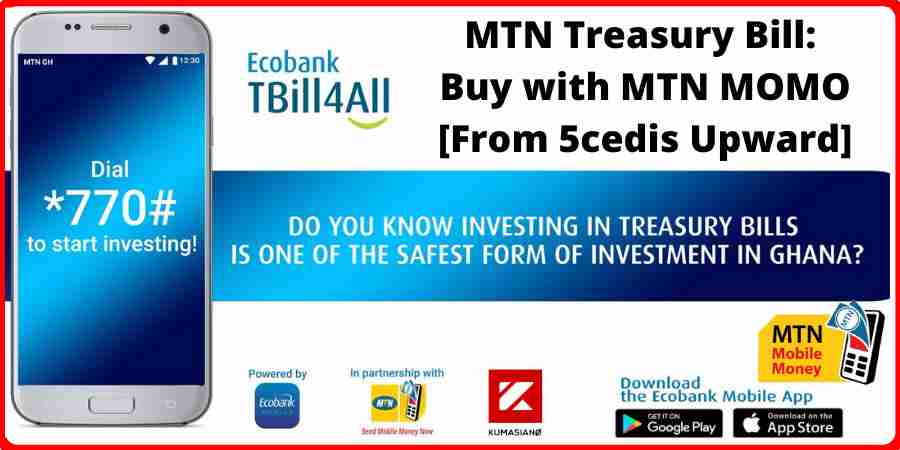 Here are the steps to follow To Buy MTN Treasury Bills Through its Mobile Money platform from 5 Cedis And Above:
On your MTN MoMo account, dial *170#

Enter option 5 "Financial Services"

Enter option 4 "Pensions and Investments"

Pick option 2 "Buy Treasury Bills"

Select option 1″Register"

Input your full name

Enter the name of your next of kin

Enter the contact details of your next of kin
After following the final step, a confirmation message would be sent to you. This is to notify you that the registration went on smoothly.
After registering, proceed to buy the t-bills as outlined below.
Buying Treasury Bills with MTN Mobile Money
MTN Mobile Money has taken treasury bills closer to the wallets of MoMo users. Even without owning bank accounts, Ghanaians can now conveniently buy treasury bills by dialing shortcodes on their mobile devices. 
Provided this trend of financial inclusion continues positively, investment-minded guys like you and I will sooner or later shoot to prominence as millionaires. 
The future is always bright for those who are ready to try MTN Treasury Bill investment.
"If you fail to plan, then you're planning to fail." Correct! Never underestimate any small investment; a journey of a thousand miles begins with one step.
Buying MTN treasury bills as low as GHC 5 may sound a laughable idea. But if you give it enough time to mature, you could make a fortune and surprise naysayers.
Assuming you've already gone through the treasury bill registration process successfully, the next thing you want to do is to buy t-bills with your mobile wallet.
In that regard, here is How To Buy MTN Treasury Bill Through MOMO:
On your mobile phone, dial the shortcode *770#

Choose option 2 "Tbill4all"

The rest of the process is easy peasy. Follow the prompts to complete the purchase of your treasury bills from GHC 5 and above.
What You Need to Know about Treasury Bills in Ghana
Some of you may want to know the meaning of treasury bills.
Thank you for your curiosity.
There's no point in making an investment without understanding its meaning. 
I would explain the meaning of Treasury Bills.
But first, let's remind ourselves about some investment schemes that went up in flames before Ghanaians knew what was going on. 
As you may be aware, a plethora of financial scandals shook Ghana in recent times.
We can't forget the nightmares of microfinance pyramids that sucked away people's investments and left many households penniless. 
Yes! I'm talking about the DKM saga and the banking crisis as a whole.
What didn't happen to MenzGold investors?
They lost huge sums of money. 
MenzGold disappeared without a trace, leaving no glimmer of hope to the poor investors. 
Once upon a time, the same investors were glorifying MenzGold's CEO, Nana Appiah Mensah (aka NAM1). 
Though the government's intervention in MenzGold's crisis rather helped to collapse the business, that didn't stop NAM1 from becoming rich overnight. 
Anyway, it turns out the MenzGold gold dealership scandal isn't the only bad investment for Ghanaians. 
Customers of GN Bank also faced a terrible crisis when Groupe Ndoum bank and other banks were penalized by the Central bank for various reasons. All geared towards sanitizing the banking sector. 
As I speak to you now, a friend of mine has his GHC2000 locked up in GN Bank.
Very bad!
Anyway, that was just by the way.
I only wanted to remind you about the risks involved in becoming an investor— you either win or you lose. 
Is a treasury bill investment risky?
Oh no!
I don't think so.
Unlike other illegal investments, treasury bills are guaranteed by the government of Ghana. So, there's no way you won't be paid when your investment matures.
How do Treasury bills work in Ghana?
Treasury bills are government-approved investment products that take about 91–182 days to mature. 
When you purchase t-bills, you're actually loaning out some money to the Bank of Ghana (or the government). 
Ecobank treasury bill rate is relatively higher than the rates for savings accounts. 
Again, when you invest in treasury bills the returns on your investment (the ROI) are not taxable.
Moreover, there is almost a 100% guarantee that your investment is safe.
MTN Treasury Bills: Interest Calculator, Rediscount and Contacts
Registered t-bill users have access to interest calculators, rediscount offers, as well as the terms and conditions of the service. 
Treasury bill interest rate calculator in Ghana
This tells potential investors about the expected returns with the maturity of their investments. The interest rates of the previous week are used for these calculations.
Rediscount functionality is activated when investors decide to terminate their investments before the actual maturity date is due. This means that you can join the service anytime, and also quit anytime.
MTN Treasury Bills with MOMO: What is it?
T-bills with mobile money (Tbill4all) was introduced by Ecobank Capital Advisors Ltd.
This was done in partnership with MTN Ghana using the (MTN MoMo) platform. 
Ecobank's Tbill4all allows everyone (the average Ghanaians) to use their mobile wallets to buy treasury bills with ease.
This is a breakthrough moment for Ghanaians.
Once again, Ghana takes the lead in sub-Saharan Africa as the first country to make such a good move for financial inclusion. 
You can now invest in the Ghanaian government with just GHC 5 and above.
Why is

Tbill4all

a game-changer?
For so many years, treasury bills were tagged as investment instruments for only the rich and the elite class. But as we see today, that perception has been proven null and void. 
The initiative has highly encouraged the savings cultures of Ghanaians and also improved socio-economic development. 
To make the service even more convenient, you don't necessarily need to have an Ecobank account before you can invest in Tbill4all.
If you have an Ecobank account instead, you can use the Ecobank online (mobile) banking app to purchase t-bills.
Treasury bills in Ghana usually take about 91–182 days to mature. The longer the maturity date, the higher your returns.
Frequently Asked Questions (FAQs)
How accurate is the interest calculator?
The Ecobank treasury bill rate is based on the previous week's rates. Once you finish making the purchase, you'll find out the accurate rate and your profits.
How would I know that my bill has been purchased?
It's simple! A message would be sent to you, notifying you about the successful transaction.
What numbers can I call when I need further information and clarifications?
Talk to Ecobank on 080030000 (toll-free) 
Ecobank Contact Center : 3225 (Airtel, MTN and Vodafone) 
Landline: 0302 213 999 (NB: charges may apply).
Are there any taxes to be paid when I purchase a Treasury Bill on the TBill4All platform?
No taxes are attached to Tbill4all
Bottom line
There is no right time for you to ever get the opportunity to invest in Treasury Bills.
If you're already an investor, please share your thoughts and experiences with us.
Happy investment.
Also Read: