Nightlife in Kumasi will never be the same.
Ol' Lady Sports Bar & Lounge is when you're watching your team play in a nightclub-esque environment in an organised sports centre brimming with life and laughter.
Ol' lady's only started a few years ago, yet she has quickly caught up with the culture of the people and is gradually becoming a regular.
A DJ's and MC's inspired nightlife in a sports bar.
If nightlife is your thing and you find yourself in Kumasi – the question is, "Have you tried Ol' Lady Sports Bar & Lounge yet?
One of Kumasi's finest sports bars.
Almost quiet by the day – roaring with high spirited beautiful people at night.
The trick with sports bars is that you don't have to pay to enter. Your payment is having a great time. A few drinks and good food. Voila…
About Ol' Lady Sports Bar & Lounge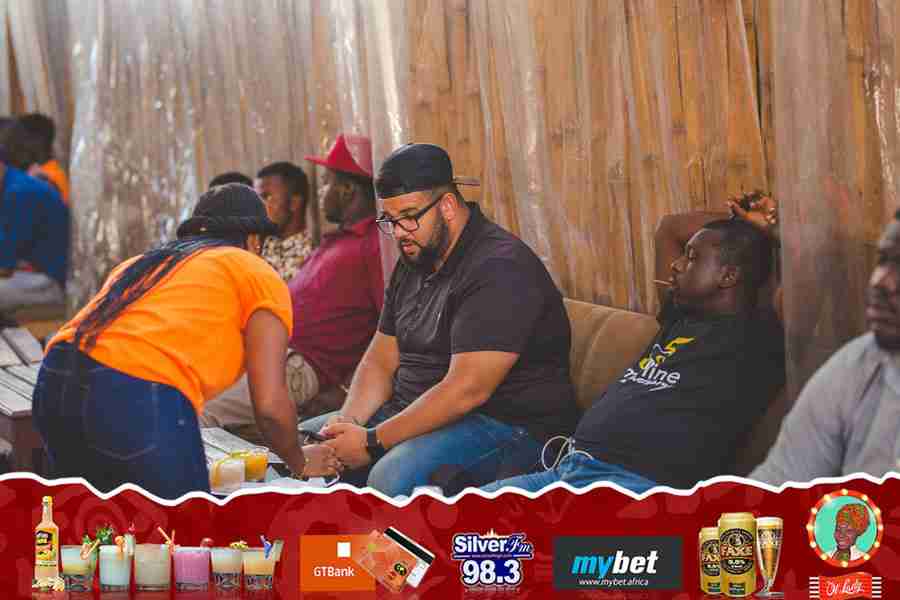 Major Kobbina Drive, Kumasi
M9H7+9G Kumasi
Tel: 054 999 9777
Open from 12p to 12am.
That Ol' Lady's basement on its own has changed a few times in its life.
The main building consists of a hotel and restaurant and the other side a sports bar and a number of front-facing stores. This New Orleans building has constituted a number of things over the years.
So this formal night club is now a lounge and a sports bar. Apart from catching your favourite football matches live – you also get to enjoy irresistibly foods, drinks, cocktails etc.. as well.
A lot of raving fans and reviews about their Jollof. To many that Jollof walks on water. Yet to try it out though!
Good Jollof speaks for itself. Would need to confirm that.
Location
Right in the New Orleans Hotel building.
Ol' Lady Sports Bar is one of the new joints in Kumasi located at Danyame on the Santasi road about 100metres apart from Miklin hotel.
Ambience
A relatively younger crowd. It's a sports bar and lounge don't forget that. Everything else is an added bonus.
The environment is welcoming. Great place to vibe and chill with friends.
The Setting
The place mimics olden days "Nkwankwanuase" African Settings. Of course, without trees but there's the bold crafted native decor and fine wooden everything everywhere.
You're dealing with the old lady, have you forgotten?
Would be a nice place to do an unconventional lunchtime. A little variety doesn't hurt, isn't?
And the main building which is also a hotel (New Orleans) has a big parking space for your car to relax in peace. Security is assured.
The Food
Local and continental dishes are available here.
As mentioned earlier, heard about their wicked Jollof. Hope it's not too good to be true. I've tried their plain rice and soup served on a wooden tray. Quite ingenious.
Taste great but I prefer more rice and not those cup-like cute rice. It's great for presentation not when it's the first thing I'm chowing down since Koko in the morning.
I've forgiven that lady because she was fine.
Anka..!
The Menu
Their menu is quite extensive and they have some finger-licking chicken wings and one of the best Jollof in Kumasi, maybe even in Ghana.
Recommendation
Sports with DJing and MCing is quite novel in our society. Don't overdo it.
It can get irritating.
These new places come with do's and don't. I believe management can make these rules and restriction clearer to people.
Not wearing a particular kind of apparel or footwear – for instance, sneakers or slippers. This should be communicated unambiguously either in writing or announcements. It's better when people have no uncertainty.
Again, if you won't allow certain costumes here why smoking? Don't get exciting. Smoking Shisha or whatever discourages and alienates a group of people from patronizing your services. Unless you recommend it or you don't give a damn!
Further, the ambience at Ol' Lady Sports Bar & Lounge makes it an ideal place for intimate gatherings and events. Birthday parties, events and many more.
Reviews of Ol' Lady Sports Bar & Lounge
Here are a few reviews pulled from Google about customers experience with Ol' Lady Sports Bar & Lounge
Qwophi says,

"A serene fun spot to hangout and chill the night out. They have some finger licking chicken wings and some nice jollof. Check it out."

Wakanda said,

"This is spot is banging for real, best club I've to in Kumasi, the girls in there are of a high standard. I'll definitely be going here again."

Damian says,

"Awesome. Surprised though, cos the first time I was there, I think last year or something like that, I didn't like it. But now, damn! They're killing it. Worth checking it out anytime you are in Kumasi."

Cheda,

"This place is like Hard Rock Cafe."

Salaga says,

"All night long party.
You 'll love it.
A place to visit
#Visit Ol' Lady now"
In conclusion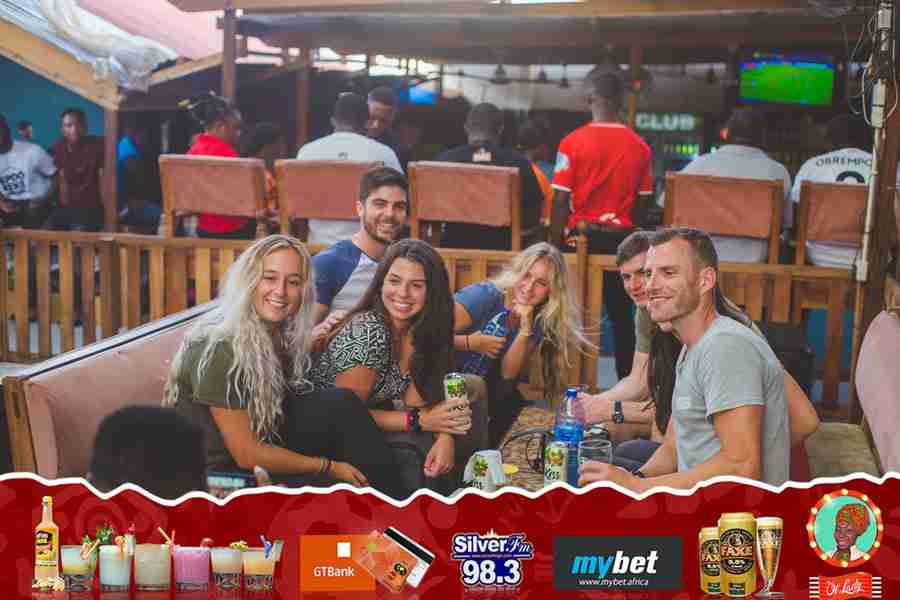 Are you a sports fan?
What about watching your favourite Premiere League, La-Liga or Serie-A matches while enjoying mouthwatering local and continental dishes.
That's a whole package, I guess.
Watch all your live matches and bet on them. Ol' Lady's has its own Mybet sports betting inside the bar.
With places like Ol' Lady Sports Bar & Lounge around, nightlife in Kumasi will never be the same.
Major Kobbina Drive, Kumasi
M9H7+9G Kumasi
Tel: 054 999 9777
Open from 12p to 12am.
Also read:
Aboude Fast Food: What's the Deal. The Chicken or the Fruit Juice?
KFC Kumasi: This Shell Service Station in Asokwa is the Place to be!
It's My Kitchen restaurant: It is the Best Restaurant in Kumasi?