In the context of Ghana, Prempeh College is one of the most renowned Category A school institutions.
In fact, you are proud to attend this particular class of schools in Ghana. Only gifted people are able to enroll.
Right in the heart of Sofoline a suburb of Kumasi is a co-educational, comprehensive institution that offers a wide range of academic programs at the senior high school level.
The school has a rich history that dates back to 1949 when it was founded.
What is Prempeh College?
Established in 1949, Prempeh College often referred to as Prempeh, is a boys' senior high school in Kumasi in the Ashanti region.
The students are known collectively as "Amanfoɔ".
Prempeh is the academic home of more than 2,000 young men, of whom approximately 90% are in boarding school.  
Undoubtedly a great academic high-achieving school in Ashanti and Ghana as a whole.
Prempeh is among the crème de la crème of schools grouped as categories A Schools in Ashanti Region per the Computerised School Selection and Placement System(CSSPS) latest review.
The other schools are Opoku Ware School, Kumasi high School, Yaa Asantewaa Girls SHS, St. Louis Senior high School, Kumasi Technical School and T.I Amass, Kumasi.
Having won it a record 5 times, Floreats Prempeh College is the 2021 champion of the National Science and Maths Quiz (NSMQ) in a pulsating "Host and Win" campaign when the popular quiz was staged at their own backyard in Kumasi.
When Prempeh College tells you that they are 'inspiring minds in inspirational surroundings' they probably know what they're talking about.
As they say, SENIORS. They always add magic to nothing.
Also Read: Category A Schools in Ashanti Region 2022
Details: Location, Address, Contacts
Address: P.O. BOX , Kumasi
Location: Kumasi, Ghana
Telephone Number: +233
Open Hours: Mon-Fri 7:30 AM – 3:30 PM
About Prempeh College
When two governing authorities and two religious bodies come together for a single objective, things happen.
Exactly what happened in 1949 when four bodies; the then Asanteman traditional authority, the British Colonial Government, the Methodist Church Ghana and the Presbyterian Church of Ghana came together to form Prempeh College.
And God was in the mix.
Sir Osei Tutu Agyeman Prempeh II knew what he was nurturing when he donated the vast land for the school's establishment. The King was building his own NAME.
Royalty was written all over it.
Modeled on Eton College in England, Prempeh College isn't only a sight to behold, it is a place to call home.
It all started with about 50 boys from Mfantsipim School and their headmaster, Rev. Sidney N. Pearson commenced the college.
Prempeh college has a vibrant student community, parent body (PTA) and Old Boy's Association (AMANFOƆ).
Prempeh College's official emblem is the green and yellow badge with a royal stool which is used as the school crest.
Leadership & Headmasters over the years
The categorical structure of Prempeh is directed by a board of directors and housemasters, who are each appointed from more senior members of the teaching staff. This is an all-boys institution, and all pupils participate in extra-curricular activities, sports, projects, etc…
Reverend Sidney Pearson (1949–1952)
Reverend Butler (1952–1954)
T. A. Osae
M. K. Atiemo (1977–1984)
Reuben T Sackey (1985–1995)
Twumasi Amponsah (1996–1998) Acting headmaster
Francis Y Asamoah (1998) Acting headmaster
Eben Afoakwa Sekyere (1998–2001)
Owusu Achiaw (2002–2008)
E. K. Yeboah (2008–to date)
Vision and Mission
Amanfoɔ, as a collective student body both of the old and new, depicts the sense of nationalism imbued in the students as spelled out in the original motto of the College: "Oman pa fapem ne obrapa" which translates as Good citizens make a good nation.
This is a strong determination through hard work, integrity and good morals and also a strong desire by people to serve the nation in particular, and the world at large in any capacity they find themselves.
This is a strong decision by exerting oneself by integrity, talent, and virtue in accordance with high moral goals and a strong desire by 'Amanfoɔ' to assist their country in particular, and the world in all capacities that they come into contact with.
In 1964, the original motto was amended to "Suban Ne Nimdeɛ" – Character and Knowledge in.
VISION
The School's main vision is to offer Prempeh College students a unique experience in education in order to achieve academic excellence and to train youngmen to occupy positions of responsibility.
MISSION
To provide committed service and the relevant inputs that will enhance teaching and learning, ensure compliance with school rules and regulations by students and mould the character of students in achieving the vision of the school.
Facilities at Prempeh
Prempeh College's motto is "The Light of the World".
Prempeh College has a library which contains about 4000 volumes. The book collections are mainly related to the Sciences, Arts and Business. Prempeh College has well-furnished classrooms and staff rooms. It also has a number of science laboratories, computer rooms, a library and the main administration office.
Academics: Curriculum and Majors
In this section, let's look more into the academics, curriculum and majors in Prempeh College. The following are some achievements, a list of programmes offered and the admission process at Prempeh.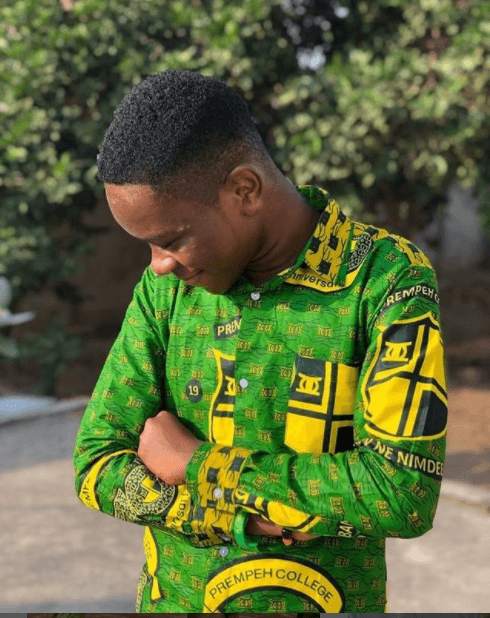 List of Programmes and Courses at Prempeh College
The school offers five (5) courses or programmes;
Business
Visual Arts
General Arts
General Science
All courses have a duration of three (3)years to complete.
Again the curriculum consists of six (6) general core subjects:
ICT
P. E
Mathematics
Social Studies
English Language
Integrated Science
Let's take each course one after the other and let's look at the elective subjects for each programme.
GENERAL ARTS DEPARTMENT
Elective courses are selected according to each student's preference. In addition to the core subjects, a student can choose 4 subjects;
The elective subjects are;
French
Geography
Economics
Government
Elective ICT
Twi (ASANTE)
Literature-In-English
Elective Mathematics
General Knowledge In Literature
Subject Combination for general arts students
Economics, Elective ICT, Geography, Elective Mathematics
Economics, Government, Literature-In-English and French
Economics, Geography, Government and Elective Mathematics
Economics, Geography, Government and Elective Mathematics/Literature-In-English
Economics, Government, Literature-In-English and Asante Twi
GENERAL SCIENCE DEPARTMENT
A science student takes the following subjects;
Biology
Physics
Chemistry
Agricultural Science
Elective Mathematics
BUSINESS DEPARTMENT
A business student can choose from the following subjects;
Economics
Cost Accounting
Financial Accounting
Elective Mathematics
Business Management
VISUAL ARTS DEPARTMENT
Students can choose any four of the following subjects;
Textiles
Sculpture
Graphic Design
Picture Making
Elective Mathematics
General Knowledge-In-Art
AGRICULTURAL SCIENCE DEPARTMENT
All agricultural science students study general agriculture.
Forestry
Fisheries
Animal Husbandry
Crop Husbandry and Horticulture
A student chooses one course from this list.
Then from
Biology
Physics
Geography
Mathematics (Elective)
a student can choose two subjects from this category.
Prempeh College Admission Process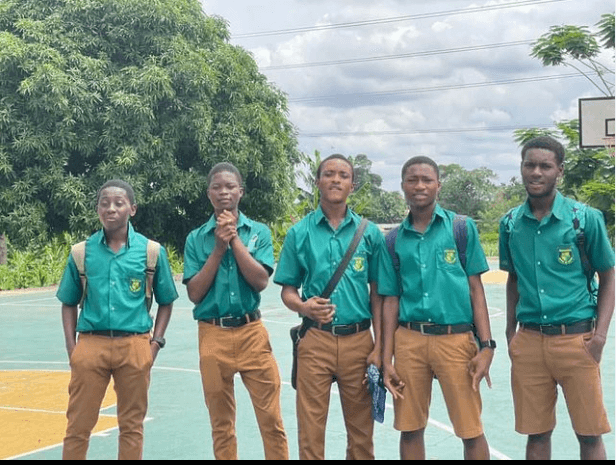 New pupils are admitted in September every year through a computerized system under the control of the Ghana Education Service.
The system works based on the results of an entrance examination known as the Basic Education Certificate Examination (B.E.C.E). This examination is held for junior high schools at various centres throughout the country.
Entry forms for the above examination are obtained from the West African Examination Council (W.A.E.C) through the headteachers of the respective junior high schools within the country. Once the computerized selection process is completed, the list of admitted students is made available by the Ghana Education Service to the school. The list is then made public through the school's notice board.
An opportunity is also given to foreign nationals who wish to apply for admission into the school through a written entrance examination organized by the school.
Students from other senior high school or fresh senior high school starters who wish to continue their education at the school can also contact the school's administration through the contact list provided in the contact section of this page.
After a student gains admission, he is given the school's official prospectus. This book helps new students about the school and all that is required of them.
Some Achievements of Prempeh College
5 times Winners – National Science & Maths Quiz
National Robotics Inspired Science Education
Some Notable Prempeh College Alumni
John Agyekum Kufuor, former president of the Republic of Ghana
Owusu-Ansah Koffi
Dr. Kwabena Dufuor – Former Minister of Finance
Dr. William Amankwa Danquah
Dr. Matthew Opoku Prempeh (NAPO) Minister of Energy
Fritz Baffour, television producer and media consultant
Prof. Ameyaw Asabere Vice-Chancellor, University of Education Winneba.
Dr. Ato Essuman, Former Council of State for Central Region
Kow Essuman, Admitted to practise law in England and Wales, New York and Ghana
Frequently Asked Questions FAQs
Q: Which category is Prempeh College?
Prempeh College is one of the Category A schools in Kumasi and for that matter in the Ashanti Region and Ghana as a whole. 7 schools are in category A in Ashanti and most are in the Kumasi metro area. To have a school categorized as Category A is an honor.
Q: Which SHS in Ghana has produced more doctors?
There is no data available to show which school has produced more doctors in Ghana. In fact, the assumption which is somehow closer to the truth is that most category A schools produce more science students and graduates who move up the educational lather to become doctors than other schools. And this is by the sheer number of science graduates they churn out each year who end up in various medical schools.
Q: How do you get Prempeh College?
To get a seat at Prempeh, you need to be an A-rated student in your BECE (Basic Education Examination Certificate) and choose Prempeh College as your 1st choice through the CSSPS (Computerized School Selection and Placement System). You need to first sit for the BECE exam and pass with flying colours. 
Q: Who is the founder of Prempeh College?
Prempeh College was founded by the Asantehene Sir Osei Tutu Agyeman Prempeh. This dream materialized by the coming together of 4 bodies. In 1949, the then Asanteman Traditional Authority, the British Colonial Government, the Methodist Church Ghana and the Presbyterian Church of Ghana came together to form Prempeh College.
Q: Is Prempeh a mixed school?
No, Prempeh College isn't a mixed school. It is a boys' only day and boarding educational institution situated at Sofoline in Kumasi, Ghana. Established in 1949, It was the first of its kind in Ashanti. Prempeh is the academic home of more than 2,000 young men, of whom approximately 90% are in boarding school.  
Q: What is the best SHS in Ghana?
A number of factors come together to make a school great. The best schools in Ghana have come with and are not limited to excellent teachers, excellent facilities and a uniform discipline policy, etc…
Concluding Thoughts…
In conclusion, we hope this article will make your decision to attend Prempeh easier. With all of the perks and benefits, we know you'll have a great time there.
This is a top-notch institution that offers students a world-class education. If you're looking for an amazing college experience, then look no further than Prempeh College.
Join the Prempeh College family!
Also Read: