Acne causes some people to feel unattractive, insecure and humiliated.[6] It not only steals your self-esteem but also your joy and drive to be yourself in social situations.
But there's no need to be concerned about acne. It's one of those things that happens to us for no reason, such as genetics, skin type, or life stages.
I'll walk you through a skincare routine for acne-prone sensitive skin in this article. You will regain your confidence if you follow through!
The best cleansers for acne-prone skin
Image
Product
Features
Price
EltaMD Foaming Facial Cleanser

Facial cleanser that is gentle enough for sensitive and acne prone skin.
With daily use, Foaming Facial Cleanser helps to protect skin from environmental stressors by 36%
The thick, rich foam gently cleanses leaving your skin feeling clean and balanced
Oil-free facial cleanser for all skin types. Sensitivity-free, paraben-free and pH-balanced face wash

Check Price
DERMA E Hydrating Gentle Cleanser

CLEANSING FACE WASH: This gentle moisturizing cleanser washes away dirt, oil and impurities with no drying, aging after-effects. The sulfate-free facial cleanser calms and soothes, and the papaya face wash leaves skin looking radiant
DEEPLY HYDRATES: Known as nature's 'moisture magnet', hyaluronic acid delivers intense moisture, infusing skin with healthy hydration. Our hyaluronic acid facial cleanser helps plump, smooth, and rehydrate facial skin for a youthful-looking complexion.
ALL NATURAL FORMULA: Packed full of powerful natural ingredients: Papaya gently cleanses and removes dead skin cells; soothing Chamomile boosts skin's natural glow; Vitamins A & E lock in moisture and improve skin texture; and Lemongrass tones and firms skin.
DAILY SKIN CARE: For best results, apply the Hyaluronic Acid face wash daily. Pump a small amount of the face cleanser into damp hands and massage over the face and neck. Rinse the foaming face wash thoroughly with water.
DERMA E: Clean beauty products that harness nature's most effective ingredients. 100% vegan and cruelty-free, our eco-ethical skin care products contain no parabens, sulfates, mineral oil, petrolatum, lanolin, gluten, soy or GMOs, and are supplied in recyclable packaging.

Check Price
La Roche-Posay Effaclar Medicated Gel Cleanser

This gentle facial wash for oily skin with zinc pidolate effectively cleanses away dirt and oil while respecting skin's pH balance. Cleanses and purifies skin without over drying
Cleanses and purifies skin without over drying. Tested on acne-prone skin (non comedogenicity test) and won't clog pores. Respects skin's pH balance and safe for sensitive skin
Dermatologist Tested for Safety, Sensitive Skin Tested, Paraben Free, Allergy Tested, Non-comedogenic, Soap Free
Formulated with Zinc Pidolate: Known for its purifying properties to help remove excess oil
Cleanse morning and/or evening. Wet face with lukewarm water and apply small amount of gel, massaging the skin gently to form a rich lather. Rinse thoroughly with water

Check Price
PanOxyl Antimicrobial Acne Creamy Wash

Gentle formula contains 4% Benzoyl peroxide
Daily antimicrobial wash kills acne-causing bacteria on contact and lifts dirt from pores for a fresher, clearer you.
Ph balanced with 4 humectants and 3 emollients to increase hydration
Cleans and unclogs pores on face, chest and back
Clears existing acne fast and helps prevent new blemishes from forming

Check Price
Neutrogena Oil-Free Acne Fighting Face Wash

9.1-fluid ounce pump bottle of Neutrogena Oil-Free Acne Face Wash with 2% salicylic acid acne treatment to help fight and prevent acne breakouts while cleansing skin
This unique formula gently cleanses deep down into pores with conditioners while salicylic acid acne treatment helps prevent future breakouts in one simple step
Oil-free cleanser features a clinically proven MicroClear technology to help boost delivery of salicylic acid, an acne medication to help clear up acne, pimples and blackheads
Residue- and oil-free formula is non-comedogenic so it won't clog pores. This daily acne face wash also rinses clean without over drying or irritating the skin to help unclog pores and treat acne even before it emerges
Use this acne face wash as part of a daily skincare routine. Consider this product if you've liked cleansers from Proactiv, Clearasil, Biore, Mountain Falls, CeraVe, Differin and AcneFree

Check Price
Dermatologists recommend this facial cleanser for the most sensitive skin. It contains bromelain, an enzyme found in pineapple that helps to alleviate acne-related irritation, as well as apple amino acids to moisturise the skin.
Furthermore, it is sulfate-free. It contains no salicylic acid or benzoyl peroxide, which may irritate your skin if used all over. A gentle cleanser like this one, combined with a spot treatment, will help you avoid that tight, itchy, stripped feeling on your skin, as well as a lot of redness.
Pros
No actives 
Foam texture 
Sensitive skin
Noncomedogenic
Cons
Contains no salicylic acid.
Contains no benzoyl peroxide.
If you have dry skin and are also acne-prone, consider a cleanser with a gel texture rather than foam. Gel cleansers tend to be more hydrating than foaming cleansers, so they often work better for dry skin. Derma E contains vitamins A and E to gently cleanse the skin. 
It also doesn't contain any actives, which contribute to dryness.
Pros
Dry skin
Gel texture 
Noncomedogenic
No active ingredients
Cons
Oily skin tones may not find it favourable.
If you have cystic acne, cleansers with 2% salicylic acid are ideal, and we recommend this La Roche Posay cleanser in particular. While cleansing, the chemical exfoliant will lightly scrub the skin.
This is because the active chemicals in the solution are administered via a hydrated vehicle. It's also lipophilic, which means it can dissolve oil and concentrate on sebaceous gland areas, where oil is released through hair follicles, allowing it to rapidly and effectively remove excess oil from the skin.
Pros
Gel texture
Salicylic acid 
Good for oily skin. 
Noncomedogenic.
Cons
May not be ideal for dry skin
Benzoyl peroxide destroys acne-causing germs while also aiding with oil control. It is also anti-inflammatory and comedolytic, meaning it soothes skin and reduces clogged pores.
PanOxyl is non-irritating to the skin. It contains 10% benzoyl peroxide., so remember, as with all cleansers containing an active component, to leave it on the skin for a few minutes before washing.
Pros
Oily skin 
Foam texture 
Benzoyl peroxide
Noncomedogenic
Cons
May be sensitive to some skin types.
This salicylic acid is still the most commonly prescribed acne cleanser by dermatologists.
It only contains 2% salicylic acid, making it light enough for individuals with sensitive skin while effective enough for those trying to cure severe outbreaks. It has a gel texture, which is ideal for extra-oily skin, but because the gel does not dry out your skin as much as foam, those with drier skin can also use it.
Pros
Gel texture 
Salicylic acid
Noncomedogenic
Ideal for all skin types. 
Cons
Get texture may not be suitable for some.
What is Acne?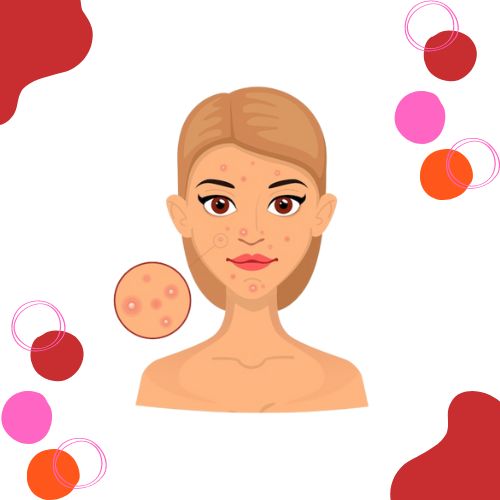 Acne occurs when pores become clogged due to the inability of sebum to escape properly through the follicles. Sebum is an oil produced by your body to protect your skin. This oil, when produced in excess, can be blocked by dead skin cells, which in turn clog up the pores, causing acne.
Types of Acne
There are two categories of acne:
In noninflammatory acne, blackheads or whiteheads are caused by clogged pores.
Despite its mild nature, it is easily recognizable. A blackhead can be slightly flat against the skin and appear dark. A whitehead is a small, skin-coloured bump.
Any red or more robust appearance is classified as inflammatory acne 1. Symptoms range from pustules and papules to nodules and cysts. The difference between pustules and pustules is that pustules contain pus. Sometimes pustules develop into pustules.
There is also more painful, deeper acne. Typically, inflamed bumps are larger than your typical pimple and feel like they are underneath the skin.
What causes Acne?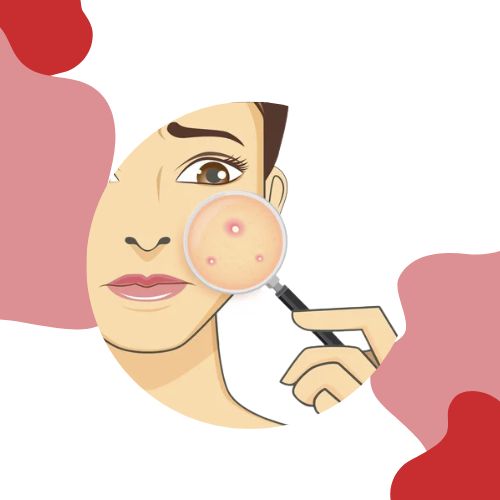 There are so many things that can trigger acne. Usually, acne is more common in teenagers due to hormonal changes. Although acne may appear in adults too, it mostly emerges during the puberty stages of young people.
Hormonal changes such as pregnancy and menstrual periods can cause acne in women. Certain medications prescribed by your doctor can also cause acne.
Furthermore, a stressful environment can cause your body to produce cortisol, causing the oil glands to be stimulated, which contributes to an outbreak.
In addition, you might also clog your pores due to irritation or a reaction to a product or fabric. A yeast infection in the hair follicles can also cause acne-like breakouts, particularly on the upper chest and upper back. In addition to your diet, you may also experience acne breakouts if you consistently consume too much dairy.
While all these instances may cause acne, the best way to discern what is causing your breakouts is to check in with your dermatologist.
In summary, acne is caused by your follicles overproducing oil, and dead skin cells and germs are gathering in your pores.
Overproduction of oil is usually because of hormonal changes like puberty, the menstrual cycle, pregnancy, and menopause.
Variations of Acne
Whiteheads form when excess oil and dead skin cells obstruct the opening of the pore; they appear as little flesh-coloured or white-coloured pimples.
Blackheads are similar to whiteheads in appearance, but when the material obstructing the pore pushes through and is exposed to air, it interacts with oxygen and turns black.
Pimples: These typical red patches appear when germs become trapped inside the pore with oil and dead skin, causing discomfort.
Cystic acne: These are hard and painful bumps under the skin. They might feel like marbles; they form when oil, dead skin, and germs penetrate deeper into the epidermis.
How to Prevent Acne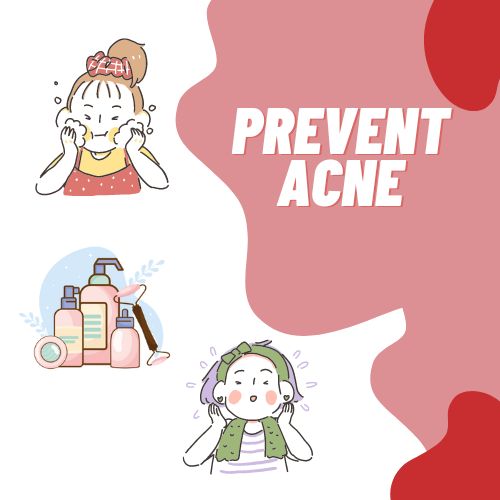 1. Wash your face twice a day, gently.
The first step in preventing acne is to wash your face twice a day. No matter how exhausted you are at the end of the day, wash your face before going to bed.
And, while many people use excessive force to wash their faces because they believe acne is caused by dirt, acne is not a dirt problem. Over-cleaning can only irritate the skin worse.
While you can wash your face with mild soap and water, experts recommend using a gentle foamy cleanser with an acne-fighting component in the morning.
It's vital to note that the method you use to clean your skin is just as important as the product, so avoid using rough washcloths, sponges, or other irritating materials. It's best to apply the cleanser using a cotton pad or baby washcloth, but it's critical to use a clean washcloth every time to avoid wiping old dirt back onto your face. You can even use your hands to rinse the cleanser away by splashing on enough water.
2. Don't touch or pimp anything
It's quite tempting to squeeze that pimple. However, this can result in scarring. It can also spread bacteria to neighbouring pores, transforming a little pimple into deep, inflammatory acne.
3. Routinely clean anything that comes into contact with your skin.
Several objects we come into contact with daily can be a source of bacteria that end up infecting us. Bedding, makeup brushes, and even phone screens can all harbour bacteria that clog your pores.
To minimise clogging your pores, the American Academy of Dermatology recommends changing your sheets once a week 2 and your pillowcases twice a week.
If you wear makeup, you should clean your cosmetic tools daily. If that isn't possible, wash them once a week instead. Once or twice a day, wipe phones with a specific cleanser.
4. Stay hydrated
Keeping skin hydrated and clean helps combat the excess oil that leads to acne. However, there's limited research to back this up. Still, there's no harm in 2 litres of water a day.
5. Exfoliate. 
Exfoliating once or twice a week can aid in the removal of dead skin cells that can clog pores and cause outbreaks. We recommend Nip + Fab Glycolic Fix Cleansing Pads if you don't have much time. Drunk Elephant T.L.C. Framboos Glycolic Night Serum is another option.
6. Use a face mask
A good face mask, like the Sunday Riley Saturn Sulfur Spot Treatment Mask or the GlamGlow Supermud Clearing Treatment, will help fight oiliness and pollutants, hydrate dry skin, and minimise redness. For best effects, use it up to three times each week.
7. Apply an oil-free moisturiser
When you have oily skin and clogged pores, moisturiser may appear unneeded, but the contrary is true. According to dermatologists, moisturisers help keep the skin's oil production in check, and they also assist acne patients to tolerate acne treatments, which can be drying.
The trick is to use non-comedogenic, oil-free moisturisers. La Roche Posay Double Repair Face moisturiser or utilising an aloe-based, non-comedogenic moisturiser with hyaluronic acid, which protects collagen; Fresh Rituals Aloe Vera moisturiser are two of the best oil-free face moisturisers.
Cetaphil Gentle Clear and Aveeno Clear Complexion, both of which include salicylic acid, are two other non-comedogenic choices.
8. Apply an acne treatment medication.
After washing your face, wipe it dry with a soft towel rather than rubbing it, and then try an over-the-counter treatment like CeraVe Salicylic Acid Acne Treatment Gel or La Roche Posay Dual Action Acne Treatment.
According to specialists, it can take at least six weeks for an over-the-counter treatment to work. If you're still not seeing improvements, check with a dermatologist, who can prescribe a stronger drug, such as Dapsone gel.
9. Don't forget the sunscreen.
Skin sunscreen is an important step in preventing skin from UV damage, but if you have acne-prone skin, choose a sunscreen that won't clog pores or worsen breakouts. EltaMD UV Clear Broad-Spectrum SPF includes anti-inflammatory niacinamide, which helps to minimise redness. 
Another lightweight sunscreen recommended by the GH Beauty Lab experts is La Roche Anthelios SPF 60 Dry-Touch Clear Skin Sunscreen.
10. Apply a retinol product before bed.
Before you go to bed, there's one last important step to achieving clear skin: smoothing on a retinol product. Retinol is an over-the-counter version of the vitamin A derivative Retin-A, which reduces wrinkles, helps control acne, and unclogs pores.
Retinol, among others, helps speed up cell turnover and regeneration and exfoliates keratinocytes, the cells on the outermost layer of the skin. It also works to unclog pores and keeps skin looking youthful while minimising and preventing fine lines and wrinkles. 
Here are our three recommendations to try: Differin Adapalene Gel, La Roche-Posay Effaclar Adapalene Gel, and Sobel Skin 4.5% Retinol Complex Night.
Can your Skin Type Cause Acne?
It's common to link oily skin to acne. After all, excess oil is a known contributor to breakouts. 3
However, acne can occur on dry skin for a variety of reasons, including environmental conditions or a bad skincare routine that irritates the face and clogs pores.
Knowing your recommendations helps you treat your acne in the best way possible. Dermatologists offer a simple method for determining your skin type.
Firstly, wash your face with a bar of gentle baby soap. Pat dry gently. No skin care products should be used. Examine your skin a few hours afterwards. You have oily skin if it is glossy. You have dry skin if it is flaky, scratchy, or red.
Combination skin will have dry cheeks and a shiny forehead, nose, and chin (T-zone). Normal skin, on the other hand, will have a healthy shine with no obvious flaws. Keep in mind that you can have acne without having dry or oily skin. 
Ingredients to look for when Buying Acne Products
1. Opt for non-comedogenic products.
Noncomedogenic is a label that you've most likely encountered on skin care products. It may be labelled as oil-free, non-acnegenic, or simply "won't clog pores." Every product used in acne-prone regions should bear the oil-free and non-comedogenic labelling.
You'd think that any goods bearing this name would solely benefit acne-prone skin, right? Regrettably, no. Before using it, make sure to read the entire ingredient list. Avoid anything with possible irritants, such as alcohol or fragrance.
2. Salicylic acid 
Salicylic acid works to unclog pores 4 and reduce inflammation. It's ideal for blackheads and whiteheads but can also help pustules disappear quicker. You can try Stridex pads or Clinique Acne Solutions clinical clearing gel.
3. Benzoyl peroxide 
Because benzoyl peroxide eliminates acne-causing bacteria, it is most effective on inflammatory acne. The acne treatments La Roche-Posay Effaclar Duo and Paula's Choice Clear daily are both highly regarded.
4. Retinoids 
Retinols, among other things, help exfoliate the skin's surface by eliminating dead skin cells that block pores. They also assist in reducing inflammation and are typically found in many acne treatment regimens. If you're just starting, experiment with different adapalene gels. Stronger retinoids can also be prescribed by your dermatologist.
When to see a dermatologist about your acne
Mild acne is frequently treatable with over-the-counter medications. If it does not improve, you should see a board-certified dermatologist.
This is also true for moderate or severe acne, such as cystic acne or acne that is scarring your skin. These varieties necessitate the use of prescription medicines. At your initial session, you will be asked to provide information about your medical history and current skincare routine.
Your dermatologist will then examine your skin to determine whether you have acne.5 You'll most likely depart with a prescription for medicine, either topical, oral, or both, as well as some lifestyle advice. You may also be urged to explore certain procedures to help calm the skin and reduce scarring.
Prepare to return for regular check-ups, as your dermatologist will want to assess how your skin is progressing and change your treatment plan as needed.
Frequently Asked Questions (FAQs)
Can you have sensitive and acne-prone skin?
Sensitive, acne-prone skin refers to skin that is more prone to inflammation and adverse reactions and responds strongly to chemicals, dyes and fragrances present in products upon contact with the skin. This may be genetic or due to certain lifestyle or environmental factors
What products are good for sensitive acne-prone skin?
If you have sensitive or dry skin, you should proceed with caution to avoid the three most common side effects associated with salicylic acid: dryness, irritation and sun sensitivity.
How do you control acne with sensitive skin?
Stay Away From Harsh Scrubs. You might be tempted to scrub away at your skin to banish blackheads and breakouts, Slowly Introduce New Products. Until you know how your skin reacts, introduce new skincare products slowly and carefully, Don't Use Too Many Products at Once, Beware of Leave-On Treatments, and See a Dermatologist.
Is salicylic acid okay for sensitive skin?
If you have sensitive or dry skin, you should proceed with caution to avoid the three most common side effects associated with salicylic acid: dryness, irritation and sun sensitivity.
Does vitamin C help with acne?
Vitamin C contains anti-inflammatory properties and helps reduce the redness and swelling that comes with acne. The results are more pronounced when you use the vitamin topically. It, therefore, helps improve the appearance of acne wounds. It may help reduce hyperpigmentation.
Is benzoyl peroxide OK for sensitive skin?
A dermatologist may not recommend benzoyl peroxide if you have sensitive skin, as this skin type is more prone to side effects such as rashes and irritation. Benzoyl peroxide might also not be the best choice if you have eczema or seborrheic dermatitis.
Your turn…
Acne can be treated, just as stretch marks can be too. Depending on your skin type, there are various products that can help you with your skincare routine for acne-prone sensitive skin. 
Products like EltaMD Foaming Facial Cleanser, PanOxyl Acne Foaming Wash With 10 Percent Benzoyl Peroxide, La Roche-Posay Effaclar Medicated Gel Cleanser, and Derma E Hydrating Gentle Cleanser are all dermatologically certified to help you.
Related Articles: