Sunyani Technical University (STU) student portal is a web-based platform that aids students in their academic activities.
When portals were not available, students had to write letters to their examination officers to request their transcripts and results. It will take several days for the exam officer to get that letter, after which you will be scheduled for another appointment to pick up your transcript. The worst part is that he will then demand payment for his efforts, wasn't that annoying? Thanks to these internet portals, all of these time and effort consuming activities are now a thing of the past.
The Sunyani Technical University student portal is the university's management information system for gathering and maintaining up-to-date information about their students.
STU students can register for classes, request and print  transcripts, view the academic calendar, and exam schedules once logged in. Sunyani Technical University applicants can also check their admission status using the STU student portal.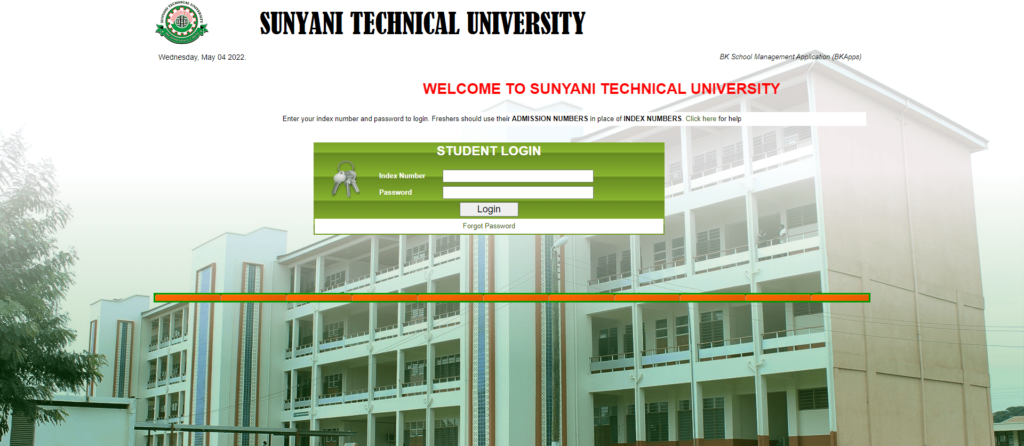 Who Can Use the Sunyani Technical University (STU) Student Portal?
First Year Students
Continuing Students
Prospective Students
So, how do I log in as a newbie to the STU portal? What should I do if I lose track of my password? These inquiries will be addressed in this post.
Steps To Log Into The STU Portal
After you have been admitted into the institution, the university will provide you with unique registration details, such as your admission or index number and password. This password can be changed to anything you desire. Just make a mental note of it.
Open your internet browser, for example; Internet Explorer, Chrome, Firefox, etc.
Visit the Sunyani Technical University student portal by clicking here.
If you encounter an error that says "CONNECTION IS PRIVATE" just click on the advanced button and click on continue to STU portal.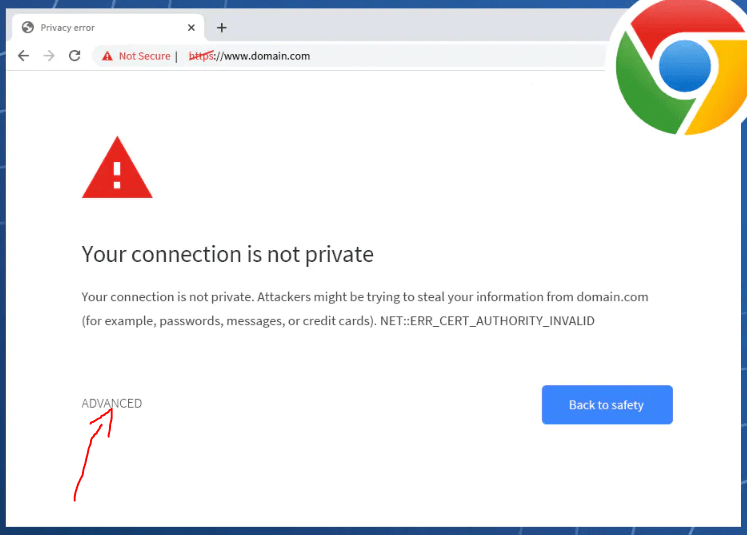 The STU portal will open after visiting their website
Enter your index number and then enter your password
Click on log in to see your personal dashboard
Like any other log in details, make sure you keep your details safe and private.
For fresh students who are logging in for the first time;
You must provide your date of birth while creating a new password. Your date of birth has to correspond to the date used in the admission process. Then click on "submit for validation". There would be an error if the dates of birth did not match. You will receive an error warning and will have to repeat the process until you submit the right date of birth.
How To Check Admission Status Using STU Student Portal
If you have already bought Sunyani Technical University forms and are looking forward to your enrollment, you can follow these steps to check your admission status.
Launch your browser and visit STU student portal.
Fill in the fields with voucher details (serial and pin)
Click on log in to access the portal.
At the dashboard, your application details and your admission details would be shown.
How To Recover Your STU Student Portal Forgotten Password?
What do you do if you forget your login password? Follow these steps.
Before you begin the process of resetting your STU login password, make sure your STU portal email account is active.
Go to the STU password recovery website by clicking on "forgot password" on the student portal page.
After that, enter the email address and phone number you used to register for the Student Portal.
At this point, you will receive a reset code on your phone or in your email inbox.
Next, enter the reset code you were given and confirm your account.
Finally, your reset code will be verified, your password will be reset, and you will be able to access your STU portal once again.
At this point, you can enter your portal by logging in with your newly created details.
Most importantly, make sure that your login password is one that you can easily remember, or better yet, write it down and save it somewhere safe so that you can access it later.
If you are having problems with your TTU student portal, you can seek help from the following authorities;
Email: enquiries@stu.edu.gh
Phone: (+233) 3520 – 27052 / 24924.
In conclusion, university portals in general have made online activities quite simple. There's no hurry to run over to the noticeboards to see if there are any vital announcements or to check your grades. You may now check your results from your smartphones and PCs. The lengthy bureaucratic procedures for receiving transcripts can now be completed with a few touches on your phone.
I believe this post has provided you with all of the necessary information and guidance regarding the STU student portal.
More articles on Sunyani Technical University will be published soon, so stay tuned. 
However, don't forget to leave a comment in the space below. Good luck with your reading!
Frequently Asked Questions (FAQs)
How would I know If I have been admitted into Sunyani Technical University or Not?
If you haven't received any SMS from STU then as a prospective student, you can use the student portal to check for your admission status. Use the steps above to log in.
I don't remember my password, what should I do?

Click on the forget password below the login button. Provide your registered email and phone number. Provide a reset code sent to your email and confirm. A link will be sent to you via email. Use this link to reset and create a new password. From then use this new password to log into your STU portal.
A detailed procedure has been given above to resolve this problem, do scroll up and read through. 
I have forgotten my Date Of Birth, how would I register the STU student portal?

The date of birth can be found on the printed admission forms that you filled. If you still cannot find it then email enquiries@stu.edu.gh or call  (+233) 3520 – 27052 / 24924 for further assistance. 
Also Read: