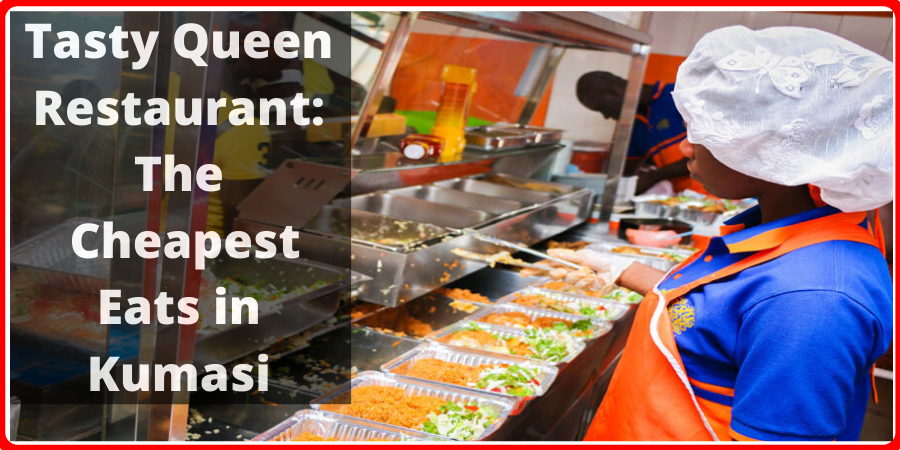 Tasty Queen is the cheapest eats in Kumasi. Why is it so?
This is because getting delicious food at moderate prices is difficult.
Almost impossible.
But Tasty Queen restaurant made it possible. And does it so well.
The owner has either worked in an international restaurant where good food is synonymous with moderate prices or has really studied the local market.
Researched the market, found a need and really filled it. And they're doing that so well.
So far so good.
So come to think of it, a few years back all we knew was the quick and simple takeaway joint around the corners of various communities.
People got tired of oily fried rice with no personality. Same old story.
The thirst for innovation was real.
The need for a bistro with affordable prices where the food is on point was critical.
Then the queen stepped down – Tasty Queen was born.
A place where you wouldn't feel out of place if you struck up a conversation with the person next to you.
Almost inevitable since the tables are so close together. You may even see your old school mates around.
About Tasty Queen Restaurant, Kumasi
Tasty Queen Restaurant Kumasi
Star Junction, OPP
Tel: 0243 62 55 30 / 0244 60 72 03
Website: tastyqueenrestaurant.com
Tasty Queen is a casual restaurant specializing in Ghanaian delicacies.
Tasty Queen's concept is to create dishes as traditionally Ghanaian as possible, while skillfully substituting and supplementing local, organic and fresh ingredients.
The result is a uniquely Ghanaian menu with a continental balance. A  generally serene, neat and welcoming environment.
With the goal of serving a quick, dinner or family-style menu of tasty, bold flavoured foods (Jollof rice, Fried rice, Plain rice, banku and tilapia etc) with global influence in a fun and lively setting.
I've also noticed that their food and products are organic.
Healthy food is not a compromise here. When their meals get oily and stuffy, they listen to customers and reduce it.
Tasty Queen – Location
You don't really need to find Tasty Queen. The good food will find you well.
Located on the Santasi – Obuasi road, just about 200metres from the Santasi roundabout. On the other side of the road directly opposite the "Allied Oil Fuel Filling station".
Star Junction, they call it – directly opposite the junction that leads to the Christian Service University College.
Right on the roadside, Tasty Queen is home to some of the city's quickest eats.
And that makes their guests feel at home from the moment you arrive.
This map here will lead you to Tasty Queen.
Ambience
With Tasty Queen, you buy your food inside the service room. Quite small. So you either take home or get served in an open space.
Come to think of it, there's free natural ventilation with an orderly sitting arrangement.
You either turn your back to or face the busy Santasi – Obuasi road.
Apparently, Star junction is already buzzing with lots of activities. Apart from cars picking and dropping people almost every moment, there's a lot of pedestrian movement along the roadside.
Mostly, ladies and gentlemen who are either going to or coming from the Christian Service University College.
Tasty Queen's involvement with the area has brought enough oomph and sparkle to the area.
Bumping into some "pretty young world" or maybe "your ex" may not be a rear incident.
They also eat too.
Sad they're with someone else, I guess.
Just say Hi and buy your food.
During sunset, as evening draws near, Tasty Queen glows.
I don't know why but there's some attraction and goodness that surrounds the area.
After all, "The Food is Good".
Why not!
Again, their young and vibrant staff will be happy to help you create the perfect dining experience for every guest that comes in.
The Setting
This simple, yet functional bistro is welcoming. Ad yes. It's not a large place to accommodate everybody.
In fact, expect to join the dreaded queue inside almost every time.
Again, the room is too small to accommodate the numbers that come in there to purchase meals.
If you decide to let the atmosphere of the place sink in and for that matter enjoy your Jollof or smoothie there, feel free to do so.
Well, the chairs and table may not enough especially during weekends, holidays and special occasions.
Just pull up one of the plastic chairs, find an empty table and enjoy your meal.
Are you with a friend or two, same applies?
Don't wait for a waiter to treat you like a King. Just built your own castle and treat yourself to some good food.
The last time, this stubborn friend of mine proposed we "eat here".
And that was an experience.
Of course, it is on the lower floor of a two-story building. As I've mentioned, it's not a very huge place. Pretty small. But big things happen there.
But who cares, the food is good. There's more space when all the other shops around close for the day.
At about 6:00 pm, Tasty Queen becomes one of the best if not the biggest eatery and restaurant in Kumasi.
The Food
The Tasty Queen concept is to create dishes that are traditionally Ghanaian as possible, while skillfully substituting and supplementing local, organic and fresh ingredients.
So far, so good. They're doing fine.
Beverages are featured on a separate menu. Kind of.
Mostly juices, smoothies soft drinks, or snacks. A lot of pastries around to keep those who are waiting and to keep the children in check.
I usually avoid drinking anything except water in restaurants unless they have a real cocktail bar.
Well, I believe if it must be done, it must be done well.
Since there's none. I focus on my plate.
After all, we're here to eat.
Tasty queen Menu
The menus are extensive and have a little something for everyone, and our staff is happy to help
create the perfect dining experience for every guest that joins them.
The menu ticks many Ghanaian bistro classics, the usual suspects (Jollof, Fried rice, Plain rice, etc…) Oddly mingled with their banku and Tilapia is gaining traction like nobody's business.
What makes Tasty Queen tick is their perfect attachments or asides to well-known foods.
Yam balls with your rice.
Shawarma
Freshly packages Mixed Salad
Smoothie
Not a very extensive menu but have a little something for everyone. You can find more information on their beautiful website here…
In fact, their salad-mix, smoothie and Shawarma have their own customer base. People come there purposely for that. Yes, they do.
I once saw this woman who just came to buy yam balls. And that was a brave decision to make. Hmm-mm women.
The Service
So you can understand why the symbol of the restaurant is a lady chef holding a plate of some covered food-goodness, looking at you and wearing this beautiful outfit.
Nothing really astonishing about the servers, waiters and waitresses but their overall upkeep, passion and demeanour will make you crave more.
And you can understand why the place is packed. Knowing the owner and manager are
all around making sure quality food is served and customers are happy.
These young servers are truly the best you can think of in Kumasi. They manage the tables like nobody's business, juggling orders and trays, all the while serving and laughing with customers.
Anyone who wants proof that Kumasi people work hard should come here and watch these guys in action. They are true pros.
Pros
Tasty meals
Succulent salad
Affordable prices
Best Shawarma joint
Smoothie is on point
Cons
Small service room
Queuing for food is a NO-NO
Unfriendly due to overcrowding on occasions
Frequently Asked Questions (FAQ)
Do they do deliveries?
Absolutely.
Delivery is one of the strongholds of Tasty Queen restaurant. And they're doing
fine as at the last I made an order.
Caters to families?
Families and loved ones normally eat out during public holidays and occasions.
Yes, Tasty Queen can easily get overcrowded during special occasions but a casual and affordable place for the kids or family.
Recommendation
The service room is way too small. And I know the owner is probably looking at ways to expand. Since the food is widely accepted as great, all you need is to scale.
Notwithstanding how overcrowded Tasty Queen can be, it's still convenient for family outings. For a serene and cool environment, don't be late.
Reviews of Tasty Queen Restaurant
To spice things up, here are a few reviews pulled from Google about customer's experience with Tasty Queen restaurant.
MARTIN,

"Their environment is Serene and my gosh!!! their food is… Really second to none"

Cephas says,

"Delightful place 2 be always, but jxt dat their room x too small…"

Michael mentioned,

"I love the speed at which you get your food. Not really a fan of waiting for food."

Ruby says,

"Nice food very yummy but they need to expand the place is too stuffy"

Ndego said,

"The food is damn tasty at low price"

Joseph reiterated,

'Tasty delicacies, the Jof, fried rice and banku with tilapia are what I've tried, they all taste great"

Philip says,

"This place is always bustling with aromas, sounds and sights. I like their salads Jollof and shawarma (I place more orders on this). Their customer service is not bad. Their charges are moderate in my estimation. Give them a try."
Summing-up
A simple place with sumptuous meals and music.
the room is too small to accommodate the numbers that come in there to purchase meals.
They are normally open till around 11 pm so you can always get something to eat even at the very late hours.
Apparently, there's going to be some short or long queue you'll join. All you have to do is wait for your turn. Everybody will eat.
Are you on the road?
Don't worry, when you feel hungry just stop by and eat good food.
Also Read:
Aboude Fast Food: What's the Deal. The Chicken or the Fruit Juice?
Ol' Lady Sports Bar & Lounge: Nightlife has Never been the Same!
It's My Kitchen restaurant: It is the Best Restaurant in Kumasi?
KFC Kumasi: This Shell Service Station in Asokwa is the Place to be!