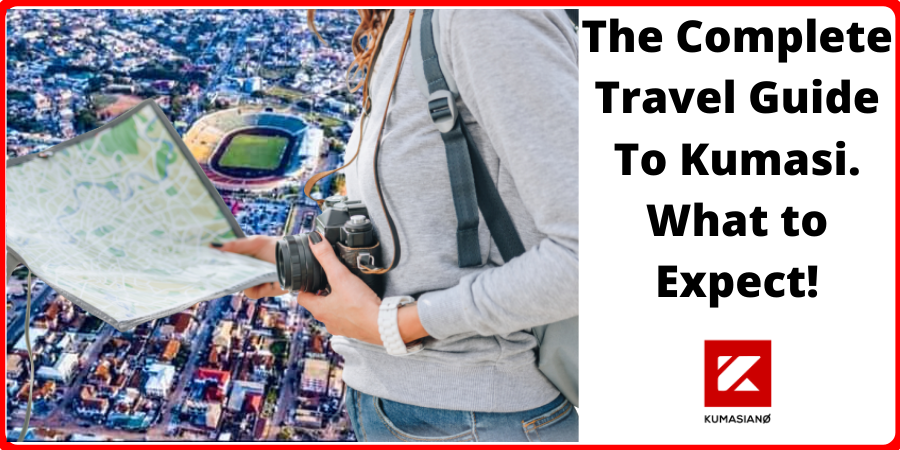 Kumasi! Kumasi! Kumasi! Does the name ring a bell?
Yes! it does.
If it doesn't, you can watch this video before you continue reading this piece.
Now the begging question is, is it the name alone?
I believe there is a lot more you have heard about this city and a lot more that you probably do not know. Actually, let me restart.
This article, as the title suggests, details the complete travel guide to Kumasi. Before I give you the rundown, can you guess some fun facts about Kumasi? Here are mine:
Kumasi is the second largest city in Ghana and is popularly known as the Garden City of West Africa because of the greenery.
The city boasts of very rich cultural heritage. No wonder the United Nations Education, Scientific and Cultural Organization (UNESCO) lists the city's traditional buildings as part of the World Heritage sites since 1980. Actually, it is one of the few places in Ghana that feature proudly on the UNESCO list of World Heritage sites. The others are classified under Forts and Castles in the Volta, Greater-Accra, Central and Western Regions.
Kumasi is also the seat of one of the powerful traditional rulers in the world. He is the King of the Ashanti Kingdom under the stool name Otumfuo Osei Tutu II. However, his influence and peace-keeping efforts know no bounds and have been well acclaimed globally.
Kumasi is the home of Africa's football club of the century – Kumasi Asante Kotoko popularly known as the Porcupine Warriors.
It is one of the cities with the lowest cost of living. In fact, from rental of both residential and commercial properties to taking a cab, hotel bookings or shopping, no other place in Ghana beats the prices of goods and services in Kumasi.
Kwame Nkrumah University of Science and Technology (KNUST), one of the prestigious universities in Africa is located in Kumasi.
There are very powerful indeginous names such as Prempeh, Opoku-Ware, Yaa Asantewaa, Osei Tutu, etc. associated with Kumasi.
Did you guess all these fun facts right?
How about I take you on an imaginary trip to Kumasi? As you read along, try picturing an ancient city that has been transformed by modern structures but has perfectly found a way to retain its antiquities.
Travel Guide To Kumasi
Now that we are through with the fun facts, let's talk about our travel guide. The travel guide is categorized into four main parts.
We'll first look at how to get to Kumasi. Second, get to know more about the people, the food, the language and the culture.
The third part of the travel guide looks at the top places to visit when you get to Kumasi and of course the finally what you should do in Kumasi. So here we go…
#1. How to get to Kumasi
So how can one travel to Kumasi?
Very simple but it depends on where you wish to travel from. Generally, you can travel to Kumasi by air and by road. You cannot travel by sea because Kumasi is not a coastal town unlike Accra, Tema, Sekondi-Takoradi and Cape Coast. Keep that in mind. No Sea in Kumasi – more on that some other day.
One thing you need to note is that the Kumasi Airport is currently being upgraded to host international flights. Until this upgrade is complete, if you want to travel to Kumasi and you wish to do so by air, you would have to land at Kotoka International Airport in Accra.
Ant then book a domestic flight from Accra to Kumasi.
It is not stressful though because domestic flights are very easy to book nowadays. And it takes maximum forty-five (45) minutes to make it to Kumasi from Accra by air. You can give it a try.
Again, if you wish to make the trip by road, it generally takes between four (4) to six (6) hours if your departure point is Accra. The same number of hours apply if your departure point is in the Twin City (Sekondi-Takoradi).
However, if your departure point is in Cape Coast or Elmina, it takes between three (3) to four (4) hours maximum to make it to Kumasi.
In the Northern part of Ghana, it takes a minimum of six (6) hours from Tamale to Kumasi and at least nine (9) hours from Wa and Bolgatanga respectively to Kumasi.
Most inter-city bus services operate transport services from any of the major cities in Ghana to Kumasi. VIP, O.A Travel and Tours, Inter-City STC and VVIP bus services come to mind so you shouldn't have a problem scheduling your travel and getting a bus ticket for Kumasi. However, bear in mind that the fun part of your trip will be when you arrive.
The traditional bus system for inner city navigation in Kumasi is popularly known as Tro-Tro. How did you pronounce that?
Don't worry, you will have a lot of teachers at your service to help you say it right and a lot more words so get your diary or notebook ready. What does a Tro-Tro look like?
Easy.
They mostly  mini-vans, Mercedes-Benz Sprinter or 207 buses.
Still imagining how it looks like? Imagine no more. Just watch the intro of this video for a proper perspective.
How does a Tro-Tro operate?
There is usually a driver and a conductor who is popularly called "Mate" in local parlance. The conductor usually sticks his/her head out the window of the van whilst the vehicle is in motion and yells for passengers.
Passengers usually stand by the roadside at major bus terminals waiting for the Tro-Tro.
If a Tro-Tro is coming through and the "mate" yells the passenger's destination then the passenger will give a signal for the "mate" to signal the driver to stop the car so that the passenger can hop in. It's as easy as ABC and the trick has been tried and tested.
How are the fares collected on a Tro-Tro?
That is another interesting question. Practically, the conductor sits in the same compartment of the vehicle with the passengers so the conductor does the collection and gives a change if the amount paid and the destination fare are not in sync.
Please keep these questions in mind as you take a Tro-Tro ride through the city. I can provide you with more gist but I don't want to spoil the fun so you make it a point to try it even if it is once.
Do your best to try the Tro-Tro service before you leave Kumasi. It is an experience you will never forget!
Despite the unique experience that the Tro-Tro shuttle system offers, it has its limitations.
Apart from the traffic situation which isn't a nice experience, the Tro-Tros are limited in terms of the places you can visit with them. They mostly ply the main roads and not the inner suburbs.
Due to this, it is recommended that if you wish to properly navigate the city and its suburbs as well as visit all the interesting sites, the best way to do this is by using a cab (taxi) or an e-hailing service such as Uber and Bolt.
Cabs are a bit expensive compared to Tro-Tros but you can go everywhere with them even at odd hours unlike Tro-Tros that mostly work till about 11 pm.
#2. The people, the food, the language and culture
The people, the food, the language and the general culture of the city is at best conservative and trust me, I mean this as a compliment. Indeed, you will admire and praise the hospitality of the people of Kumasi. They are predominantly Ashantis and they hold their culture in high regard including their language – Asante Twi. Don't get offended if everybody encourages you to speak the language and observe the culture, it's all part of preserving the cultural heritage and that is why I indicated earlier that the people are very conservative and for good reason!
In terms of the food, oh you would love it! The chief food in most parts of Ghana is  Fufu. Do you know that it has its roots from Kumasi? And do you know that it is not pronounced Fufu but rather Fufuo? You should give it a try as soon as you arrive. Any major food outlet in Kumasi sells Fufuo. Just ask the hotel or the guest house where you will be lodging and they won't hesitate at all to help you out. Just remember to say it right. They will teach you how to say it too. Apart from Fufu, there are other African and continental dishes that most food outlets serve. These include Banku and Tilapia, Gari and Beans (Red-Red), Rice and Stew, Waakye as well as Omotuo (Rice Balls). One other thing, for the dishes that are served with soup such as Fufu, Omotuo and Banku (sometimes), how about you ask for a signature soup such as Palm Nut Soup or even Groundnut Soup to go with it? Also, for the protein bit, please ask for the "intestines." Trust me, you will enjoy any of the local dishes. It doesn't mean the continental dishes aren't as good. My stance is that if you visited the culture then you must taste the culture so kindly do this and thank me later. If you are a vegetarian trust me you are not left out in the protein department. Kumasi boasts of natural vegetarian dishes such as Mushroom, Beans and other edible natural plants. Give yourself a treat!
#3. Top places to visit when you get to Kumasi
When it comes to places to visit in Kumasi, believe me there are loads of interesting places. It is recommended that you try and visit as many places as possible so the caveat here is that the list below is not exhaustive. That said, below are the top places of interest that you need to visit while you are in Kumasi. They have been put together in no particular order:
Manhyia Palace
This is by far one of the most popular seats of a traditional leader in the world. The Palace serves as the official seat of Otufour Osei Tutu II, King of the Ashanti Kingdom. The building is a historical edifice rich with its cultural undertones. One key thing you will notice when you visit is that the structure communicates power, authority and wealth evidenced by the gold furnishings, the powerful statutes and the impressive Adinkra Symbols. Afraid that you will be used for rituals? Don't worry we are not in the medieval period. The palace actually provides a tour guide for its teeming visitors from all walks of life. In fact, if you go to Kumasi and you don't visit the Manhyia Palace then you haven't been to Kumasi. Get a sneak peek of the Manhyia Palace and surrounding areas by watching this video.
Kejetia and Central Market
Are you wondering why a market is a place of interest to visit? Then wonder no more because the Kejetia and the Kumasi Central Market are no ordinary markets. They form the largest open-air market in West Africa. Together, both markets boast of over 20,000 shops and they receive thousands of customers and prospective customers on a daily basis. Another reason why you should visit Kejetia and Central Market is the variety of goods on display at very affordable prices. Interestingly, almost all the prices quoted in these markets are negotiable so go ahead and give it a try. You will learn the art of negotiation right there. In fact, you can easily find anything you are looking to buy under the sun when you visit these markets. The aesthetics too is worth mentioning. The buildings are very solid and signify an edifice that sits well with the culture of the Ashanti Kingdom. Wondering how the markets look like after the facelift? Click here.
The Rattray Park
Do you need a beautiful and refreshing place to relax and observe the scenery on a hot afternoon? Or you prefer a cool and serene place where you can feel the ambiance? Then the Rattray Park is the place to be. If you wish to properly visualize what I am talking about, click here and watch a drone footage of the Rattray Park and you would love it.
The Kumasi Fort
This place is an embodiment of the history of the Ghana Armed Forces. Be in awe when you see the guns, flags, historical pictures and other relics which speak to the history of the Gold Coast and the role the army played. Keep in mind that here too, you would need to pay for a guided tour. Even though this sneak peek will not quench your curiosity, try watching the video by clicking here and you will get a sense of what the Kumasi Fort is all about.
Lake Bosumtwi
Before you read about this rare natural find, click here to watch the video. The lake is not directly located in Kumasi but it is pretty close. It is about one hour drive from the heart of Kumasi and it is one of the largest lakes in Africa. Definitely Kumasi is an inner City for which reason it does not boast of an Ocean unlike other coastal cities. However, try making a trip to Lake Bosumtwi because it is not an ordinary water body and lakes are really scarce. Hence, once you make it to Kumasi, make it count by scheduling a trip to Lake Bosumtwi. Never forget, Tro-Tros go there and it is very affordable to take a trip there. You will also get the chance to see the outskirts of Kumasi. One spoiler though – the road to Lake Bosumtwi is one of the meandering and scary roads you will ever travel on in your lifetime. Enjoy the adventure!
Kwame Nkrumah University of Science and Technology
This is one of the most serene university campuses you will ever visit. It boasts of impressive architectural structures. Its calmness and greenery is truly breath-taking. Don't leave Kumasi without making a trip to Campus. How different is this campus from other campuses? Kindly watch the video and you will have an idea.
Ghana National Cultural Center
Just like the Manhyia Palace, the Ghana National Cultural Center located in Kumasi signifies a great cultural heritage. See a sneak peek here.
It is equipped with historical cultural artifacts. You can also purchase books and other materials about the history of the Ashanti Kingdom and Ghana in general. Again, you can purchase cultural artifacts including the impressive Kente Cloth, the Ahenema Slippers and other funeral regalia.
Kumasi Asante Kotoko
Don't mistake this for a physical landmark for this is one of the prestigious football clubs in Africa. In fact, it has been adjudged the African club of the century by the African football governing body – the Confederation of African Football (CAF). Try and schedule a time to visit the Kumasi Sports Stadium during game days (mostly Sundays and mid-week) and watch the Porcupine Warriors play. Trust me, you won't regret it. Their impressive fan base, the cultural connotations, the chanting and the pride is unmatched. Second-guessing? See for yourself the teeming and jubilant fans of Kumasi Asante Kotoko by watching this video.
Truly, I can go on and on talking about a lot of interesting places to visit in Kumasi but it won't do justice to your curiosity unless you make a trip there.
#4. Final words
So there you have it. What are you waiting for? Don't let this solid cultural and historical place of attraction hide in plain sight on your travel or vacation calendar. Get busy and plan a trip to the Garden City of West Africa and you will never regret it!
By way of full disclosure though, the writer does not own the rights to any of the videos embedded in this article. These are already existing videos on Youtube and they are being referred to only for educational purposes.