As a big lover of sheet masks, I was fascinated when the first email about the Foreo UFO gadget landed in my inbox. Although the details were sketchy, the concept that it was billed as "the world's first smart mask treatment to give pampering facial treatments in just 90 seconds" was fascinating. I mean, what's more, a girl could ask—nothing bro!
Well, I just quickly checked out some of the influencers' videos and believe me, it was looking so satisfying and sexy. So without any second thought, I just opened up their website and ordered my Foreo device. 
Your wishes are my orders. So yes, in this post I am going to talk about the long-awaited Foreo Mascarilla massaging smart device i.e. UFO (Ur Future Obsession). This product came to me almost 6 months ago in which I have been testing it like a crazy a*s girl. What do you say? Are you ready to read my experience with Foreo Mascarilla? Have a look!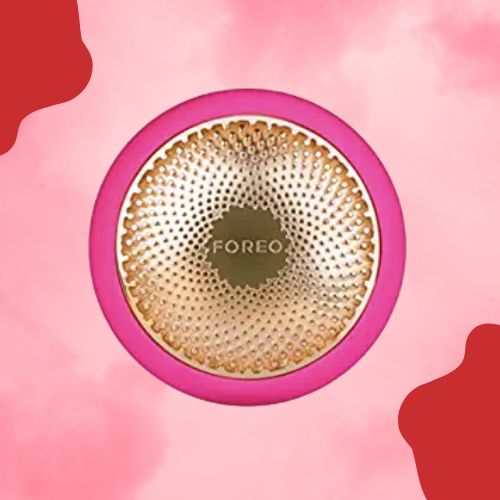 To be more clear and precise, Foreo is a brand that specialises in professional-grade beauty technologies. You may be familiar with its best-seller, the Luna 2 cleaning gadget, which is a silicone dome that acts as a stimulant to help your cleansers or moisturiser work better.
Foreo's latest product, which ultimately falls in the category of Foreo Mascarillas, the UFO (Ur Future Obsession) is a smart device that works with sheet masks. It blends sheet masks with LED light treatment, as well as thermal activity and vibrational modes (you can watch a short video here). 
 If I talk about its look, it's a small and very cute baby. And this little baby does more things in less time for your skin. 
The Internet craze has been genuine, so I was eager to give it a shot.
Basically, it's a wholesome treatment of smart masks and has a LED light therapy that plays a lot with cold and hot temperatures. If you need calming relaxing skin, then girl, hand over this responsibility to Foreo UFO. Believe me, it softens and relaxes your skin like magic with its thermotherapy qualities.
Heat: Once the mask is applied, the gadget gently warms up, allowing the mask's components to enter faster and more effectively.
Cold:  (Cryotherapy mode, as this system lacks in UFO mini) lowers oedema and helps shrink pores, as well as refreshing and toning the skin.
T-SonicTM pulsations: gives a very soothing face massage that improves penetration of the mask's active components.
LED light treatment uses three types of lights (painless and UV-free) with red, blue, and green wavelengths.
Red LED: stimulates cell renewal.
Blue LED: boosts blood circulation.
Green LED: reduces hyperpigmentation of the skin by reducing melanin formation.
All in 90 seconds—Really?
I was suspicious too about this "90 seconds thing" after reading the negative reviews, but let me tell you, I am so pleased I bought it. I started with the mini UFO but quickly realised I needed cryotherapy as well so I switched to the one that has cryotherapy. Fortunately, the cryotherapy quality encourages the pores to expand to allow for maximum absorption
Believe it or not, IT WORKS IN 90 SECONDS. It's incredible how enjoyable and soothing these triggered masks are. It penetrates the mask in the shortest possible time—making your skin much more rejuvenated and luminous. 
Assume you intend to use the H2O overdose mask, which is one of the brand's further alternatives. You'll have to open the app, insert the mask into the gadget, scan the barcode on the back of the container, and the device will know exactly what treatment is required to make this mask the greatest match for your skin. 
That's how it performs so quickly!!
The first time I used this device I tried to turn it on and oh surprise! You don't need to synchronise it with the app on your phone, you have to download the forum app and just use the app. It gives you step-by-step instructions on how to configure it with your phone. 
In a wrap, I found out that you can't use this device without your phone—at least the first time. 
Moreover, almost all Foreo products are waterproof and are recharged via USB current. This compact device is perfect for me because I have also travelled with it many times and it doesn't cause me any hassle. 
You know what? I also took it to the beach—Oh! What a delight? I mean, what a feeling! Just 90 seconds and you get a spa-like treatment everywhere. Just amazing!
But wait wait wait… The app is the one thing I claim to hate, also.
 I wish they had made it easier to use it without the app. I despise having to enable location and Bluetooth. There is no need for them to know where I am! It's quite intrusive.
 I also despise scanning the mask with the app every time. Why can't I just pick the treatment and go?
Normally, I put the pad on there and dump the box, so I have to go through the bins for the wrapper.
You have to buy the masks separately
One thing you have to keep in mind, you have to buy the masks separately. Yes, it's true! There are 7 mascarillas from which you can choose your favourite. 
However, I only tried 5 of them and I will let you know more about them.
List Of Amazing Masks
Image
Product
Features
Price
Coconut Oil

Nourishes and protects skin, keeping it radiant and dewy.
Needs to be paired with UFO or UFO mini device by FOREO.
Ideal for dry, dehydrated skin.
Clean formula contains no parabens, alcohols, sulfates, formaldehyde or disodium EDTA.
Warm & Tropical scent.

Check Price
Acai Berry

Packed with antioxidants to help smooth the appearance of fine lines and wrinkles.
Needs to be paired with UFO or UFO mini device by FOREO.
Ideal for dull and dehydrated skin.
Cruelty-free.
Clean formula contains no parabens, alcohols, sulfates, formaldehyde or disodium EDTA.

Check Price
Bulgarian Rose

Improves skin's appearance by soothing, toning and hydrating the skin.
Needs to be paired with UFO device by FOREO.
Ideal for dull and dry skin.
Cruelty-free.
Clean formula contains no parabens, alcohols, sulfates, formaldehyde or disodium EDTA.

Check Price
Green Tea

REFRESHING FACIAL - Soothe and condition stressed skin with a purifying Green Tea face mask. Developed with natural ingredients from Japan, this refreshing mask treatment will protect the skin and leave it naturally radiant.
PAIR WITH UFO MASK DEVICE - To indulge in a gentle, refreshing facial treatment, put your mask onto UFO mask device and let the optimal combination od LED lights, T-Sonic pulsations, warming and cooling sensation infuse the mask into your skin.
ANTIOXIDANT AND MOISTURIZING - Japanese green tea and Ulmus Davidiana root extract help soothe skin affected by environmental stressors and rejuvenate its appearance. Take away all the benefits in just 2 minutes and enjoy flawless and healthy-looking skin.
MASK STRESS AWAY - Suitable for all skin types, this face mask is ideal for oily and combination skin. The formula helps protect the skin and remove blemishes to leave you with a radiant glow.
CRUELTY-FREE AND SAFE FOR YOUR SKIN - Every mask pad is made from 100% plant-based, biodegradable hydrocell mask material, and the formula contains no parabens, alcohols, sulfates, formaldehyde or disodium EDTA.

Check Price
Manuka Honey

INFUSED WITH MANUKA HONEY - Made with real New Zealand's Manuka honey, this nutrient-rich formula improves skin's appearance by soothing and nourishing it. The mask also enhances elasticity and gives you a radiant, soft complexion.
PAIR WITH UFO OR UFO mini - To get the most out of the mask, use it with UFO technology that combines warmth, LED light therapy and T-Sonic pulsations. The treatment will take only 2 minutes, and your skin will look it's best for days.
REVITALIZE FROM WITHIN - Manuka honey's anti-age and moisturizing properties combined with allantoin's soothing benefits will restore your complexion and diminish premature signs of ageing. Tired skin is revived and silky smooth.
PERFECT YOUR NATURAL BEAUTY - Suitable for all skin types, even sensitive skin, the Manuka Honey mask works best on mature skin in need of hydration. This mask is a relaxing and easy way to treat yourself to lots of skin-loving ingredients in a short amount of time.
CRUELTY-FREE AND SAFE FOR YOUR SKIN - Every mask pad is made from 100% plant-based, biodegradable hydrocell mask material, and the formula contains no parabens, alcohols, sulfates, formaldehyde or disodium EDTA.

Check Price
1. Make my day
Make my day basically has hyaluronic acid. It has red algae which helps with hydration for those occasions in which maybe you woke up with dehydrated skin or you have an event and you want your skin to have a fresh impact on the morning breakfast table.  
So, I used MAKE MY DAY before putting on makeup. The loaded makeup and guess what? I did not face any residue problems. The formula is also quite light, AMAZING!
Apart from the ingredients, I loved that they are KOREAN. I mean, their concentration comes from Korean technology, and we all know that Koreans are steps ahead in skincare. 
2. Call it a night
Now we continue with CALL IT A NIGHT—a night treatment to revitalise the skin. This one has Ginseng and Olive Oil. I liked it and I enjoyed it a lot but one thing I would like to tell you is that this one is not my favourite. 
I liked it for those times when I needed something on a regular basis. It doesn't work so well when you use it once or twice a week. 
3. H2 OverDose
So as the name suggests, this one has hyaluronic acid-infused with greater density. It is more concentrated and feels a bit heavier. As it is heavier, I only use it at bedtime, not before putting on makeup. 
4. Addictive glow
This is going to be your favourite just because it has pearl infusion and leaves your skin 10x luminous.  It will make you really addicted to this device, haha!
I used it both times—before going to bed and before putting on my makeup. It feels absolutely fine. I like how it makes my skin seem glowing and silky.
5. Youth junkie
The 5th and the last one on my list is Youth Junkie. It's best for skin tightening as it contains collagen. This is perfect for helping mature, and wrinkled skin that needs anti-ageing effects. But yes, I used it once a week because of its super intense treatment.
So, if you have already tighter and young skin—you don't need it!
Moreover, FOREO has recently announced its latest 'Farm to Face' UFO mask collection, which includes Bulgarian Rose masks, Green Tea masks, and Coconut Oil masks, as well as Manuka Honey masks and Acai Berry masks.
Note—Call it a night, and Make my day are pre-programmed in the device. The rest should be manually inserted into the remaining slots by scanning the barcode on the mask.
What are the results of using Foreo Mascarilla?
The first several seconds were quite calm. I moved the gadget in circular motions over my face, feeling quite afraid of making mistakes, until a slooooow heat and eventual red, and then a green LED light assured me I was prepared. 
The pulsating came next. It buzzed about my face, driving the sheet mask's hyaluronic fluid into my skin.
 I continued to move it about until the 90-second cycle ended. The serum from the mask had mostly been absorbed, and my skin was smooth, shiny, and somewhat pink. 
When I woke up that morning, the results were much more prominent— I fell in love!
Battery timing
A complete charge of the Ur Future Obsession (UFO) lasts up to 40 sessions and can be charged using the provided USB cord.
 It takes 2.5 hours to charge and indicates that it is completed with a constant glow. 
I loaded it the first day and haven't needed to do so since because 40 sessions is a big thing, right?
The maintenance and cleaning of Foreo Mascarilla
When you are done with the session, you can remove the plastic ring, discard the mask, and thoroughly rinse the UFO with warm water. It is completely waterproof. 
Let it dry, replace the plastic ring, and place it in the base that came with it.
Because they are extremely infused, you may repeat the treatment with the same mask, which includes 6gr. Replace it in its plastic container to soak the "liquid" and repeat the process.
Note—Cleaning chemicals including alcohol, acetone, etc. should be avoided since they might harm the silicone.
The value
The scary part is that each package of six or seven masks costs between $10 and $20, which is a little pricey in my eyes. 
Given that this gadget is intended to be used daily (and even twice a day), you're looking at paying $40 to $80 each month on masks, which is not feasible for many people's finances.
My daughter was captivated by the drama of the shimmering lights and the way the device heats and then cools your face. She wanted to do it again right away, but because the refill masks are so expensive, I had to ignore her desire.
However, if you want to use the UFO only sometimes or when you need a skincare kick, the price is significantly more acceptable.
What about the guarantee?
It has a 2-year limited guarantee for manufacturing or component faults, with a 10-year quality warranty if there is a flaw beyond the first two years.
There is also a "Problem solutions" section in the guide that you can get from the web that outlines what to do if it does not switch on or off or we cannot synchronise with the Foreo app.
Should I wash my face after Foreo?
No, it's not necessary to wash your face after using Foreo Mascarilla. It is specially designed to absorb the serum into your skin so no need to wash it away.
Can Foreo be used daily?
Actually, there is no limit to its usage. But I personally believe, you should use it as per the mask type if you are using it with H2OverDose then alternative days are more than enough. Whereas, if you are using it with MAKE MY DAY, you can use it daily.
Can I use any mask with Foreo?
You can use any Foreo mask with UFO and UFO 2. However, UFO mini is only compatible with selected masks.
Is Foreo UFO 2 better than UFO?
The UFO 2 offers Advanced Temp Control, as well as the ability to heat up faster and to a greater temperature as compared to the UFO.
Can I use Foreo while pregnant?
Yes, you definitely can. Foreo is completely safe to use during pregnancy.
Can you use Foreo in the shower?
Yes, you can. Foreo mascarilla has high quality and unique design that is waterproof and safe to use on pools, showers, and even beaches.
In a wrap!
So that's all buddies! TBH, as per my experience, I am very much satisfied with this baby.  Yes, I agree, it's costly but IT IS WORTH IT. 
Spending some more money and getting some dazzling, extravagant, and effective skin perks is not a deal-breaker.
I found prominent results—skin tightening, spots reduction, luminosity, glow and what's not.  I really find this device a jaw-dropper. 
You should also try it! Grab one now!