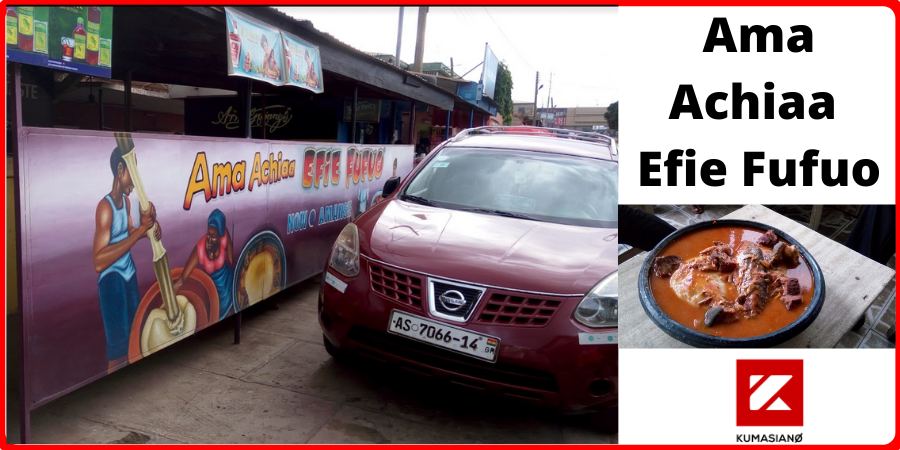 Welcome to Fufuo Headquarters.
Arguably, the best fufu joint in Kumasi.
If you're in Kumasi, you just have to eat Efie Fufuo.
Yes, this is different from "Efie Fufuo" at Patasi, near the Police Depot.
It's as simple as that. But trust me this fufu is almost always on point.
About Ama Achiaa Efie Fufuo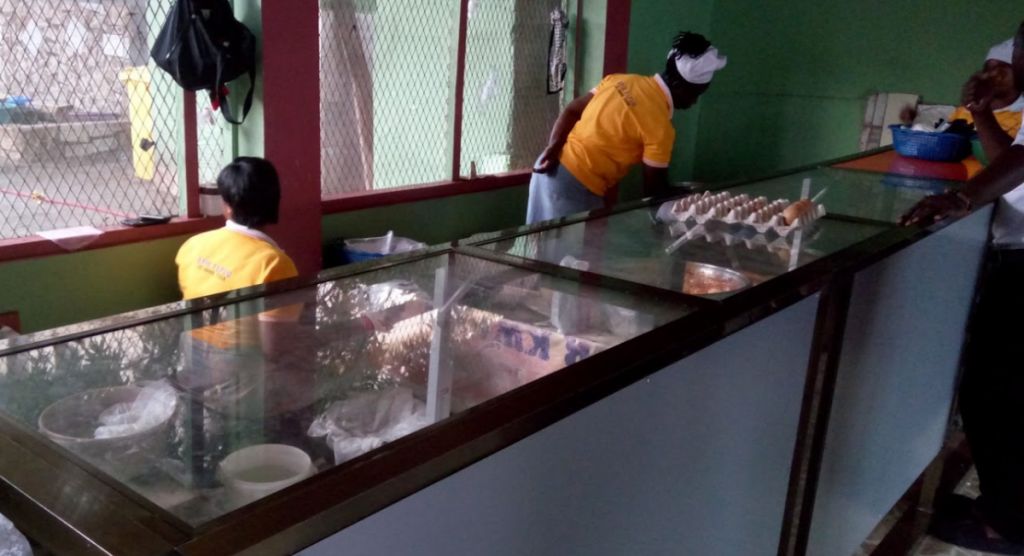 Ama Achiaa Efie Fufuo
M9MX+45 Kumasi
This popular local eating place is known for one thing. Good fufu.
This place represents the origin and richness of great Asante foods.
Ama Achiaa Efie Fufuo has been serving the people of Kumasi with great fufu for a long time. And they never disappoint.
Location of Efie Fufuo
Ama Achiaa Efie Fufuo is close to the Baba Yara Stadium near Mascapony Fast Food.
One of the several eateries in Asokwa and it's environs.
Atmosphere
You don't only enjoy good food – let the ambience sink in.
Can be quiet busy but a welcoming environment for a local display. It's your time to shine.
Customers tend to queue during lunchtime and other peak times especially on weekdays
The Service
Efie Fufuo is not only home of tasty local and continental dishes that comes with the great customer service experience.
With Efie Fufuo you're always catered for especially on Sundays when most regular eateries and food joints are on break.
Efie Fufuo has got your back. Rejoice.
Of course, the place can get busy at times. And very little anybody can do about that. Who remembers how busy the place was when they are served. No one. It's all part of the game.
What we guard against is any form of the chaos that will characterize the lunchtime rush. Just make it cool.
Bibiaa b3y3 fine.
Pros
Reputable
Fufu on point
Hot local dishes
Clean environment
Bushmeat available
Well made local dishes
Cons
Nice food but long queue during lunchtime.
Recommendation
When the food is great, it attracts a lot of people. Everybody wants to know what's in there.
I know they've been working on making the experience better. They can simply make things right by adhering to strict rules.
Join the queue.
Wait for your turn.
It's as simple as that.
Reviews of Ama Achiaa Efie Fufuo
Here are a few reviews pulled from Google about customers experience with Ama Achiaa Efie Fufuo
Manu says,

"The best place you can get local dishes"

Vans says,

"They are the best for real home fufuo. but can they work on the chaos that characterises their lunchtime rush periods?"

Mawuena reiterated,

"Efie fufuo ampa the food here is always hot and fresh!"

Micky,

"Enjoy good Fufuo near Baba Yara Stadium"

Nii said,

"Homely setting great food long waiting period especially at lunchtime."
Summing-up
For tasty local fufu do pass by Ama Achiaa Efie Fufuo at the stadium area.
Good fufu. Excellent service. Great taste.
The place to be if fufu is on your mind.
Efie fufuo ankasa-ankasa.