Bar Naas Kumasi is the place this weekend.
Bar Naas is one of the most popular and well-patronized pubs in Kumasi. It's the number one choice for weekend relaxation.
There's a restaurant (local and continental dishes), ice cream Cafe, a bar and a lounge, etc.
Ideally, if you want to have some real fun in the night, this place could offer you just that. A great contender for the bragging rights as the one-stop-shop for food, drinks and entertainment.
About the Place
Bar Naas NW9
Ahodwo Nhyiaeso, Kumasi, Ghana
M99H+G7 Kumasi
Tel: (+233 24 612 1502)
Nice place to hang out. Has food ready at 8am till evening. Fridays are for live band – take note.
Bar Naas is a good public hangout.
The bar hosts various stalls which have a lot of food to choose from, such as Shawarma, grilled kebab, ice cream or pizza. There is a lot more to choose from and is an ideal place for all night drinking, eating and dancing.
Great place to hang out over the weekend, if you don't mind loud music.
No matter your age, class or inclination, Bar Naas is fit for purpose. Everybody is welcomed.
They also have mobile money vendor on the premises. Therefore "Money No Be Problem"
Everything that makes a bar unique can be found here.
Location
Bar Naas is located in Nhyieaso – opposite the and Yegoala Hotel. On the Ahodwo roundabout – Santasi road. Just about 200metres from the roundabout.
A very vibrant place if u want a local feel.
This is a lively place and can get overcrowded quickly so I would advise turning up at about early. Let's say around 7 pm and leaving around 10 pm.
Great place for a night hangout in Kumasi. The general crowd is vibrant, youthful and the young at heart.
Good music with a great vibe.
Atmosphere/Ambience
A cool place to unwind and release some stress.
It may not be an ideal place for many apparent reasons if u looking for a more the quiet atmosphere for evening hangouts.
Don't get me wrong.
Security is tight.
The food is good. Drinks everywhere.
So many hideouts even if you're the President.
Unless loud music is not your thing. It's not always loud though, especially on weekdays. A lovely place for great drinks and great foods.
Can boast of more active patrons, can get populated quickly and charged most often. There's a parking lot but that could be an issue sometimes.
Apparently, if there are many people in there – there may be several cars outside too. The parking space is limited so you may be forced to park somewhere outside.
Always be sure not to leave valuables in your car.
"In GOD we Trust. Everyone else we Track"
Always follow-up on your valuable property when you're out.
OK customer service with some adorable workers. However, on a hectic day, locating your waiter is quite stressful.
It's a very nice bar and grill. And yes, some great meat recipes. Kebabs, juicy sausages, shawarma, name it.
The Setting
The place is well segregated into chambers where various activities can take place concurrently.
So customers don't get mixed up in activities they are not comfortable with.
Generally, the environment is neat. And feels safe as well. Very conducive and serene environment. Could be a great environment for partying.
As mentioned earlier, there are many places to hangout especially for your privacy and that of your guest. Overall security is well arranged.
The Pub is in the centre and the main attraction. The place is lit especially in the evening. Well-arranged tables and chairs all around for your relaxation.
Finding a place to sit and relax may not be an issue and even if it is – there are plenty in-store. You only have to ask.
The staff will be able to pull some out of storage and get you seated quickly for a good time.
The Food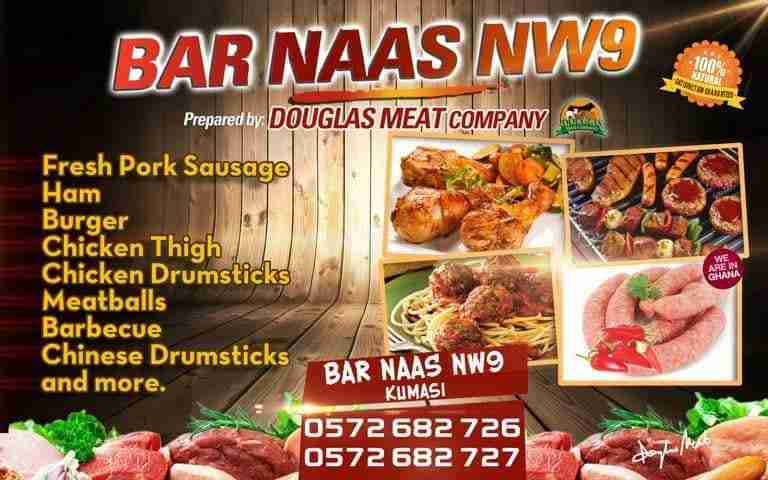 Bar Naas NW9 is widely known for its delicious delicacies.
Local and continental dishes, pizza, grills and yummy ice creams in different flavours. Only got to know recently that there's been fried Pork all this while.
Shoutouts to the 'QUII lovers' – Holy Saint Charles.
It's a big place which fills up easily. Be on the lookout for valuables and also scrutinize the bill always…!
Bar Naas Pizza
Wasn't impressed about the few pizzerias in Kumasi but I'm beginning to change my mind after trying out a few lately. Bar Naas pizza is one popular Pizza joint.
Mostly 'all-purpose' generic pizza. Have not ordered for anything else though.
Quick and does the job. Can't complain much.
I'm still looking for a God-sent Pizzeria to sweep me off my feet. Will let you know when I find her!
Bar Naas Ice cream
Forget about the noise, they have nice flavours of ice cream. Dry or wet – what do you want?
Of course, ice cream doesn't walk alone. You can't love the pastries especially the lemon cake more. The decision is yours to take.
Fufu
It is a nice place to have your favourite local dishes. Real homemade food. Finger licking good!
They have fufu that goes to a variety of soups. Anything soup may need some sort of foundation to usher in the big swallows.
There is a different assortment of spirits and soft drinks.
The Fufu is on point!
Remember to ask the bartenders for "back-to-back" or "Biegya" or that something. There's always something special at the bar for you.
Yes, only you.
Great place for a night hangout in Kumasi. The general crowd is vibrant, youthful and the young at heart. Good music with a great vibe.
Pros
Affordable food and drinks
One-stop-shop for everything entertainment
Cons
Can be overcrowded
Can get noisy at times
FAQ's
Caters to families?
A comfortable place to be with your family and friends especially during the day. It may work out for you during some nights too but don't try it on occasions and particular weekends. The crowd and noise can be intimidating.
Recommendation
Great atmosphere designed to suit all classes of people. The food is very consistent in taste and suits various dishes/meals for both locals and foreigners.
The weekends can be overwhelming and loud with the live band/music.
If you have a preference for a quiet place to dine and chat, then do well to check out the lounge area adjacent to the restrooms. Perfect location for a getaway with friends and loved ones who need some privacy.
If you're a newcomer in Kumasi, Bar Naas maybe your base. It's a nice place to hang around and enjoy yourself. The place is lit especially in the evening.
Reviews
Eric said,
There is good food everywhere at the Bar Naas NW9, but waiters services is a bit poor (some too busy with themself) can be better. Good food!

Wagih says,

Nice place to chill out especially on Sundays.

DREAMS says,

"Better than I thought

Abdulrahim Shaibu-Issah

Cheap drinks and good music. Just that DJ usually doesn't allow you to enjoy the song playing before changing it."

Bernard Sekey

"Went here with my family to celebrate a birthday for our dad. We had a great time."

Francis said,

"Nice Akomfem
Good music
Great customer service
Great view"

Osagyefo GH says,

"Happiness centre

Langkuu Linus

"Services are not that good as you usually may have to sit for longer hours before being attended to. When you get frustrated you may just like to serve yourself and get out."

Maame Esi Baidoo

"Only ordered for a drink. Realized there's a whole lot of foods you can also order, pizza, shawarma, kebab, banku. The Dj was good too."

Evans Amoah

"Awesome experience. Great food, barbecue, great music… Customers love the place"
Conclusion
Do you want a nice place to release stress?
You'll love this place more when it's Friday or weekend.
One of the best pubs in Kumasi.
Check it out, guys.
Looking for a place for fun? Add to the list.
Bar Naas NW9
M99H+G7 Kumasi
Ahodwo Nhyiaeso, Kumasi, Ghana
Tel: (+233 24 612 1502)