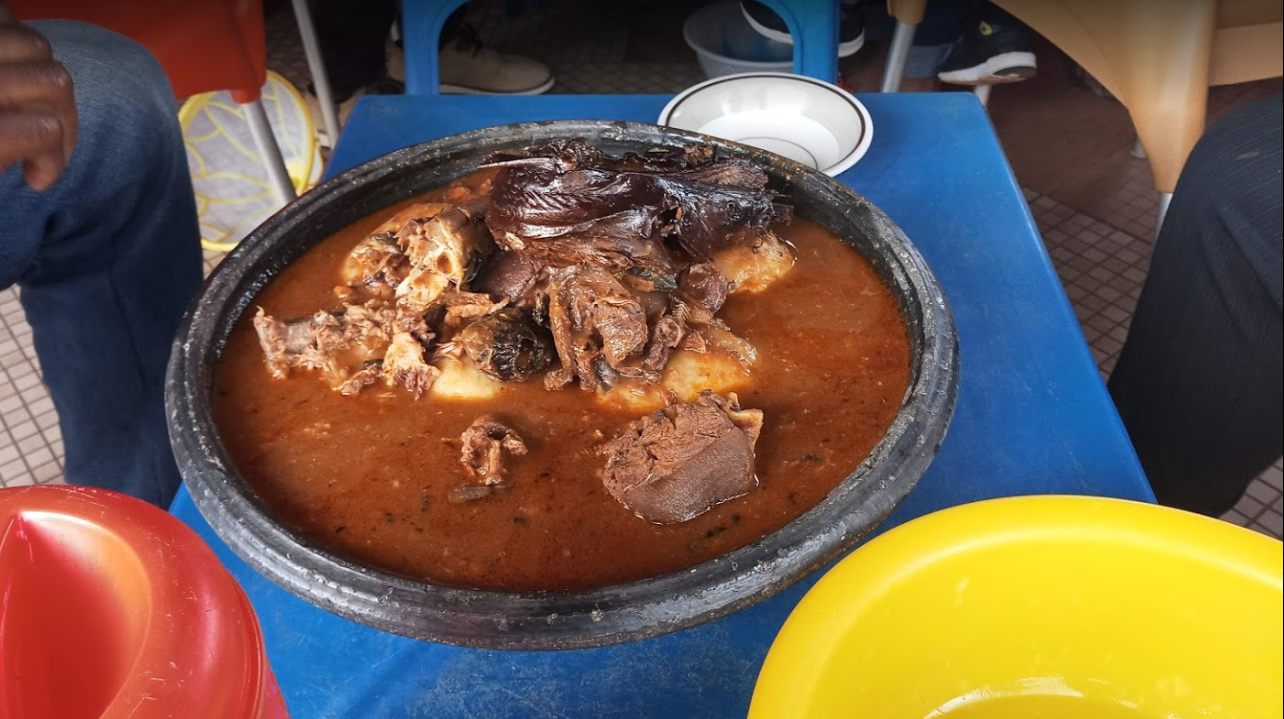 Is Yaa Serwaa the Best local restaurant in Kumasi?
Adum is the business hub of Kumasi. And Yaa Serwaa Chop bar is the kitchen.
Arguably one of the best eateries for local Ghanaian food.
If soups have anything to do with life; Yaa Serwaa is the place to be.
And the people of Adum and its surroundings know this for a fact.
You'll rarely see mushrooms, snails, Adwene, Bushmeat, etc.. in the Central Business District
but with Yaa Serwaa, "All things are possible"
If you want to go deep down into the real Asante taste, join me as we explore Yaa Serwaa Chop Bar, Adum – Kumasi.
About Yaa Serwaa Chop Bar
Yaa Serwaa is not only one of the best local eateries in Kumasi.
It is probably the most popular local chop bars in the Central Business District of the Kumasi Metropolis (Adum). Serving businesses, workers and the general public irresistible local dishes.
Yaa Serwaa Chop Bar
Adum Road, Kumasi
M9MJ+X6 Kumasi
Open Monday through Friday, Morning to 10:30pm, weekends Morning to 11:00pm.
Location
Situated in the serene environment between the Urban Roads Department and Water Works in Adum.
For a broader perspective, it is on the road behind KMA to be precise.
One of the coolest places in Adum. Very little is seen there. Just cooperations and various departments minding their own business.
Coming from the other way is the Abinkyi roundabout side of the road.
If you are stuck, ask anybody about Yaa Serwaa Chop bar and you'll be directed.
Atmosphere/Ambience
Setting
If you're fed up with the usual semi-Ghanaian and adulterated local/foreign dishes. Not to mention names but you know all those savoury but tasteless and useless foods.
Yaa Serwaa is all about good local dishes. Not so much for foreign misleading dishes.
Adequate provision has been made outside the main service area to cater for more customers.
The Food
Enjoy good fufu and local dishes with all kinds of soups you can think of.
Pros
Reputable
Fufu on point
Hot local dishes
Clean environment
Bushmeat available
Well made local dishes
Cons
Bushmeat can be pricy. But you get what you pay for.
May be difficult for first-timers to find the location.
Frequently Asked Questions (FAQs)
What makes the restaurant unique?
Caters to families?
Why not. Pass through with your family when you're tired of the hustle-and-bustle of the city.
Reviews of Yaa Serwaa Chop Bar
Here are a few reviews pulled from Google about customers experience with Yaa Serwaa Chop Bar.
Stan says,

"Local restaurant that serves the best fufu in Kumasi. I like my mash rooms with
dried fish and/or snail 🐌 green soup for lunch. Make sure not to sleep after
eating."

Seth Appiah,

"Very affordable,the woman is friendly as well as the waitress."

Dormenyo reiterated,
"Really enjoyed the soup and I will stop there again and again for my fufu anything I go to Kumasi."

James mentioned,
"The one-stop-shop for quality fufu in Oseikrom. Want some extra ginger+liver grind on the side? look no further."

BENJAMIN said,
"Very, very super expensive. The test is as equal to Kumasi normal food but its price is to much expensive as compare to others."

Agyeman Prempeh
"Nice place. But doesn't work on Sundays."

Malik mentioned,
"Very delicious Fufu with bush meat always available. The only place you can get early morning fufu."

Adam Rahman,
"Traditional cuisine at its best. When it comes to Fufu and accompanying soups, Yaa Serwaa is emblematic!"

Bridget,
"Varieties of soup and meat. You will love it."

Jennifer says,
"Think of "ebunu ebunu' soup with smoked fish and snails with fufu on a hot day….
Lovely. the food is authentic and simply delicious. There isn't much to talk about
the decor though…"

Sali says,

"Fufu and aponkye nkrakra on point."

Asomaning said,
"A diet is a diet you take without after-effects."
Conclusion
If you find yourself in and around the Central Business District of Adum and its
surroundings, look no further – find Yaa Serwaa Chop bar and treat yourself to some
sumptuous fufu and the different kinds of soups.
Not forgetting His Royal Majesty – Bushmeat.
Yaa Serwaa is home away from home.
Yaa Serwaa Chop Bar
Adum Road, Kumasi
M9MJ+X6 Kumasi
Open Monday through Friday, Morning to 10:30pm, weekends Morning to 11:00pm.